This cooling hemp skin-care line is a hot-weather hack
Chances are your skincare routine needs to adjust to the extreme heat and sun exposure during peak summertime. For me, it means swapping out heavy creams for more lightweight formulas or opting for products with skin-cooling ingredients — and I just so happened to find the holy grail of hydrating hot-weather products at Hey Bud. The Australian skin-care brand is most notable for using hemp seed oil as a hero ingredient in its lineup, which not only helps relieve conditions like dermatitis and psoriasis but also aids in collagen production, thanks to the oil's high levels of omega-3 and omega-6 essential fatty acids.
While the cruelty-free Hey Bud brand boasts an array of products ranging from a foaming cleanser to a brush-on face mask (you can read our shopping writer Mercedes Viera's review of the clay mask here), I wanted to kick-start my own hemp skin-care journey with very easy starter products. Enter: the Niacinamide + Hemp Serum and the Hemp Gel Moisturiser, which also happen to be the latest additions to the Hey Bud family. I already use a serum and moisturiser as part of my daily a.m. and p.m. routines (often, these are the only two skin-care products I use), so swapping in Hey Bud was seamless.
Hey Bud 10% Niacinamide + Hemp Serum, £25.62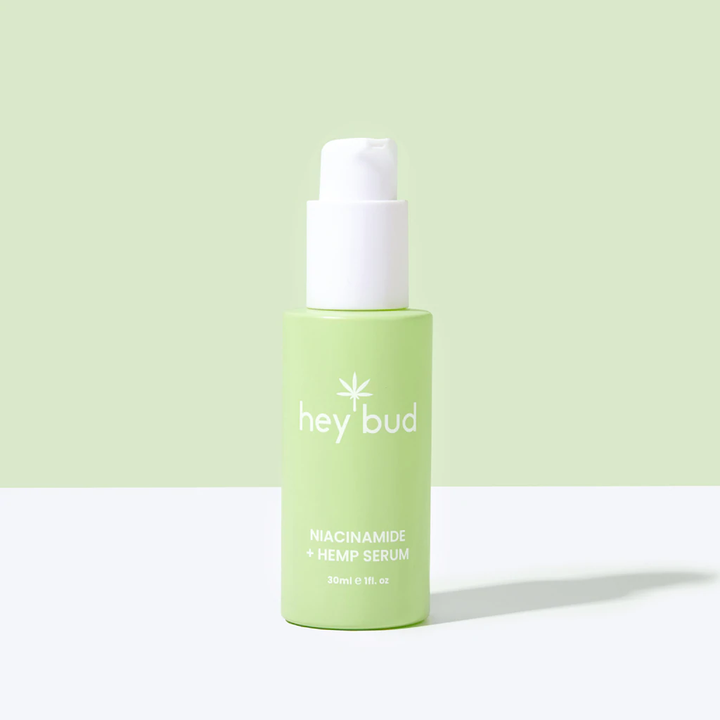 Shop all Hey Bud
I've never used a skin-care product with niacinamide as the main ingredient, but the benefits of putting it on your face abound. The micronutrient, also known as Vitamin B3, helps balance oil production (read: acne) and can minimise spots and blemishes. It's used to promote the production of elastin and ceramides, which is what makes skin look bouncy, glowy, and more youthful.
I've used hemp lotions before to relax and cool off my muscles after workouts, so using this hemp seed oil serum as a summertime face product works especially well: it both hydrates and chills out my overheated face. Plus, it's incredibly lightweight, absorbent, and does not leave any residue behind. After cleansing my face as I normally do, I take two pumps of this Niacinamide + Hemp Serum to my palms and pat and press it onto my cheeks, forehead, and the mouth area where I usually tend to see a lot of dryness and/or redness from being out in the sun too long.
Hey Bud Hemp Gel Moisturiser, £25.62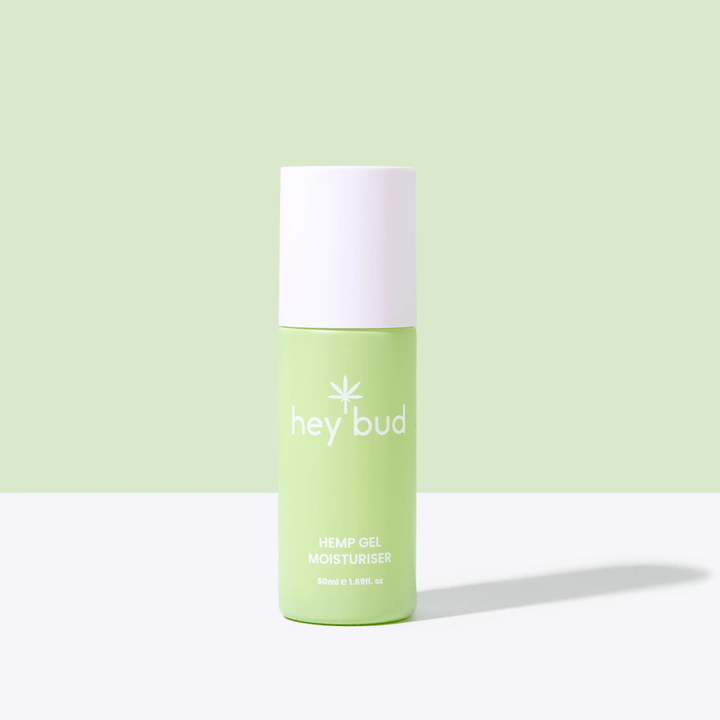 After the serum comes the Gel Moisturiser, which is what helps seal everything in for me. This product is especially packed with essential nutrients that are ideal for someone who is somewhat active and lives in a humid climate. Like the serum, this formula is similarly lightweight, which means it allows my face to breathe, doesn't clog pores, and doesn't immediately melt off when I sweat profusely. I particularly enjoy this moisturiser as an after-workout treat because the concoction of aloe vera, cucumber, and green tea and grapefruit extracts is such a soothing relief for my face on days — something that's especially useful when I've been outside a bit too long and have forgotten to reapply sunscreen (which happens all the time).
The only complaint I have — and I admit it's a totally subjective one — is the smell of hemp seed oil products is not entirely my cup of tea, although I do know folks who enjoy these unique scents. As a relative newbie to hemp and CBD beauty products, I acknowledge these ingredients are an acquired taste, and they take a bit of getting used to. On the upside, the hemp fragrance is very subtle once the products have been applied — it's not like people around me can smell it. All in all, if you're looking for a way to lighten the load on your skin-care routine for these hot-weather months, consider making a seasonal switch to hemp seed oil products. 
420 Intel is Your Source for Marijuana News
420 Intel is the leading source for cannabis news from around the world. Get the latest updates on cannabis legalization, politics and technology, as well as developments in medical and recreational marijuana news. Our commitment is to bring you the most important cannabis news stories every day of the week.
At 420 Intel we understand that effective marijuana industry news coverage is a constant endeavor. Every day stories develop regarding cannabis legalization, technological developments, and the medicinal benefits of marijuana use. Each new development carries the potential to impact the marijuana industry regionally, nationally, and internationally. 420 Intel is the marijuana industry news outlet that will keep you up to date on these developments and how they impact the world around you.
With the marijuana industry constantly evolving, you need a cannabis news outlet to keep you abreast of the pertinent information. At 420 Intel, we cover marijuana legalization news throughout the world, offer reliable information for cannabis business owners, detail technological advances that impact the marijuana industry, cover marijuana rallies from across the globe, and everything in between.
You can get 420 Intel news delivered directly to your inbox by signing up for our daily marijuana news, ensuring you're always kept up to date on the ever-changing cannabis industry. To stay even better informed about marijuana legalization news follow us on Twitter, Facebook and LinkedIn.