Push to legalize recreational marijuana gains traction in Florida
A new survey shows a majority of Floridians are in support of it, but organizations are still concerned it may not make the ballot in 2022. 
It's been nearly a decade since Colorado and Washington become the first two states to legalize recreational marijuana. Now, it's legal in 18 states, including the District of Columbia and Guam. Many hope the Sunshine State is next. 
"This is not a partisan issue. Across the political spectrum there is a majority of support," Suncoast NORML Chapter Executive Director Chris Cano said.
A recent survey by Public Policy Polling, shows 59% of Floridians support legalizing recreational marijuana compared to 31% of people who oppose it.
Despite the majority of support, Cano says getting an initiative on the ballot hasn't been easy. 
"Why is there this disconnect between public policy and what people want and it really does boil down to the other forces at work that our representative government have at play," Cano said.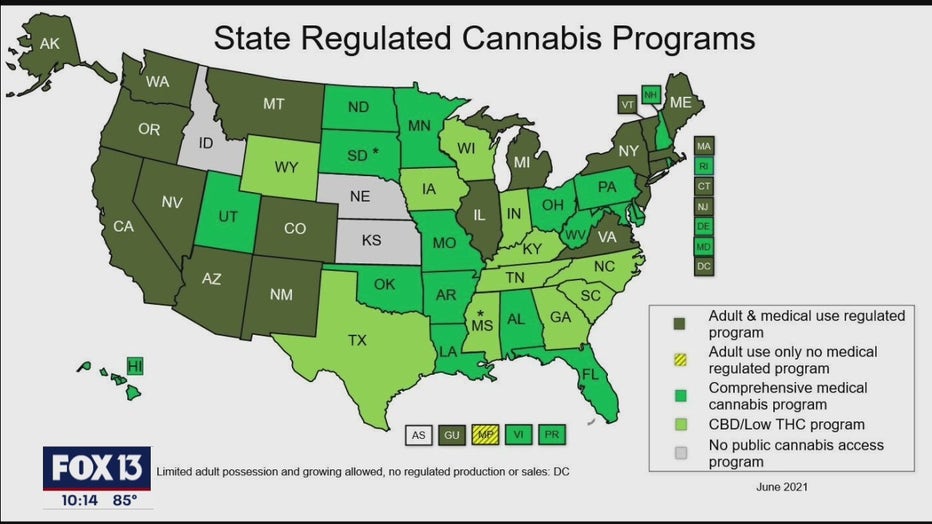 A new bill set to be introduced by Senator Majority Leader Church Schumer later this year would remove marijuana from the list of federally controlled substances, which would essentially treat marijuana more like alcohol and tobacco.
"That takes away that excuse and the crutch of local and state politicians who say it's still illegal federally so once that's out of the way then what's their excuse to deny their constituency this public policy position, which so many people deem as right," Cano commented.
In an effort to raise money for the cause, the NORML's Suncoast Chapter is hosting a fundraising event called "Suncoast NORML Got Talent". The event is Friday, July 30 at 7 p.m. at the Crowbar in Ybor City.
420 Intel is Your Source for Marijuana News
420 Intel is the leading source for cannabis news from around the world. Get the latest updates on cannabis legalization, politics and technology, as well as developments in medical and recreational marijuana news. Our commitment is to bring you the most important cannabis news stories every day of the week.
At 420 Intel we understand that effective marijuana industry news coverage is a constant endeavor. Every day stories develop regarding cannabis legalization, technological developments, and the medicinal benefits of marijuana use. Each new development carries the potential to impact the marijuana industry regionally, nationally, and internationally. 420 Intel is the marijuana industry news outlet that will keep you up to date on these developments and how they impact the world around you.
With the marijuana industry constantly evolving, you need a cannabis news outlet to keep you abreast of the pertinent information. At 420 Intel, we cover marijuana legalization news throughout the world, offer reliable information for cannabis business owners, detail technological advances that impact the marijuana industry, cover marijuana rallies from across the globe, and everything in between.
You can get 420 Intel news delivered directly to your inbox by signing up for our daily marijuana news, ensuring you're always kept up to date on the ever-changing cannabis industry. To stay even better informed about marijuana legalization news follow us on Twitter, Facebook and LinkedIn.