Congress Considers Bill To Research Marijuana Legalization Across Country
The Marijuana Collection Act would allow the federal government to get an accurate glimpse into the legal weed movement to see what works and what doesn't.
Some Congressional members believe the concept of marijuana legalization should be studied extensively to pass the best laws at the federal level. Senators Robert Menendez (D) and Rand Paul (R), along with Representatives Sylvia Garcia (D) and Don Young (R), have introduced a piece of bipartisan legislation in both chambers called the Marijuana Collection Act.
If passed, the bill would task the Secretary of Health and Human Services, the Attorney General, the Secretary of Labor and various health agencies to examine taxed and regulated marijuana markets across the nation over the next decade to learn more about what legal weed does for state and local economies, public health and criminal justice. It is then that nationwide legalization might be more realistic.
"As more and more states legalize and regulate marijuana, we must take a thorough examination at how different laws and policies in different states have been implemented, what works, what doesn't, and what can be replicated elsewhere," Senator Menendez said in a statement accompanying the bill.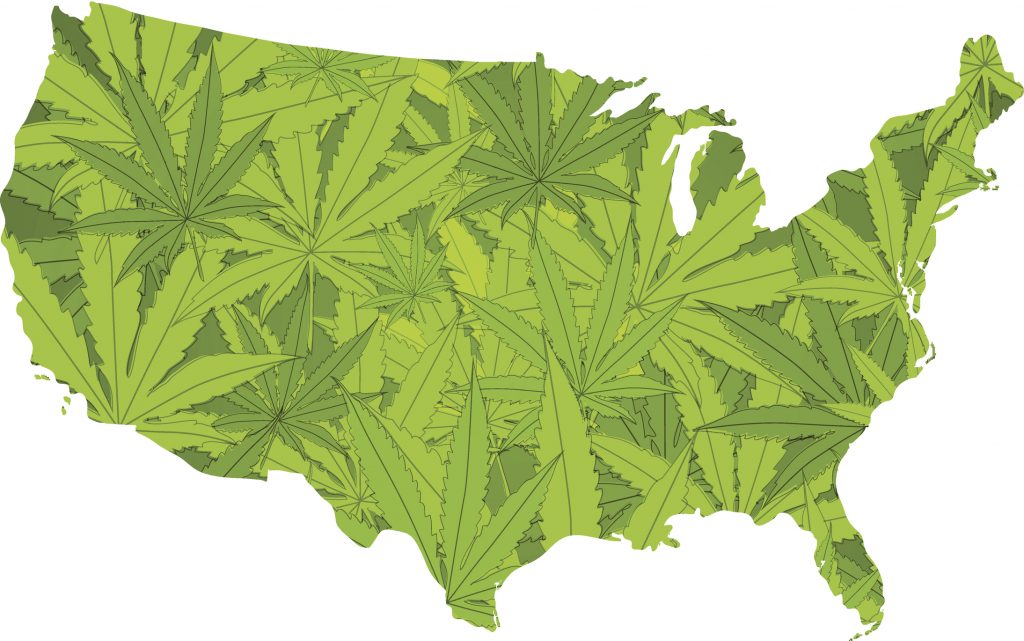 Photo by traffic_analyzer/Getty Images
"It's important to understand how communities and people are ultimately impacted by marijuana legalization and its effect on local economies, public health, criminal justice, employment, and our nation's battle with opioid and other drug addiction. Having this data at our fingertips and making it available to the public will help drive public policy decisions and dispel any misconceptions about marijuana legalization."
The word on the street is that the bill was introduced in response to the recent pressure for Congress to legalize marijuana. It's an alternative, a compromise, a trap door if Senate Majority Leader Chuck Schumer cannot work the magic he's been promising by ending prohibition nationwide. The Marijuana Collection Act would allow the federal government to get an accurate glimpse into the legal weed movement to see what works and what doesn't. From there, lawmakers could draft policy based on years of research rather than just go for it and hope for the best.
All of the data collected would be reported to the National Academy of Sciences every couple of years. Part of the goal is to see if legal marijuana can actually help remedy the opioid epidemic.
"Congress and the American people need reliable facts on the impact of states' legal marijuana programs. We need independent data on how these programs impact state budgets, the public health and employment," said Representative Garcia. "This is especially important amid the pandemic, that's been filled for many with isolation, depression and financial stress that has led to an alarming rise in opioid deaths – especially among communities of color."
The guts of this legislation would be tremendous for cannabis. It would allow Uncle Sam to see just how to make marijuana legalization work on a grand scale. However, if Congress were to buy into the Marijuana Collection Act, it would ensure that federal marijuana legalization would be put on hold for another 10 years. But then again, the chances of federal cannabis reform taking shape in 2021 aren't very good, as the Senate must contend with the filibuster, lack of Democratic support, and the genuine possibility of not being able to use the budget reconciliation process to move it forward.
The Marijuana Collection Act might be a way to unify the parties on this issue and advance it in a palatable way. Even President Biden has stated that he wants to see more research before moving to legalize marijuana in the way states have done for adult use. We could end up seeing this legislation becoming this year's rockstar of cannabis reform.
420 Intel is Your Source for Marijuana News
420 Intel is the leading source for cannabis news from around the world. Get the latest updates on cannabis legalization, politics and technology, as well as developments in medical and recreational marijuana news. Our commitment is to bring you the most important cannabis news stories every day of the week.
At 420 Intel we understand that effective marijuana industry news coverage is a constant endeavor. Every day stories develop regarding cannabis legalization, technological developments, and the medicinal benefits of marijuana use. Each new development carries the potential to impact the marijuana industry regionally, nationally, and internationally. 420 Intel is the marijuana industry news outlet that will keep you up to date on these developments and how they impact the world around you.
With the marijuana industry constantly evolving, you need a cannabis news outlet to keep you abreast of the pertinent information. At 420 Intel, we cover marijuana legalization news throughout the world, offer reliable information for cannabis business owners, detail technological advances that impact the marijuana industry, cover marijuana rallies from across the globe, and everything in between.
You can get 420 Intel news delivered directly to your inbox by signing up for our daily marijuana news, ensuring you're always kept up to date on the ever-changing cannabis industry. To stay even better informed about marijuana legalization news follow us on Twitter, Facebook and LinkedIn.