Possible Benefits Of Having A Medical Marijuana Card In An Adult Use State
With each state's laws varying to some degree, medical cardholders and applicants are advised to review state and local regulations.
State medical marijuana programs tend to suffer as adult use laws are passed. While much of the purchasing shifts to what is commonly called the recreational market, the medical sector still serves its purpose. In fact, medical cardholders can continue to find benefits in being part of the program, depending on a state's laws.
Considering the following benefits, patients may find use in the medical cards well after adult use laws pass in a state.
Priority Over Adult Use
Photos: JDawnInk/Getty Images, Matthew Brodeur via Unsplash
Having a medical marijuana license may also provide a patient with increased priority.
Unlike an adult use consumer, medical cannabis patients should not have to wait to obtain their medicine. That is the stance of states like Illinois and Nevada, which allow patients to avoid lines that can sometimes wrap around dispensaries, taking hours to get through. When in such states, patients are recommended to inform a staff member for medical patient access.
Additionally, Illinois prioritizes its cannabis supply for the medical market. When the state's adult use market opened its market on January 1, 2020, Illinois soon saw a shortage of cannabis. However, due to its laws, medical patients were spared the drought.
Taxes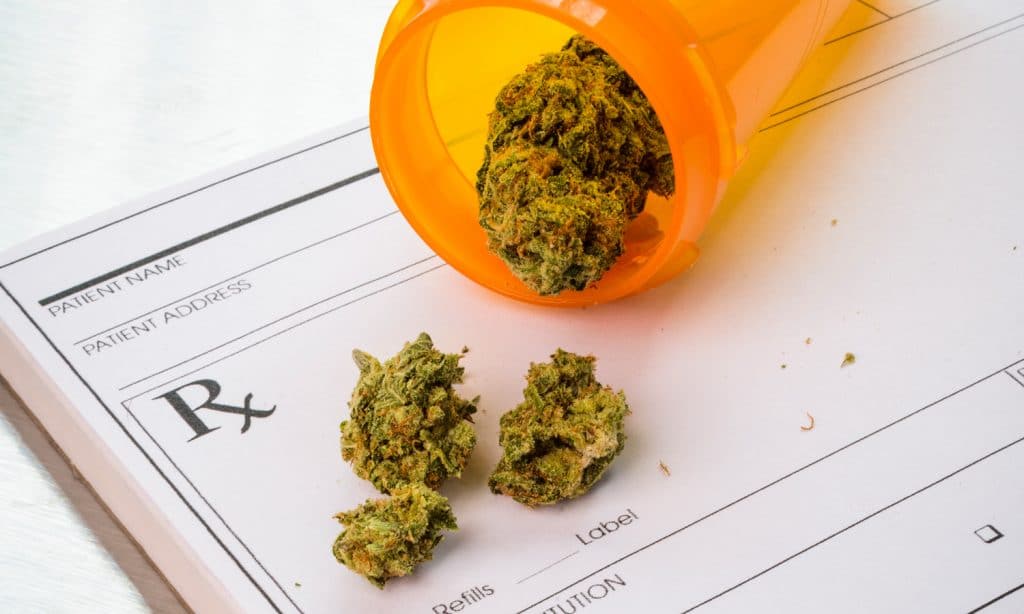 Photo by thegoodphoto/Getty Images
Individual states provide tax breaks for medical cardholders. In some cases, patients may receive relief on pricey charges applied to retail sales and additional excise taxes. In other states, medical ID holders don't pay taxes at all.
Underage Recreational Shop Access
Photo by nattrass/Getty Images
Qualified patients are allowed to enter and purchase products from retail stores. Without a medical card, consumers typically must wait until they are 21, or at least 18.
Keep in mind that access comes with additional parameters. An underage patient can't enter a dispensary on their own or make a purchase without the accompaniment of their guardian or designated caregiver.
Stronger Potency Products
In some cases, medical patients require more cannabis than the allowed dosage for recreational products. Doing so cuts down on the amount a patient has to buy and consume to reach the relief they seek from their medicine. With a card, certain states waive caps on purchasing as well as giving medical patients access to products the recreational market can't buy.
With each state's laws varying to some degree, medical cardholders and applicants are advised to review state and local regulations.
420 Intel is Your Source for Marijuana News
420 Intel is the leading source for cannabis news from around the world. Get the latest updates on cannabis legalization, politics and technology, as well as developments in medical and recreational marijuana news. Our commitment is to bring you the most important cannabis news stories every day of the week.
At 420 Intel we understand that effective marijuana industry news coverage is a constant endeavor. Every day stories develop regarding cannabis legalization, technological developments, and the medicinal benefits of marijuana use. Each new development carries the potential to impact the marijuana industry regionally, nationally, and internationally. 420 Intel is the marijuana industry news outlet that will keep you up to date on these developments and how they impact the world around you.
With the marijuana industry constantly evolving, you need a cannabis news outlet to keep you abreast of the pertinent information. At 420 Intel, we cover marijuana legalization news throughout the world, offer reliable information for cannabis business owners, detail technological advances that impact the marijuana industry, cover marijuana rallies from across the globe, and everything in between.
You can get 420 Intel news delivered directly to your inbox by signing up for our daily marijuana news, ensuring you're always kept up to date on the ever-changing cannabis industry. To stay even better informed about marijuana legalization news follow us on Twitter, Facebook and LinkedIn.