More Americans Than Ever Are In Support Of Legal Marijuana
It's not a huge jump, but more people support legal weed than they did in 2019, according to a new Gallup poll.
As the country's growing acceptance of marijuana continues to spread across state lines, it should come as no surprise that Americans are now more likely than ever to support legal weed. In fact, a new Gallup poll reveals that they're more likely to support it now than at any point in the previous five decades, with seven in 10 Americans vouching for the drug's legalization.
The poll found that 68% of U.S. adults are in support of legal marijuana:
The 68% of U.S. adults who currently back the measure is not statistically different from last year's 66%; however, it is nominally Gallup's highest reading, exceeding the 64% to 66% range seen from 2017 to 2019.
Data was collected between September 30 and October 15, right before the national elections, where voters approved all of the proposals to legalize marijuana put before them across the U.S., showing how much people's perceptions have changed all over the country.
The poll indicates that the majority of people are for marijuana legalization, no matter their age, gender, race or education. All in all though, young people, college graduates, men, and those with incomes of at least $100,000 are more likely to favor legalization.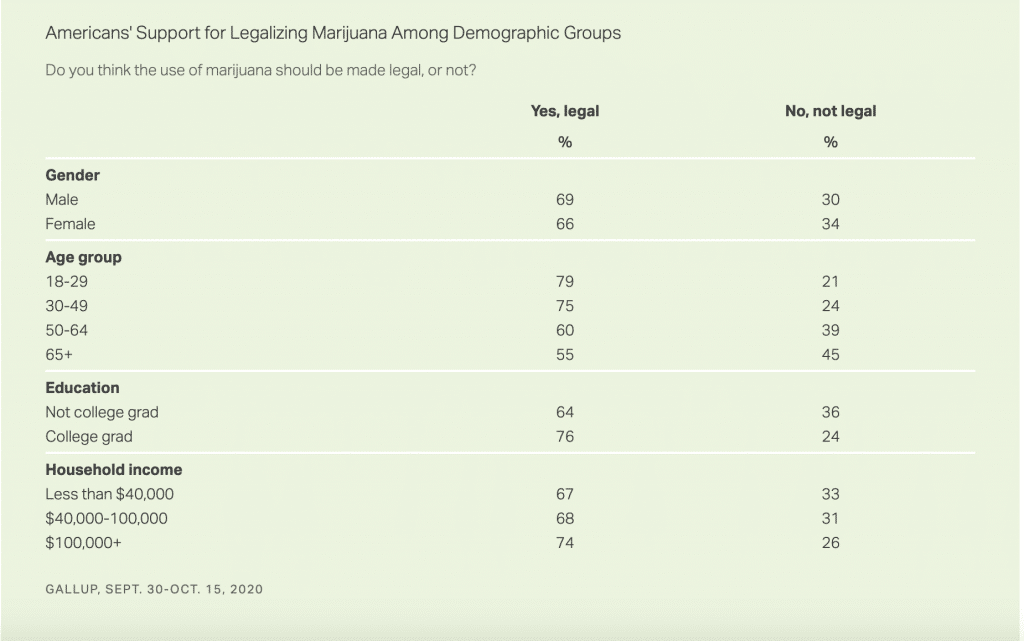 Politics play an important role. Democrats and Independents are more likely to support legal marijuana over Conservatives and Republicans, which remain the groups that are least likely to support the measure (about half of them offered their support in the polls).
Religious people are also less likely to support the legalization of the drug, with the frequency of church attendance playing a key factor. Per Gallup: "A slim majority of those who say they attend weekly oppose legalization. Yet, about three in five of those who attend nearly weekly or monthly, and about four in five who attend less frequently, favor legalizing marijuana."
Support for marijuana grows with each passing year. This change is reflected in people's mindsets, conversations, and state laws. It's only a matter of time before we see it on a federal level.
420 Intel is Your Source for Marijuana News
420 Intel is the leading source for cannabis news from around the world. Get the latest updates on cannabis legalization, politics and technology, as well as developments in medical and recreational marijuana news. Our commitment is to bring you the most important cannabis news stories every day of the week.
At 420 Intel we understand that effective marijuana industry news coverage is a constant endeavor. Every day stories develop regarding cannabis legalization, technological developments, and the medicinal benefits of marijuana use. Each new development carries the potential to impact the marijuana industry regionally, nationally, and internationally. 420 Intel is the marijuana industry news outlet that will keep you up to date on these developments and how they impact the world around you.
With the marijuana industry constantly evolving, you need a cannabis news outlet to keep you abreast of the pertinent information. At 420 Intel, we cover marijuana legalization news throughout the world, offer reliable information for cannabis business owners, detail technological advances that impact the marijuana industry, cover marijuana rallies from across the globe, and everything in between.
You can get 420 Intel news delivered directly to your inbox by signing up for our daily marijuana news, ensuring you're always kept up to date on the ever-changing cannabis industry. To stay even better informed about marijuana legalization news follow us on Twitter, Facebook and LinkedIn.