How to Vote for Cannabis Research on November 3rd
It was 1996. I was four years old. California Proposition 215 passed and for the first time, legal medical cannabis became available. I don't remember it honestly, but that moment triggered a reckoning of outdated and ineffective efforts to control cannabis, which continues on November 3rd.
The moment in 1996 created for me and my generation of millennials a new, decriminalized lens for which to view cannabis and its potential. In my lifetime, from first experimenting with cannabis after high school and then earning my PhD in plant biochemistry, advancing cannabis research, to starting an agtech company dedicated to the genetic improvement of cannabis, we continue this march toward legalization. But another march hasn't started yet.
The cannabis we consume today is still largely the same (albeit more potent today) as the cannabis that was legalized in 1996. There's been little advancement in our scientific understanding of the plant. This can and should change. I believe the future and legitimacy of the cannabis crop in the medical field and in farmers' fields is on the ballot this November.
Five states have cannabis on the ballot for November 3rd
In 33 states, medical cannabis is currently legal and in eleven of those, including my home states of Nevada and Washington, legalized adult-use recreational cannabis is generating millions in tax revenue every month. But compared to every other commercial crop, cannabis is still decades behind.
We are seeing a glacial cadence with cannabis research. As voters in five more states consider this November whether to legalize cannabis, that same tipping point we reached in 1996 comes closer to being triggered for cannabis research.
Here's what cannabis scientists, like me, face as we work to apply real scientific methods to the long-neglected crop: I published one of the most cited papers on cannabis research last year, titled, Gene Networks Underlying Cannabinoid and Terpenoid Accumulation in Cannabis. But, as per university policy, we were unable to touch the plant during any of our research. We could not study the physical cannabis plant, extracts or any other substantive physical properties from the plant on campus or as a representative of the university. Instead we studied cannabis DNA processed through a third-party. Funding for the research came from private donors who were required to be unassociated with the cannabis industry.
While we were conducting our heavily restricted, bootstrapped cannabis research, the university lab in the next building over was experimenting with less restrictions on mice using other drugs: cocaine, opioids and amphetamines. (Quick note, marijuana is listed as more dangerous than cocaine, which is a Schedule II drug.)
I get it. Due to the federal prohibition on cannabis as a heavily regulated Schedule I drug, universities cannot fund research without the risk of losing all of their federal funding. While the USDA does not support research and SBIR grants are all but impossible, one government agency does allow research, from cannabis grown only in Mississippi. It's the Drug Enforcement Agency (DEA) and any research conducted using its crop is as ineffective as you're imagining. Relevant research is likely impossible using the crop which dates back to a 1970's strain with a potency that's about 30 percent of today's commercial cannabis offerings.
To change this anti-research climate, do what those in California did with Prop 215 in 1996. Vote.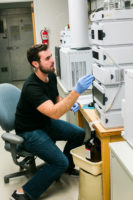 Dr. Jordan Zager, author and CEO of Dewey Scientific
Vote for legalization of cannabis if you're in those five states where legalization is on the ballot; that's Arizona, New Jersey, Montana, South Dakota and Mississippi. The more states that align with cannabis legalization, the stronger the case becomes for the federal government to reschedule the drug from a Schedule I controlled substance. Currently cannabis is listed as a Schedule I alongside heroin. The DEA claims cannabis has no currently accepted medical use and a high potential for abuse. Both are not true, just listen to the scientists.
Those outside of the five states putting cannabis on the ballot can still play a role in creating a Congress that is more receptive to cannabis reform. This Congress is the oldest, one of the most conservative and least effective in our country's history. Younger, more progressive representation will increase our odds of advancing cannabis research.
Cannabis holds far too much possibility for us to allow it to be an unstudied "ditch weed." THC and CBD are just two of nearly 500 compounds found in cannabis which, when scientifically scrutinized will harvest – I believe – vast medicinal and commercial benefits and the tax windfalls that accompany both. But first you have to vote.
If cannabis and your representatives are not on the ballot, do something millennials have built somewhat of a reputation for failing to do; pick up a phone and call your current representative. Tell them cannabis deserves scientific attention and investment. There's too much potential in the cannabis plant to wait any longer.
420 Intel is Your Source for Marijuana News
420 Intel is the leading source for cannabis news from around the world. Get the latest updates on cannabis legalization, politics and technology, as well as developments in medical and recreational marijuana news. Our commitment is to bring you the most important cannabis news stories every day of the week.
At 420 Intel we understand that effective marijuana industry news coverage is a constant endeavor. Every day stories develop regarding cannabis legalization, technological developments, and the medicinal benefits of marijuana use. Each new development carries the potential to impact the marijuana industry regionally, nationally, and internationally. 420 Intel is the marijuana industry news outlet that will keep you up to date on these developments and how they impact the world around you.
With the marijuana industry constantly evolving, you need a cannabis news outlet to keep you abreast of the pertinent information. At 420 Intel, we cover marijuana legalization news throughout the world, offer reliable information for cannabis business owners, detail technological advances that impact the marijuana industry, cover marijuana rallies from across the globe, and everything in between.
You can get 420 Intel news delivered directly to your inbox by signing up for our daily marijuana news, ensuring you're always kept up to date on the ever-changing cannabis industry. To stay even better informed about marijuana legalization news follow us on Twitter, Facebook and LinkedIn.