FDA issues cannabis research guidelines as CBD industry still hangs in limbo
hile the U.S. Food and Drug Administration just unveiled new draft guidelines to encourage cannabis-related clinical research, the CBD industry continues to wait in limbo for federal regulations on hemp-based products.
On Tuesday, the FDA released a seven-page draft that describes the agency's "current thinking" on several topics surrounding the science of developing drugs containing cannabis and hemp-derived compounds.
But the anticipated guidelines didn't live up to the hemp sector's expectations. The industry has watched poor leadership from the White House, FDA leadership changes, and the Covid-19 pandemic combine to further slow down CBD regulations for food and supplement products creating a murky scenario for consumers and their safety.
When the 2018 Farm Bill legalized industrial hemp in America, it opened the door for a massive new market for hemp plants with 0.3 per cent THC or less, as well as all other cannabinoids, like CBD, that can be extracted from the plant. It also took the hemp plant and derived products out of the purview of the U.S. Drug Enforcement Administration and into the hands of the U.S. Department of Agriculture and the FDA.
To date, however, the only regulated CBD product that's been approved by the FDA is the drug Epidiolex, which is used to treat seizures caused by two rare forms of childhood epilepsy.
The federal agency's draft guidelines aim to help companies have better access to regulated hemp supply so they can easier conduct clinical research to develop new drugs derived from hemp. The draft also focuses on topics such as pharmaceutical quality and chemistry, controls, testing and manufacturing. The FDA said the guidelines aren't legally binding and should be considered only as recommendations for now. Public comment is open for 60 days.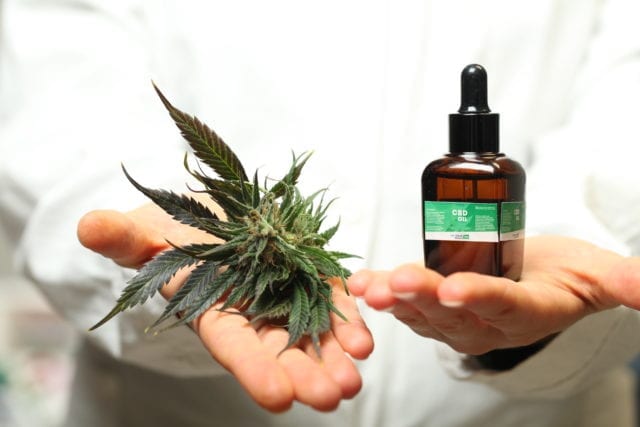 Image via Deposit Photos
Although the guidance swings open the door open further to increase hemp production for research, it still is a letdown for the industry.
Vermont Cannabis Solutions lawyer Timothy Fair calls the FDA's move a "baby step" in at least acknowledging that hemp and CBD have potential medical benefits.
But Fair, who works with CBD companies in Vermont's thriving hemp industry, says the agency has been dragging its feet for too long in creating a regulatory pathway for all CBD products.
The U.S. hemp industry has been pushing the FDA to treat CBD like any other vitamin supplement for almost two years so that the touted wellness extract can be legally added into food, drinks and pet products.
Fair said the FDA's ultra-conservative approach has delayed the rules for CBD despite millions of Americans using the extract every day without any harm or injury recorded to date.
"It's beyond absurd. We've passed the point of ludicrous on this," he said in a phone interview. "CBD is safe, especially in low doses — let's not cut around this."
Wild West CBD market leaves consumers unprotected
The cannabis lawyer says while the FDA is supposed to keep Americans safe, the lack of CBD regulations is putting people at risk.
When CBD was legalized nationally at the end of 2018, states could create their own hemp and CBD laws. But the lack of federal regulations has created a Wild West market.
Currently, there are over 2,700 CBD brands on the market with infused products like gummies, lotions, teas and even clothing. These products are sold in gas stations, beauty salons and malls across the country. Last year, a Gallup poll found that one-in-seven Americans have used the extract in some form. And a more recent industry survey by SingleCare shows that 33 per cent of Americans have now tried CBD.
While marketing CBD in food, drinks and pet products remains illegal in the U.S., the FDA has only enforced prohibition by issuing warning letters to companies advertising unsubstantiated health claims.
In the health and wellness space, CBD is purported to treat numerous ailments from acne to cancer due to the apparent anti-inflammatory properties in the non-intoxicating compound.
But CBD science is only beginning to catch up with the claims and could be doing so even faster with an explosion of new studies now being conducted to see if the extract can even treat Covid-19. After a few preliminary studies showed that CBD could effectively treat chronic pain and anxiety, some solid new research has showed that CBD's anti-inflammatory properties can slow the sometimes lethal immune response in the lungs of hosts infected with the novel coronavirus.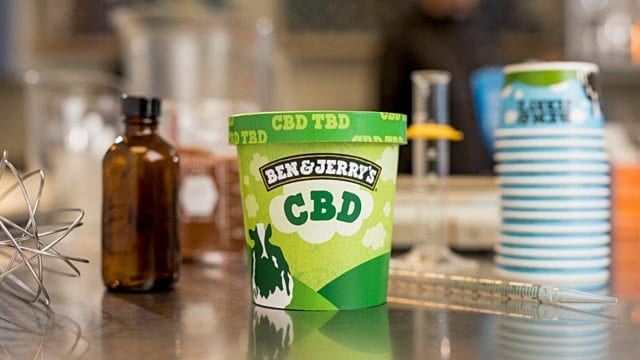 Ben & Jerry's ice cream company said in May 2019 they would launch a CBD-infused product once the US FDA legalizes the cannabinoid for food and drink. Press photo
New York-based cannabis researcher Dr. Lynn Parodneck says without regulations, the contents of products are unknown and consumers aren't protected.
"There is no screening or lab testing required," she said in an email to Mugglehead. "As a result, pesticides, mold, and heavy metals can be present, and yet there still may not be any CBD present."
Dr. Parodneck said CBD is legal and here to stay in America, so consumers are entitled to protection from buying products that can cause damage and whose contents should be transparent.
Last week, the FDA published a product recall notice for dozens of hemp-based CBD products produced by one company that contained lead. While the hemp oil itself wasn't contaminated, the lead was found in the graduated droppers that MHR Brands said they purchased from a third-party manufacturer.
Fair said it's only a matter of time for bad actors to tarnish the whole industry's reputation for getting someone sick or worse.
His firm helps CBD extractors and manufacturers with regulatory compliance issues in Vermont, but Fair says it's unfair if not everyone in the space plays by the rules.
Because his clients want to keep their customers safe, he says they've been reluctant to offer more products for human and animal consumption until the FDA provides regulations.
U.S. cannabis market research firm Brightfield Group reported that CBD sales reached US$5 billion last year, but the market is expected to burst wide open if the FDA gives the industry the green light to treat CBD like a supplement.
US federal government 'a train wreck of epic proportions'
The FDA began evaluating how to regulate CBD products early in 2019, and has stated multiple times that it needs to gather enough research, data, as well as other safety and public health input before it can make its decision.
The agency said in a March statement it would continue collecting comments from all sides of the issue in an online public forum that remains open today.
"We recognize that there is substantial public interest in marketing and accessing CBD for a variety of products," an FDA spokesperson said in an email. "We are working toward a goal of providing additional guidance, and have made substantial progress. There are many questions to explore regarding the science, safety, effectiveness and quality of products containing CBD, and we need to do our due diligence."
The FDA told Mugglehead it submitted a new report to Congress this week that highlights its plan to conduct a sampling study of the U.S. CBD market to determine which products are mislabeled or adulterated. The report says the results will help the FDA gain insight on the market and the agency will report again to Congress within 180 days of beginning the study.
Meanwhile, Washington DC-based cannabis lawyer Jonathan Havens revealed this week on LinkedIn that the FDA submitted a "Cannabidiol Enforcement Policy" draft guidance to the White House Office of Management and Budget.
"Clarity could finally be coming to the CBD space. It's hard to believe that the Agency will back off completely from its 'ingestibles aren't permitted' stance. Perhaps the enforcement policy will be claims focused," he wrote. "Details forthcoming."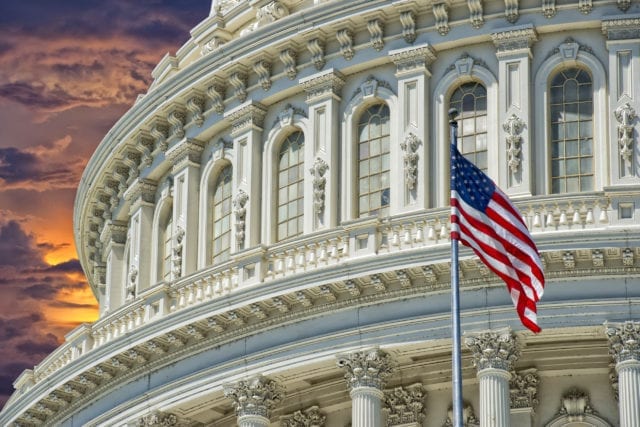 Washington DC Capitol Building. Image via Deposit Photos
Despite the glimmers of hope for progress, Fair suspects if the Covid-19 pandemic hadn't occurred, more would have been done by now.
However, he also alleges corruption and incompetency within President Donald Trump's administration has also hurt federal agencies like the FDA.
"I think it might be a little difficult to understand for people outside the U.S. how dysfunctional our federal government has really been," he said. "It is a train wreck of epic proportions."
Fair says the chaos surrounding Trump's Oval Office, alongside steep budget cuts, has caused instability for federal institutions like the FDA, resulting in leadership changes.
Late last year, Trump nominated oncology doctor Stephen Hahn as the new Commissioner of the FDA. Reuters reported how experts had highlighted Hahn's status as an outsider likely played a role in his nomination by the President.
Fair said this abrupt change at the top has created internal conflict within the FDA, especially during the pandemic as the agency scrambles to fast-track Covid-19 treatments.
'Common sense regulations' for CBD will come … eventually
Fair expects America's ongoing health crisis will continue for months with the lack of political leadership at the national level. As of this week, the U.S. leads the world with with over 4 million confirmed cases of Covid-19.
And with the pandemic raging on, Fair said FDA likely won't prioritize CBD regulations until the situation stabilizes.
But if the Democratic Party takes power of the U.S. Senate in the Nov. 3 election, he said that could help catalyze CBD policy as well as federal cannabis legalization.
In a presentation last month, Canadian weed mega-company Canopy Growth Corp. (TSX: WEED) noted that it has been talking to lawmakers on Capitol Hill who could veto the FDA and provide a legislative solution for CBD through its classification as a dietary supplement.
Last year, a bill was introduced by in the House that would amend the Food, Drug and Cosmetic Act to reclassify CBD as a supplement, Canopy noted.
The company plans to introduce a CBD brand backed by lifestyle guru Martha Stewart in the U.S. this fall, and have 40 products launched in total by the end of this year under a total of four brands.
For Fair, its only a matter of time for "common sense regulations" to prevail.
He compares the ban on CBD food and drinks to alcohol prohibition in the U.S. 100 years ago. It took people getting poisoned with bad batches of illicit booze before a regulated market was established to keep people safe.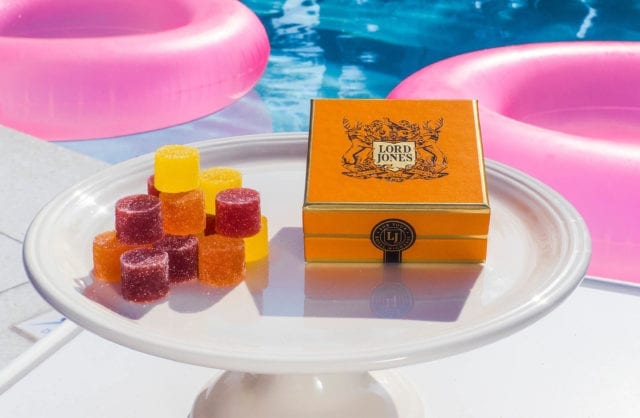 Toronto-based cannabis company Cronos Group reported in an SEC filing on July 20, 2020, that CEO Robert Rosenheck of its Lord Jones luxury CBD brand is departing after posting slow sales growth in the U.S. due in part to a lack of federal CBD regulations. Press photo
The FDA's main concerns for potential harms caused by CBD include potential liver injury and how the compound interacts with other prescription drugs.
"By competing with CBD in the liver, the efficacy of prescription medications may change, thus harming patients," Dr. Parodneck explains.
But industry leader Charlotte's Web (TSX: CWEB) helped launch a clinical trial last month to test CBD's effect on the liver in an effort to provide the FDA with more robust science.
This week, the Colorado-based company teamed up with famed street artist Shepard Fairey to raise awareness of the need for improved and equal access to hemp-derived CBD products in all 50 states. Fairey's "Trust The Earth" art installation of a raised fist clutching a cannabis leaf was mown into 76 acres in a Kansas wheat field and has made international headlines.
Fair said CBD awareness and use is only continuing to climb at an exponential rate, which is why he's confident that regulations will eventually push through.
"It's not a matter of if, but a matter of when," he says.
Top image of Charlotte's Web's third art installation by renowned street artist Shepard Fairey 'Trust The Earth' is part of the company's pro-hemp access campaign and was grown and mown into 76 acres — the equivalent of 57 football fields — on a farm in Kansas.
420 Intel is Your Source for Marijuana News
420 Intel is the leading source for cannabis news from around the world. Get the latest updates on cannabis legalization, politics and technology, as well as developments in medical and recreational marijuana news. Our commitment is to bring you the most important cannabis news stories every day of the week.
At 420 Intel we understand that effective marijuana industry news coverage is a constant endeavor. Every day stories develop regarding cannabis legalization, technological developments, and the medicinal benefits of marijuana use. Each new development carries the potential to impact the marijuana industry regionally, nationally, and internationally. 420 Intel is the marijuana industry news outlet that will keep you up to date on these developments and how they impact the world around you.
With the marijuana industry constantly evolving, you need a cannabis news outlet to keep you abreast of the pertinent information. At 420 Intel, we cover marijuana legalization news throughout the world, offer reliable information for cannabis business owners, detail technological advances that impact the marijuana industry, cover marijuana rallies from across the globe, and everything in between.
You can get 420 Intel news delivered directly to your inbox by signing up for our daily marijuana news, ensuring you're always kept up to date on the ever-changing cannabis industry. To stay even better informed about marijuana legalization news follow us on Twitter, Facebook and LinkedIn.