Majority of Kiwis will vote in favour of cannabis legalization, new poll finds
With a national referendum just three months away, a new poll has found a growing majority of New Zealand voters are in favour of legalizing cannabis for adults.
In May, the New Zealand government revealed the final draft of a cannabis reform bill that included a framework for a regulated adult-use market.
Kiwis will have the option to vote yes or no on the cannabis legislation in a referendum as part of the Sept. 17 national election. Although the referendum is non-binding, the country's current coalition government has pledged to enact the bill should the referendum be successful and they remain in power.
If the law passes it would not alter New Zealand's medical cannabis regulations that came into effect April 1.
The new poll found 56 per cent of respondents plan to vote in favour of legal weed, up from 54 per cent in February. The independent survey of nearly 1,600 Kiwis was conducted in June by Horizon Research and commissioned by licensed medical cannabis company Helius Therapeutics.
Horizon has conducted six polls in New Zealand over the past two years to help track nationwide opinions on cannabis law reform.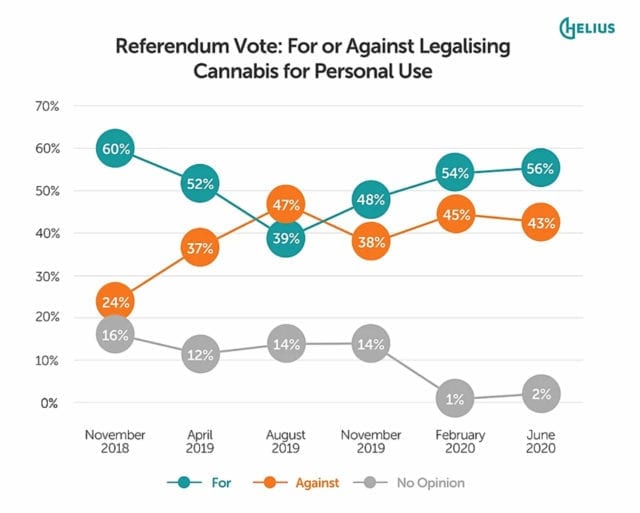 Graph via Helius Therapeutics
New Zealand cannabis referendum vote will be close, polls show
The latest poll found support for legalization among women was at 59 per cent, up 4 per cent since February, with 52 per cent of men set to vote yes.
Helius Therapeutics chief executive Paul Manning said the results will energize both the yes and no camps.
"This is a polarizing debate but despite prohibition, cannabis is already widely accessible in New Zealand. September's referendum is fundamentally a decision about who we want to control cannabis," Manning said in a statement.
The CEO noted that 81 per cent of Kiwis polled said prohibition has failed to limit cannabis access and use.
He argues that a government-led cannabis market would weaken the stronghold gangs have on communities in the island nation.
"Reform transfers cannabis access to regulated, locally-owned businesses, delivering jobs and tax revenue, while ushering in quality standards and strict access controls," Manning said.
MediPharm Labs Corp. (TSX: LABS) is one of the few Canadian cannabis companies to have entered New Zealand's medical market. The extractor signed a two-year white label deal with Helius Therapeutics in April.
As for adult-use legalization, support was the highest among the 25 to 34 age demographic at 72 per cent, and particularly among young adults who support centre-left and liberal parties.
Although New Zealand seniors are the only age groups opposed, support among older demographics has been on the rise.
Of those aged 65 to 74 years, 39 per cent now support legalization, up from 30 per cent in the first survey conducted in November 2018.
Meanwhile, voters of four of the five parties currently in parliament now favour legalization, up from two in February.
Only voters from New Zealand's right-wing National party remain opposed, with only 31 per cent saying they will vote yes.
Despite the Horizon Research poll showing overall support was growing, another survey conducted by local media outlet 1 NEWS revealed the opposite.
According to that poll, only 40 per cent of respondents would vote in favour of the referendum, with 49 per cent saying they would oppose it.
The New Zealand government has alleged that a U.S. anti-weed lobbying group has been interfering with the reform initiative.
The Smart Approaches to Marijuana group, which opposes cannabis legalization in the U.S., has set up a branch in New Zealand that runs a 'Say Nope to Dope' campaign to try and sway the outcome of the referendum.
The country's cannabis legislation was partly modeled after Canada's legal weed framework. If it passes, Kiwis 20 years and older would be able to purchase 14 grams of cannabis and be allowed to grow up to two plants, or four per household.
New Zealand lawmakers would cap the number of licences that one company can possess, with no single company allowed more than 20 per cent of the total market share.
420 Intel is Your Source for Marijuana News
420 Intel is the leading source for cannabis news from around the world. Get the latest updates on cannabis legalization, politics and technology, as well as developments in medical and recreational marijuana news. Our commitment is to bring you the most important cannabis news stories every day of the week.
At 420 Intel we understand that effective marijuana industry news coverage is a constant endeavor. Every day stories develop regarding cannabis legalization, technological developments, and the medicinal benefits of marijuana use. Each new development carries the potential to impact the marijuana industry regionally, nationally, and internationally. 420 Intel is the marijuana industry news outlet that will keep you up to date on these developments and how they impact the world around you.
With the marijuana industry constantly evolving, you need a cannabis news outlet to keep you abreast of the pertinent information. At 420 Intel, we cover marijuana legalization news throughout the world, offer reliable information for cannabis business owners, detail technological advances that impact the marijuana industry, cover marijuana rallies from across the globe, and everything in between.
You can get 420 Intel news delivered directly to your inbox by signing up for our daily marijuana news, ensuring you're always kept up to date on the ever-changing cannabis industry. To stay even better informed about marijuana legalization news follow us on Twitter, Facebook and LinkedIn.