State takes over SC-grown hemp tests to ensure THC levels aren't too high
The task of testing hemp for for its primary psychoactive compound will now have to be handled by state inspectors rather than growers under a change in federal policy.
The S.C. Department of Agriculture has asked lawmakers for $1.6 million to hire staff, as well as pay for vehicles and travel, sampling equipment and laboratory costs.
The law mandates a hemp crop contain less than 0.3 percent tetrahydrocannabinol, or THC, to be harvested. State inspectors will take samples from each field within two weeks prior to harvest to ensure proper levels, according to agency spokeswoman Eva Moore.
The S.C. House approved the full request, $1.1 million of which is a recurring expense, in its proposed budget legislation. Lawmakers are expected to return to Columbia this week to finalize the budget.
"South Carolina's hemp farming program has brought enormous opportunity to farmers, and capable, large-scale hemp processing is a key part of future development as the industry grows," Hugh Weathers, state agriculture commissioner, previously told The Post and Courier.
The changes to the recently approved state hemp plan were made to meet U.S. Department of Agriculture guidelines issued in October.
About 350 people applied to farm hemp in South Carolina this season, the state announced last week. While that appears to be a big jump at first glance, the net number is expected to remain about the same. The reason is that some of the 114 permits issued last year covered multiple growers, who are required to apply for individual licenses in 2020.
Arriving daily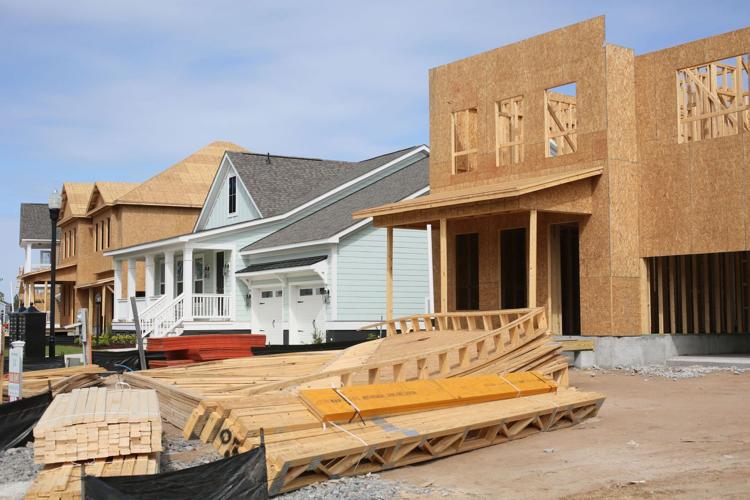 New homes continue to be built across the Charleston region as people continue to move to the Lowcountry. File/Staff
Newcomers keep coming, and Charleston keeps growing.
The latest U.S. Census Bureau figures show the region's population swelled to 802,122 in the three counties — Berkeley, Charleston and Dorchester — that make up the Charleston metro area.
About 14,000, decided to call the area around the Holy City home last year, for a 1.8 percent gain.
"An indication of our metro's stable and steady growth over decades continues," according to Claire Gibbons with the Charleston Regional Development Alliance. "It is not explosive or overnight."
The updated in-migration figures also provide a glimpse of how many new residents the Lowcountry is adding on a daily basis.
According to Gibbons, an average of 30 people are moving to Charleston daily — or 11,000 a year — along with eight new births, for a net increase of 38 arrivals. The previous estimate was 28 new people moving to the region daily. The updated net figure includes deaths and outbound moves, Gibbons said.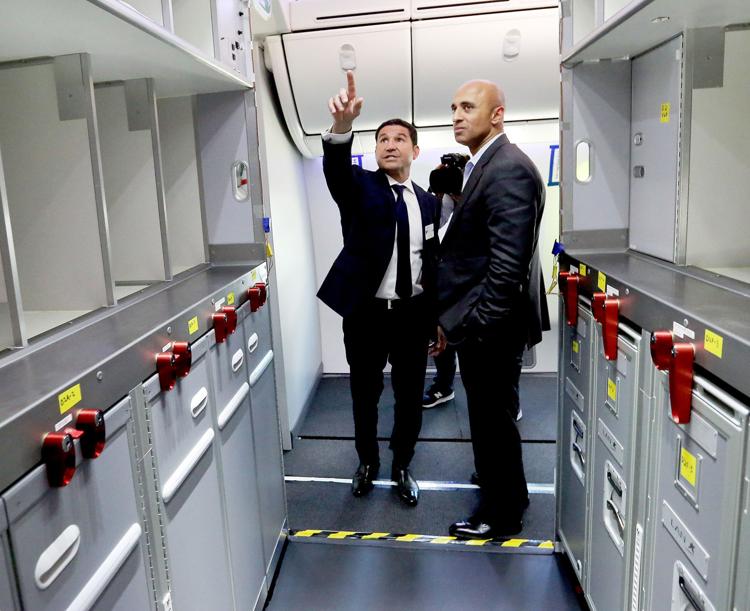 David Carbon (left), was vice-president of 787 operations at Boeing South Carolina from 2016 to mid-2019. Amazon has hired him to head its drone delivery program, Prime Air. File/Brad Nettles/Staff
Boeing to Prime time
A former Boeing Co. Dreamliner executive has been tapped by Amazon to run its new drone delivery business.
David Carbon, who was vice president of 787 operations at Boeing South Carolina from 2016 until mid-2019, started in his role as vice president of Prime Air in March, according to his LinkedIn page. 
Prime Air is still in the development stage but is intended to be a new delivery service that will "deliver packages of up to five pounds in 30 minutes or less using small drones," according to Amazon. 
The company is in the process of scaling up manufacturing and bringing the service to customers, according to a statement cited by CNET. 
Carbon has experience scaling up an aviation program: He oversaw the production increase of the 787 to 14 per month, split between Boeing's plants in North Charleston and Everett, Wash. The transition earned him praise from then-CEO Dennis Muilenburg, but the process wasn't without controversy. 
The South Carolina plant came under scrutiny early last year for repeated production mistakes that some workers told The Post and Courier were caused by upper management prioritizing speed over safety. 
Carbon also led the plant's opposition to a group of flight-line workers trying to get union representation from the International Association of Machinists.
When Carbon left Boeing in May 2019, the company said he was moving back to his native Australia to care for his family. According to Carbon's LinkedIn page, he has been self-employed in the Charleston area under the company name Carbon and Associates LLC from August 2019 to March of this year.
420 Intel is Your Source for Marijuana News
420 Intel is the leading source for cannabis news from around the world. Get the latest updates on cannabis legalization, politics and technology, as well as developments in medical and recreational marijuana news. Our commitment is to bring you the most important cannabis news stories every day of the week.
At 420 Intel we understand that effective marijuana industry news coverage is a constant endeavor. Every day stories develop regarding cannabis legalization, technological developments, and the medicinal benefits of marijuana use. Each new development carries the potential to impact the marijuana industry regionally, nationally, and internationally. 420 Intel is the marijuana industry news outlet that will keep you up to date on these developments and how they impact the world around you.
With the marijuana industry constantly evolving, you need a cannabis news outlet to keep you abreast of the pertinent information. At 420 Intel, we cover marijuana legalization news throughout the world, offer reliable information for cannabis business owners, detail technological advances that impact the marijuana industry, cover marijuana rallies from across the globe, and everything in between.
You can get 420 Intel news delivered directly to your inbox by signing up for our daily marijuana news, ensuring you're always kept up to date on the ever-changing cannabis industry. To stay even better informed about marijuana legalization news follow us on Twitter, Facebook and LinkedIn.