Canadian Scientist Wants To Research Cannabis As Treatment For COVID-19
Warning message
The subscription service is currently unavailable. Please try again later.
Dr. Mohan Cooray believes the naturally occurring immunomodulatory properties that plant cannabinoids possess absolutely require expedited investigation.
Just how will the coronavirus epidemic end? It's a question you've probably wondered about multiple times during this period of quarantine and social distancing. If not, you likely wish things would just go back to normal. According to experts, one way the outbreak could end is doctors developing medications that prevent and/or treat the infection.
One medical supplier recently asked Health Canada for approval to study the effects of cannabis on COVID-19 patients. Dr. Mohan Cooray, who serves as president and CEO of Cannalogue, an online medical cannabis retailer in Toronto, wants to examine if certain cannabinoids can reduce inflammation and potential boost immune systems in a formal, rigorous setting.
"What we know from medical cannabis over the course of the literature and the experience we've had in Canada over the years is that there are known anti-inflammatory properties that cannabinoids have—cannabinoids being the active ingredients that come from the cannabis plant," Dr. Cooray told The Toronto Sun.
Previous studies have shown that marijuana's entourage effect — when whole-plant cannabinoids like THC, CBD, or CBG work in unison, instead of isolated doses like you find in CBD oil — demonstrates particular effectiveness in reducing inflammation. Other research has shown flavonoids in cannabis — the genes responsible for a plant's color and pigmentation — contain anti-inflammatory effects 30 times more powerful than aspirin.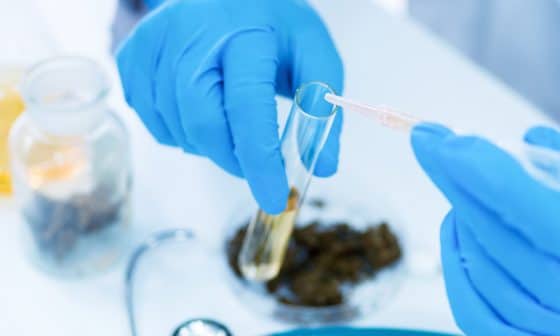 Dr. Cooray believes now is the time to build upon that research.
"On top of that, we know from a medical standpoint that these active ingredients have immunomodulatory properties, meaning that they augment the immune system to make it better… and we've seen this in diseases such as Crohn's disease, rheumatoid arthritis and multiple sclerosis that medical cannabis functions as a naturally occurring immunomodulator," he said.
A previous study published in the peer-journal AIDS Care, for example, focused on how cannabinoids affected HIV/AIDS patients. Researchers found those who were cannabis users developed stronger immune systems and generated more T cells that kill the HIV virus. But, the study's authors wrote, "the mechanisms by which marijuana act upon immune and neurocognitive functioning cannot be determined from the current study." This is where Dr. Cooray hopes to improve our current understanding.
"Cannalogue is committed to doing our part.  The need is too great and we have to act now," he told Yahoo. "We are not suggesting with the current knowledge of medical cannabis that it is a prevention, treatment or cure for COVID-19 or coronaviruses. However, plant cannabinoids have naturally occurring immunomodulatory properties that absolutely require expedited investigation given the current global COVID-19 pandemic."
420 Intel is Your Source for Marijuana News
420 Intel is the leading source for cannabis news from around the world. Get the latest updates on cannabis legalization, politics and technology, as well as developments in medical and recreational marijuana news. Our commitment is to bring you the most important cannabis news stories every day of the week.
At 420 Intel we understand that effective marijuana industry news coverage is a constant endeavor. Every day stories develop regarding cannabis legalization, technological developments, and the medicinal benefits of marijuana use. Each new development carries the potential to impact the marijuana industry regionally, nationally, and internationally. 420 Intel is the marijuana industry news outlet that will keep you up to date on these developments and how they impact the world around you.
With the marijuana industry constantly evolving, you need a cannabis news outlet to keep you abreast of the pertinent information. At 420 Intel, we cover marijuana legalization news throughout the world, offer reliable information for cannabis business owners, detail technological advances that impact the marijuana industry, cover marijuana rallies from across the globe, and everything in between.
You can get 420 Intel news delivered directly to your inbox by signing up for our daily marijuana news, ensuring you're always kept up to date on the ever-changing cannabis industry. To stay even better informed about marijuana legalization news follow us on Twitter, Facebook and LinkedIn.