'It's Very Tough': Retailers Across Mass. Shut Down Under State Order Worry About Future
Retailers across Massachusetts are closing their doors Tuesday, after Gov. Charlie Baker ordered all non-essential businesses in the state to close for at least two weeks.
The move is an effort to stop the spread of the coronavirus. Grocery stores, pharmacies and other businesses considered essential by the state can remain open.
In Central Square in Cambridge, many of the businesses that line Mass. Ave. already closed before Baker's order. But some retailers tried to stay open.
"I wasn't going to close until the government told me that I had to close," said Steven Adelson, the owner of Teddy Shoes. "As far as I'm concerned, you never know when somebody is gonna come in."
But lately, not many customers have been coming in.
Teddy Shoes sells an eclectic mix of footwear as well as accessories for dancers. Adelson said he only made a handful of sales last week — and he had to lay off his three employees.
"You never like to let anybody go, but I had no other choice. Had to do it," Adelson said. "To have two or three sales all week doesn't even pay for one employee, you know? And unfortunately, I can't just give money out. Just don't have it coming in."
Teddy Shoes has been in Adelson's family for over 60 years. Now that he has to close, Adelson worries he'll lose his store entirely.
"If I can't pay my rent, I can't pay the insurance on my business. I can't pay for my inventory. I won't be able to survive," he said.
But he is hopeful. Adelson says he's focused on trying to sell his merchandise online.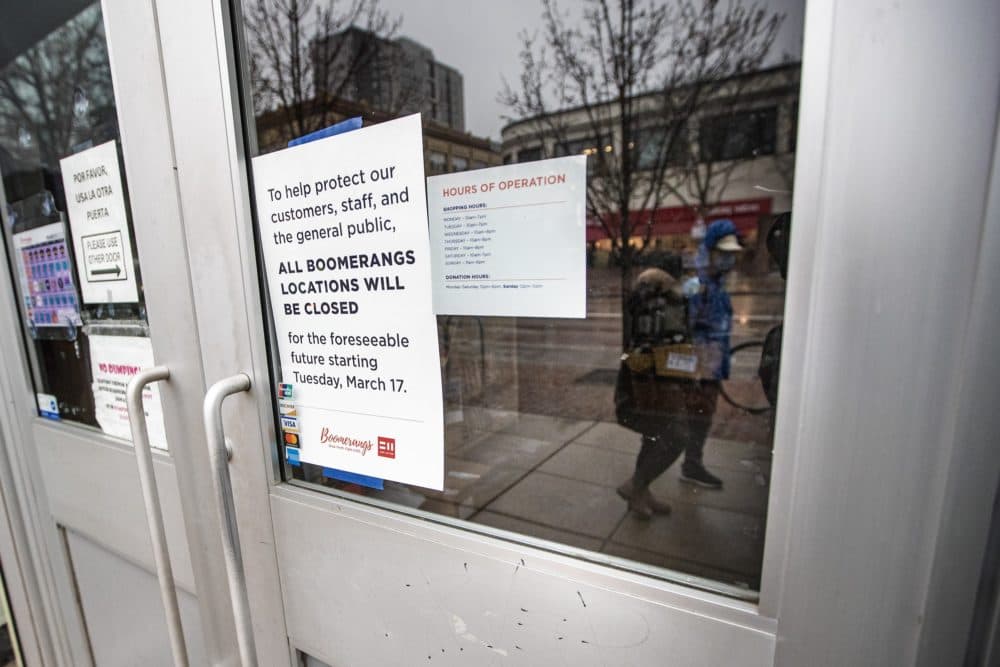 The thrift shop Boomerang, like many small stores in Central Square, closed before Governor Baker's mandate. (Jesse Costa/WBUR)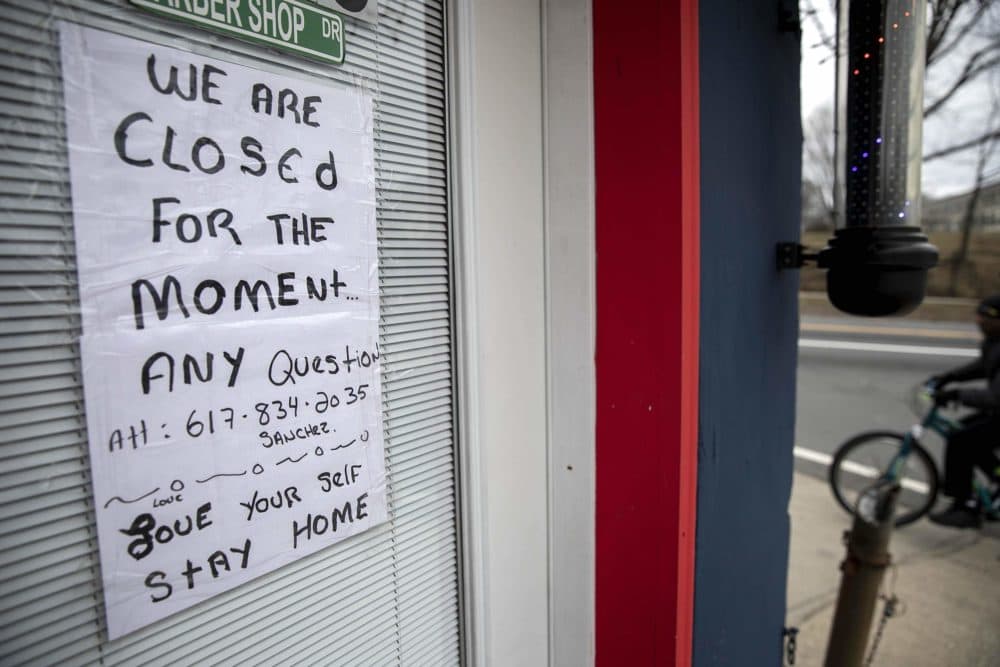 A sign on the door of the Nice Haircut Barber Shop on Dorchester Ave. in Boston. (Robin Lubbock/WBUR)
Other business owners are also trying to be optimistic.
Kobie Evans is the co-owner of Pure Oasis, Boston's first recreational marijuana shop. The long-awaited store opened just two weeks ago — and now has to close. And Evans is trying to figure out how he can keep his 30 employees on the payroll.
"You know, it felt great to get to a point where we finally opened. And, you know, I had no idea that we would be in this position right now," Evans said. "It's very tough."
Evans thinks his business will be OK in the long-run, even though he will lose revenue.
Under the governor's order, medical marijuana dispensaries are considered essential and can stay open. But recreational pot shops are not considered essential, and must close.
Evans feels that should change, and he hopes the governor reconsiders.
"In terms of people who consume, a lot of this is essential. People need it just to get through the day of all of this uncertainty and anxiety," Evans said.
Evans said he had a 20% jump in customers last week and many of them told him they were stocking up on cannabis because they were feeling stressed or anxious about the coronavirus.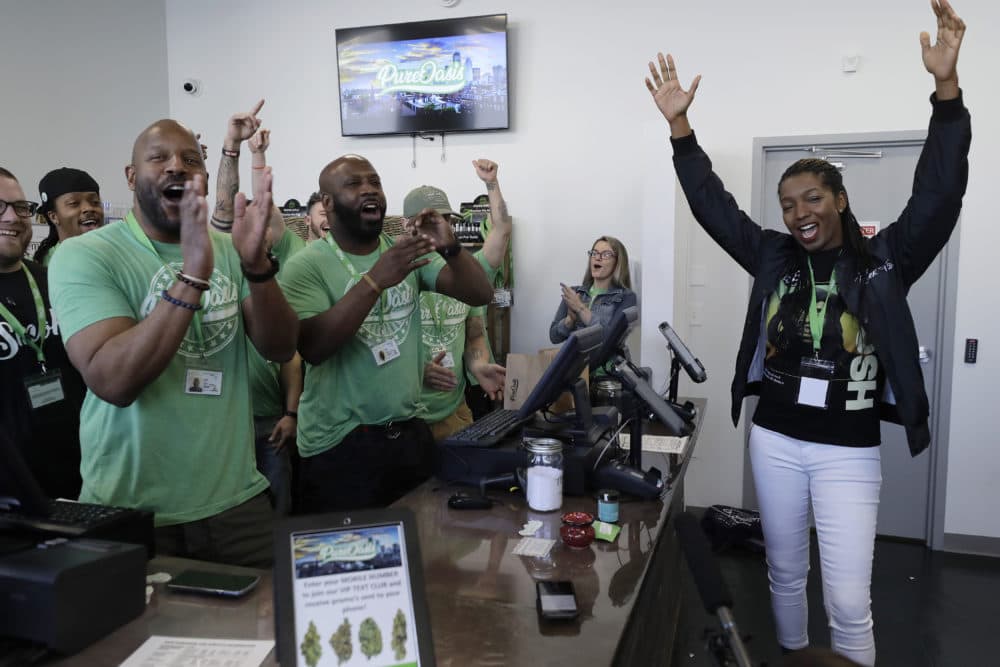 Entrepreneurs Kobie Evans, front left, and Kevin Hart, center left, celebrate the opening of Pure Oasis recreational marijuana shop with their first customer Niambe McIntosh, right, the moment the shop opened for the first time, Monday, March 9, 2020, in Boston. (Steven Senne/AP)
Some business groups hope government relief is coming for the many stores that will now face tougher times.
"The government needs to pay and they need to make sure that these small businesses and their livelihood and their employees and customers are made whole once the locations get opened," said Jon Hurst, the president of the Retailers Association of Massachusetts .
Even some businesses that are considered essential are feeling the squeeze — like liquor stores. Though they can stay open, some are taking a hit.
"A lot of our stores, particularly the Belmont store, do a massive amount of corporate business, and that's all gone away, literally at the snap of a finger," said Suzanne Schalow, the chief executive of the Craft Beer Cellar, which has seven locations in Massachusetts. "So that's a change and a big downturn in business."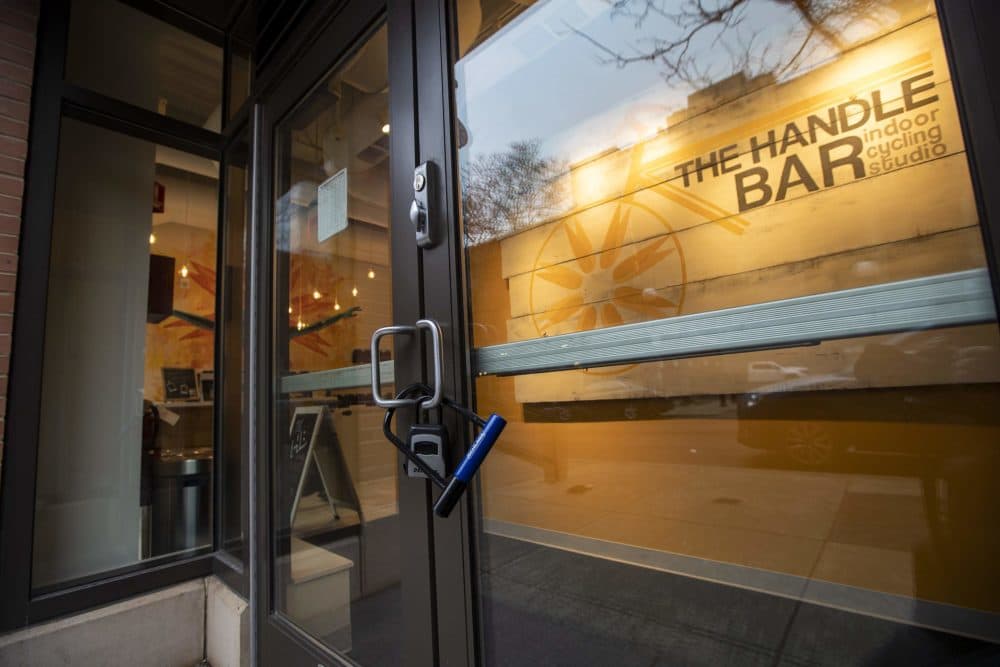 The Handle Bar indoor cycling studio on Canal Street has a U-shaped lock on its door. (Jesse Costa/WBUR)
Back in Central Square, Libby's Liquor manager Arjun Kunwar is trying to figure out whether it's even worth it to stay open.
"A lot of people are going to a supermarket to stock on the stuff rather than a small convenience store," he said. "And then the liquor sales is still like low right now."
Kunwar said his sales have dropped by almost half in the last two weeks, as more people have stayed home.
"With the customer traffic, it's not worth it to open because it's so slow right now." Kunwar said. "On top of that, you don't even see people around."
The businesses required to close under the governor's order must stay closed until April 7 — though that could be extended.
420 Intel is Your Source for Marijuana News
420 Intel is the leading source for cannabis news from around the world. Get the latest updates on cannabis legalization, politics and technology, as well as developments in medical and recreational marijuana news. Our commitment is to bring you the most important cannabis news stories every day of the week.
At 420 Intel we understand that effective marijuana industry news coverage is a constant endeavor. Every day stories develop regarding cannabis legalization, technological developments, and the medicinal benefits of marijuana use. Each new development carries the potential to impact the marijuana industry regionally, nationally, and internationally. 420 Intel is the marijuana industry news outlet that will keep you up to date on these developments and how they impact the world around you.
With the marijuana industry constantly evolving, you need a cannabis news outlet to keep you abreast of the pertinent information. At 420 Intel, we cover marijuana legalization news throughout the world, offer reliable information for cannabis business owners, detail technological advances that impact the marijuana industry, cover marijuana rallies from across the globe, and everything in between.
You can get 420 Intel news delivered directly to your inbox by signing up for our daily marijuana news, ensuring you're always kept up to date on the ever-changing cannabis industry. To stay even better informed about marijuana legalization news follow us on Twitter, Facebook and LinkedIn.