Vape retailer says coronavirus outbreak will hit cannabis industry
As the coronavirus outbreak wreaks havoc on global stock markets, one company says the unfolding crisis is bound to hit the cannabis industry.
California online vape retailer ProVape said Wednesday the coronavirus is creating issues for industry around the world as Chinese vape manufacturers are being shut down due to their government's quarantine of millions of people.
The factory shutdowns mean shipments from China of vape hardware such as coils and batteries have dwindled to a "frightening number," ProVape said.
About 1,000 factories in China produce 90 per cent of the world's vaping devices and Chinese manufacturers produce almost all cannabis vaporizers, cartridges, and batteries, according to ProVape.
The company said they have already seen a massive problem in the supply chain for vape products from wholesale suppliers.
"We are constantly told that products are on back order, and are encouraged to stock up with vape hardware to avoid any issues in coming months," ProVape executive Art Harutyunyan said in a statement.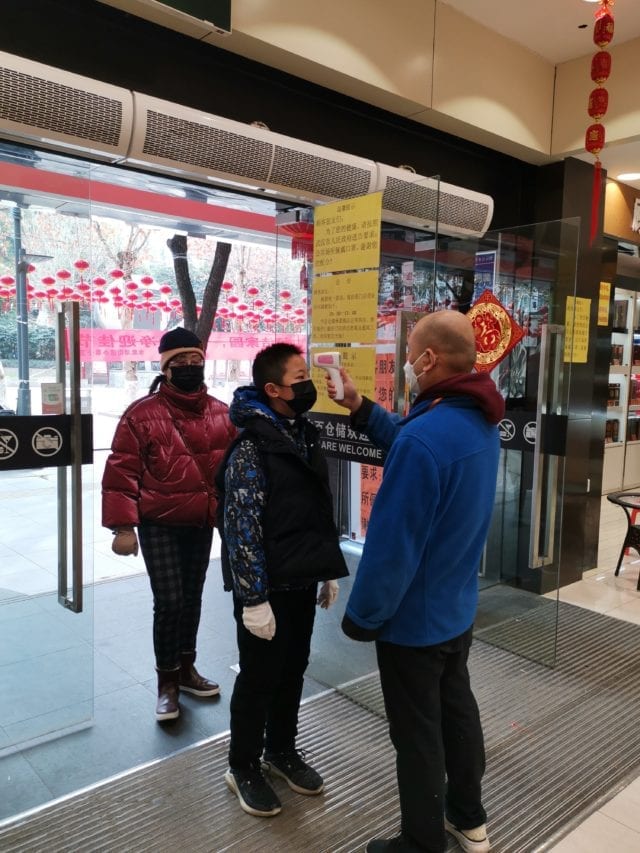 Temperature checks being performed in Wuhan, China. Photo courtesy of Wikimedia Commons
In Shenzhen, the vaping capital of the world, businesses have been allowed to resume operation if they have put stringent measures to prevent further spread of the deadly virus, the company said.
Local officials have approved plans that would protect its citizens when they return to work such as ordering companies to give out at least two masks a day to employees and conducting temperature checks.
However, ProVape said there are reports from China that companies have been slow to react, which is preventing employees from going to work.
While the Chinese government is torn between restarting the economy and containing the virus, there seems to be no rush in putting the economy back on track, the company said. Many Chinese companies have opted not to resume normal operations despite the encouragement of local authorities.
According to the John Hopkins University, there are 81,322 reported coronavirus (COVID-19) cases and 2,770 deaths, as of Feb. 26. In Mainland China, there are 78,064 reported cases and 2,716 deaths, as of Feb. 26.
The Center for Disease Control and Prevention (CDC) reports that the Coronavirus outbreak has originated in Wuhan City, Hubei Province.
420 Intel is Your Source for Marijuana News
420 Intel is the leading source for cannabis news from around the world. Get the latest updates on cannabis legalization, politics and technology, as well as developments in medical and recreational marijuana news. Our commitment is to bring you the most important cannabis news stories every day of the week.
At 420 Intel we understand that effective marijuana industry news coverage is a constant endeavor. Every day stories develop regarding cannabis legalization, technological developments, and the medicinal benefits of marijuana use. Each new development carries the potential to impact the marijuana industry regionally, nationally, and internationally. 420 Intel is the marijuana industry news outlet that will keep you up to date on these developments and how they impact the world around you.
With the marijuana industry constantly evolving, you need a cannabis news outlet to keep you abreast of the pertinent information. At 420 Intel, we cover marijuana legalization news throughout the world, offer reliable information for cannabis business owners, detail technological advances that impact the marijuana industry, cover marijuana rallies from across the globe, and everything in between.
You can get 420 Intel news delivered directly to your inbox by signing up for our daily marijuana news, ensuring you're always kept up to date on the ever-changing cannabis industry. To stay even better informed about marijuana legalization news follow us on Twitter, Facebook and LinkedIn.