You are here
Home
🌿
Medical Cannabis News
🌿 A year after Iowa introduced medical cannabis, here's how the program is making gains 🌿
A year after Iowa introduced medical cannabis, here's how the program is making gains
Warning message
The subscription service is currently unavailable. Please try again later.
After a bad workplace accident in 2001, Rick Parham wound up with steel plates and rods in his spine.
He also found himself dealing with ongoing pain, including cramps in his legs that woke him up at night.
A little less than a year ago, Parham turned to a newly opened medical cannabis dispensary on the edge of Council Bluffs. He now uses a combination of cannabis tinctures, creams and vapor to keep himself moving during the day and to get adequate sleep at night. Recently, he's been putting siding on his home in Pacific Junction, Iowa, which took a hit from flooding last spring.
"I rove around like a 20-year-old," he said. "Before, I could barely even walk."
Parham's story is among many Amber Points has heard since the Have a Heart Compassion Care dispensary opened in December 2018 on the east bank of the Missouri River, one of five authorized in the state as part of a law the Iowa Legislature approved in 2017.
The Council Bluffs dispensary served 39 patients during January 2019, its first month, said Points, shop manager. This December, the count was 128, down from 150 in November, a dip she attributed to snow and cold and the difficulty older customers have in traveling — sometimes as much as an hour or two — to the shop just off Interstate 29.
"We've seen a lot of success," Points said.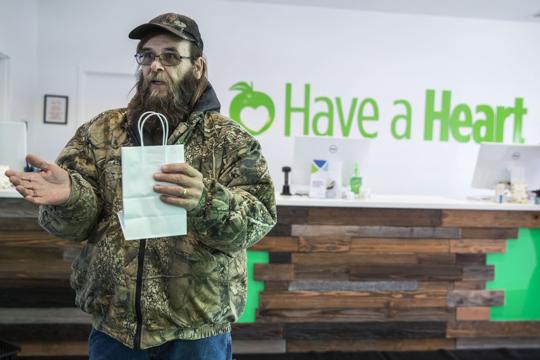 Rick Parham of Pacific Junction, Iowa, discusses how he has benefited from CBD oils and creams developed by MedPharm Iowa purchased from Have a Heart Compassion Care, a medical cannabis dispensary in Council Bluffs.
Iowans can't just walk into a dispensary and purchase the products. Only residents who are certified by an Iowa-licensed physician as having a qualifying condition can apply for a special ID card to purchase the products — capsules, tinctures, vapor and creams with different ratios of cannabidiol, or CBD, to THC.
The Iowa program as a whole has seen gains. An annual report by the Iowa Medical Cannabidiol Board in December tallied $2 million worth of sales statewide during the first year as well as a growing list of physicians — nearly 900 — who have certified at least one patient to participate. The addition of between 300 and 450 new patients a month brought the total to nearly 5,000 certified patients and caregivers. MedPharm Iowa is the state's main medical cannabis manufacturer. A second manufacturer, Iowa Relief in Cedar Rapids, also has begun producing products.
But some say the program faces too many restrictions, including caps that are difficult to navigate and a limited number of qualifying medical conditions for which Iowans can be certified to purchase products. That, advocates say, limits the number of Iowans who can participate.
"We've shown in the first year this can work, this can benefit people," said Lucas Nelson, MedPharm Iowa's general manager. "But at the same time, we've got to make some improvements if it's going to last long term."
Another concern for the budding industry, he said, is the availability of recreational marijuana in Illinois. Iowans, he said, could cross the state's eastern border as of Jan. 1 and buy products there. While they can't legally bring them back into Iowa, he believes they'll take the risk.
Mike McKelvey, chairman of the Iowa cannabidiol board, said the panel takes its mandate seriously and has proceeded cautiously when it comes to recommending new qualifying conditions given a dearth of long-term, peer-reviewed studies about the products' safety and efficacy. Much of the evidence that has been presented to the board, he said, is based on smaller, shorter studies or anecdotal information.
The main role of the board, composed of physicians and law enforcement, is to make recommendations about program operations, including the addition of new conditions and product makeup.
"There's a lot of competing agendas here," said McKelvey, a Mason City police captain, noting that the program still is evolving. The concern that Iowans will bring back product from Illinois, he said, is a "bit of a stretch."
Iowa's rules and regulations are among a patchwork that have emerged in recent years as states have pushed ahead to legalize marijuana, first for medical and more recently for recreational use. With marijuana still illegal at the federal level, each state essentially has acted as its own mini-Food and Drug Administration, said Owen Parker, program manager for the Iowa program. He works for the Iowa Department of Public Health, the agency tasked with implementing it.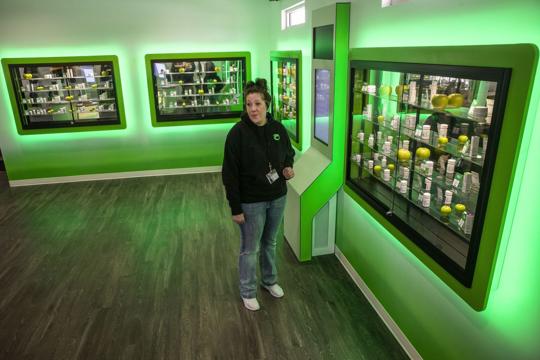 Amber Points, shop manager for the Have a Heart Compassion Care dispensary, says, "We've seen a lot of success.
Efforts to expand the state's program are expected to continue in the Iowa Legislature this session.
State Sen. Joe Bolkcom of Iowa City, a proponent of the program, said the state needs to get rid of some of the "red tape" that makes it difficult for patients to get approved and to get to a place where manufacturers can stay solvent.
He's said he's currently working on a proposal to make some of those changes, although he didn't spell out what they might be.
"We really need to make some pretty dramatic fixes to the Iowa program this year," he said.
Iowa Gov. Kim Reynolds last year vetoed a bill that would have done away with a 3% cap on THC, the high-inducing chemical compound in marijuana plants, replacing it with a per-person limit of 25 grams per 90 days. The cannabidiol board, however, has recommended a lower cap of 4.5 grams per 90 days.
That's where the program gets confusing.
Parker, the Iowa program manager, said 4.5 grams over 90 days actually would be less than patients currently can get.
The 3% cap means that products can't contain more than 3% THC by weight. But that doesn't limit the amount a manufacturer can put in the product, he said. If a manufacturer produced a 660 milligram capsule, 3% would work out to 20 milligrams of THC. Colorado has a 10 milligram limit on edible products such as gummies.
Removing the cap, Parker said, would make it easier for manufacturers to formulate products and for the state to track how much a patient is purchasing or consuming. It also would bring the state more in line with other states.
Nelson, the MedPharm official, said the 3% cap has kept costs artificially high because of the amount of materials and labor involved to make the products. Testing at the one available lab also is costly.
Both the state and MedPharm continue to educate residents, health care providers and others about the Iowa program.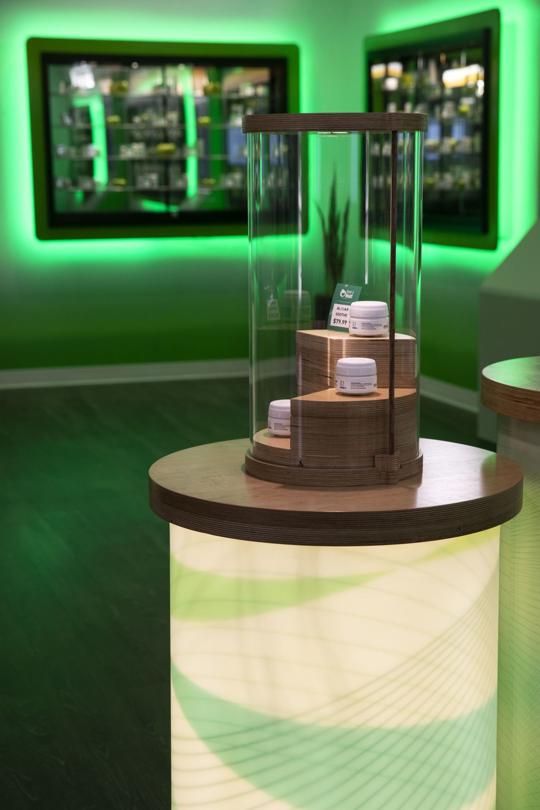 MedPharm Iowa has developed medical cannabis in pill, cream and liquid form, which is available to Iowa residents from Have a Heart Compassion Care, a medical cannabis dispensary in Council Bluffs.
Nelson said the company has held upward of 125 events in the past year, including tours of its manufacturing plant in Des Moines. "Each one of those helps break down stigma or break down a myth," he said.
Parker has been making his own presentations, now numbering upward of 60, for health systems, medical schools, pain specialists and others, including a half a dozen or more in Council Bluffs and Omaha.
"I tell them what the program is and what it is not," he said.
Two large Omaha-area health systems — CHI Health and Methodist Health System — operate hospitals and clinics in western Iowa. When the Iowa program launched last year, officials with the two systems said their policies were to follow federal law when it comes to the practice of medicine. Both said recently that their positions remain unchanged.
Qualifying conditions include untreatable pain, the most commonly cited, as well as multiple sclerosis, cancer, Parkinson's disease and seizures. Physicians don't prescribe or recommend the products. Instead, they certify that patients are eligible based on their qualifying medical condition.
In 2019, the Iowa board considered petitions to add 11 new qualifying medical conditions to its list. It recommended five for approval, including chronic pain. The Iowa Board of Medicine, a higher authority, denied two of the five, including chronic pain. The medical board will consider the addition of PTSD and an intellectual disability condition Feb. 7.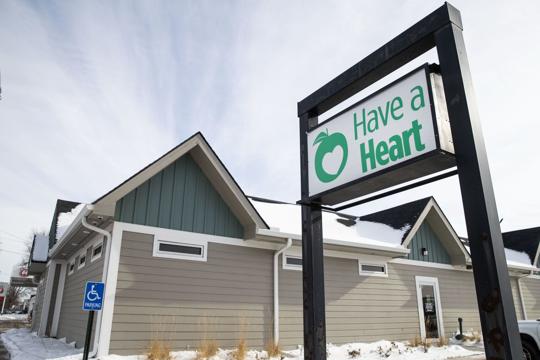 Have a Heart Compassion Care, a medical cannabis dispensary in Council Bluffs.
The Iowa cannabidiol board also has recommended a number of other changes. One would change the name of the program to the Iowa medical cannabis program to reflect that the fact that the products contain THC as well as cannabidiol. It also would help head off confusion with the cannabidiol or CBD products sold in health food stores and other outlets, Parker said.
McKelvey, the board chairman, said a federal decision on the regulation of marijuana would be helpful to everyone. Because federal law classifies marijuana as a Schedule 1 drug, defined as having a "high potential for abuse" and "no currently accepted medical use," it's difficult for researchers to conduct studies that would meet scientific standards without running afoul of the law.
The board also has recommended that dispensaries staff pharmacists, as Minnesota and several other states require, to consult with patients. Minnesota also requires patients to provide certain information to participate in its medical marijuana program. Researchers have begun tapping that data to conduct observational studies.
Bolkcom, the Iowa City state representative, said medical cannabis doesn't help everyone. Nor does every drug help every patient who takes it. But it does help thousands across the country.
"Of course we should have more study," he said. "Saying there's not evidence of medical evidence is an excuse for inaction, in my view."
Parham, the Pacific Junction resident, just hopes no one takes the program away.
"It's like instant," he said, "and you can feel relief."
420 Intel is Your Source for Marijuana News
420 Intel is the leading source for cannabis news from around the world. Get the latest updates on cannabis legalization, politics and technology, as well as developments in medical and recreational marijuana news. Our commitment is to bring you the most important cannabis news stories every day of the week.
At 420 Intel we understand that effective marijuana industry news coverage is a constant endeavor. Every day stories develop regarding cannabis legalization, technological developments, and the medicinal benefits of marijuana use. Each new development carries the potential to impact the marijuana industry regionally, nationally, and internationally. 420 Intel is the marijuana industry news outlet that will keep you up to date on these developments and how they impact the world around you.
With the marijuana industry constantly evolving, you need a cannabis news outlet to keep you abreast of the pertinent information. At 420 Intel, we cover marijuana legalization news throughout the world, offer reliable information for cannabis business owners, detail technological advances that impact the marijuana industry, cover marijuana rallies from across the globe, and everything in between.
You can get 420 Intel news delivered directly to your inbox by signing up for our daily marijuana news, ensuring you're always kept up to date on the ever-changing cannabis industry. To stay even better informed about marijuana legalization news follow us on Twitter, Facebook and LinkedIn.