Oregon marijuana sales 420% stronger near Idaho: report
Marijuana sales in Oregon along the Idaho state line are 420% the statewide average, according to a state report.
Idaho residents are purchasing recreational marijuana in Oregon because it is illegal in Idaho, the report released Friday by the Oregon Office of Economic Analysis said.
The report also showed stronger marijuana sales for Washington state along its border with Idaho in 2019 than along its borders with Oregon or Canada.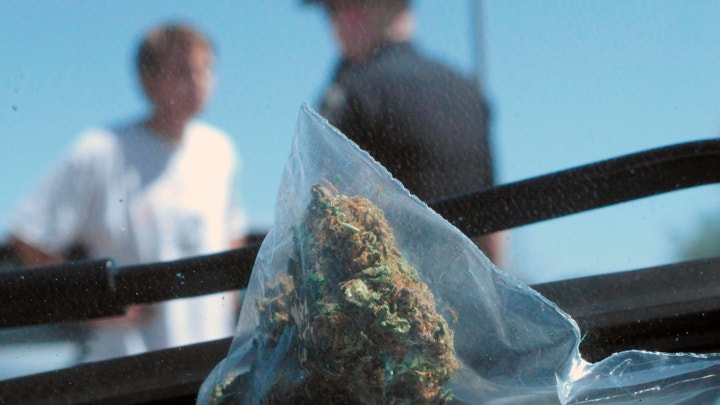 Idaho State Police Trooper Justin Klitch makes a stop and charges the driver with possession of marijuana after leaving Oregon, in Fruitland, Idaho.(AP Photo/Nigel Duara, File)
"The sales in counties along the Idaho border were much stronger than I anticipated," analyzer Josh Lehner said. "Obviously recreational marijuana is not legal in Idaho, but even after throwing the data into a rough border tax model that accounts for incomes, number of retailers, tax rates and the like, there remains a huge border effect."
A border effect occurs when two neighboring jurisdictions have different rules prompting residents to travel to nearby regions to take advantage of the different regulations, experts said.
The report found about 75% of Oregon sales and about 35% of Washington state sales in counties along the Idaho border were caused by the border effect.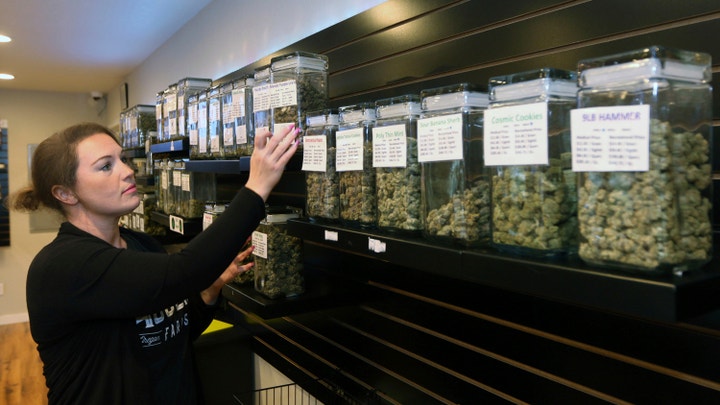 Diana Calvert, River City Retail Marijuana Dispensary manager stocks the shelves with product in Merlin, Ore. (Timothy Bullard/The Daily Courier via AP)
Idaho borders three states that have legalized recreational marijuana sales including Oregon, Washington and Nevada, officials said.
Advocates for legalizing medical marijuana have started collecting signatures to get an initiative on the general election ballot, the Idaho Statesman reported.
420 Intel is Your Source for Marijuana News
420 Intel is the leading source for cannabis news from around the world. Get the latest updates on cannabis legalization, politics and technology, as well as developments in medical and recreational marijuana news. Our commitment is to bring you the most important cannabis news stories every day of the week.
At 420 Intel we understand that effective marijuana industry news coverage is a constant endeavor. Every day stories develop regarding cannabis legalization, technological developments, and the medicinal benefits of marijuana use. Each new development carries the potential to impact the marijuana industry regionally, nationally, and internationally. 420 Intel is the marijuana industry news outlet that will keep you up to date on these developments and how they impact the world around you.
With the marijuana industry constantly evolving, you need a cannabis news outlet to keep you abreast of the pertinent information. At 420 Intel, we cover marijuana legalization news throughout the world, offer reliable information for cannabis business owners, detail technological advances that impact the marijuana industry, cover marijuana rallies from across the globe, and everything in between.
You can get 420 Intel news delivered directly to your inbox by signing up for our daily marijuana news, ensuring you're always kept up to date on the ever-changing cannabis industry. To stay even better informed about marijuana legalization news follow us on Twitter, Facebook and LinkedIn.