NFL Exploring CBD As Possible Treatment For Football Players
The NFL is remaining open to CBD, but remains firm there's not enough evidence and research to recommend it for players.
The National Football League announced last year its intention to study marijuana as a potential pain management tool for its players. This week, the NFL took its first steps into that process. The Pain Management Committee, a joint group between the NFL and NFL Players Association, met with manufacturers of CBD products to understand the efficacy behind the cannabinoid.
The fact-finding forum—as the NFL is calling it—was an effort to gather as much available data and scientific research around CBD in treating and managing acute pain for players. They also sought information about delivery systems for CBD and how products like oils, edibles, and vaporizers could provide different benefits.
"The Committee invited manufacturers of CBD products to share their research today so the Committee may hear and consider the possible scientific evidence base for CBD use as a pain management alternative," the NFL and the players union said in a joint statement.
While current and former NFL players have long called for cannabis use as an alternative to opioids in managing pain and inflammation, the league's drug policy maintains a ban on THC, the psychoactive element found in traditional marijuana and some CBD products. After the meeting, the league reiterated its belief there still isn't enough information and research available to support claims CBD can treat acute and chronic pain.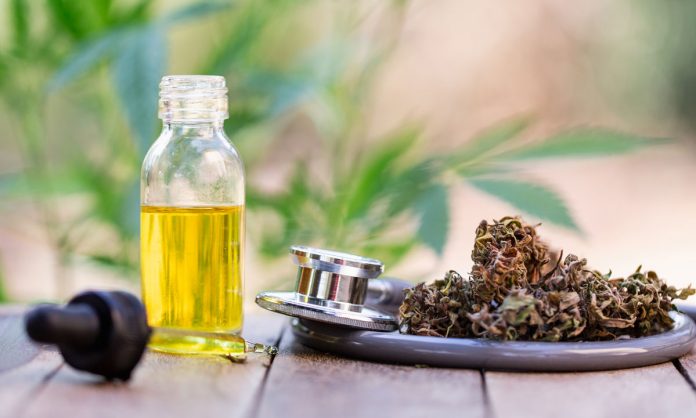 "CBD is a promising compound, but the extent of its use in the United States outpaces the level of evidence," co-chairs of the pain management committee wrote in a white paper sent to NFL teams.
The white paper did mention small clinical studies that demonstrated CBD could be effective in combating neuropathic pain. However, the authors noted CBD remains an unregulated market, as the Food and Drug Administration still hasn't established guidelines and rules around CBD, despite urgency from Senate Majority Leader Mitch McConnell. As a result, many products have varying degrees of purity and potency.
The white paper also added there were multiple controlled trials where marijuana and two FDA-approved cannabinoids successfully treated chronic and neuropathic pain. However, the committee raised concerns over the trials, due to their small sample sizes and short follow-up periods.
"Of course, cannabis remains a banned substance under the NFL Policy for Substances of Abuse," the paper concludes. "In addition, the potential problems associated with cannabis, from acute impairment of driving, addiction, and exacerbation of psychiatric disorders such as depression and anxiety, make it a substance to approach with extreme caution."
420 Intel is Your Source for Marijuana News
420 Intel is the leading source for cannabis news from around the world. Get the latest updates on cannabis legalization, politics and technology, as well as developments in medical and recreational marijuana news. Our commitment is to bring you the most important cannabis news stories every day of the week.
At 420 Intel we understand that effective marijuana industry news coverage is a constant endeavor. Every day stories develop regarding cannabis legalization, technological developments, and the medicinal benefits of marijuana use. Each new development carries the potential to impact the marijuana industry regionally, nationally, and internationally. 420 Intel is the marijuana industry news outlet that will keep you up to date on these developments and how they impact the world around you.
With the marijuana industry constantly evolving, you need a cannabis news outlet to keep you abreast of the pertinent information. At 420 Intel, we cover marijuana legalization news throughout the world, offer reliable information for cannabis business owners, detail technological advances that impact the marijuana industry, cover marijuana rallies from across the globe, and everything in between.
You can get 420 Intel news delivered directly to your inbox by signing up for our daily marijuana news, ensuring you're always kept up to date on the ever-changing cannabis industry. To stay even better informed about marijuana legalization news follow us on Twitter, Facebook and LinkedIn.