What's different about this BMW at the 2020 Farm Show hemp exhibit? It's 14% hemp
The Farm Show is chock full of products coming from Pennsylvania's agricultural industries. This year's show has a larger showing than last year of one of its newer commodities: hemp.
Hemp is featured at the Farm Show in unique ways, from a house built from hempcrete, to clothing made from hemp materials, to a BMW car that has 14% of its content made out of hemp.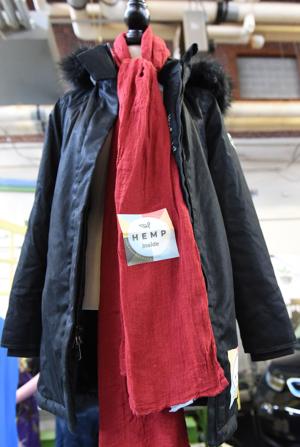 Clothing and textiles can be made by of hemp products, as featured at the hemp exhibit at the Pennsylvania Farm Show in Harrisburg on Saturday, January 4, 2020.
"Everything from the door panels to the sound proofing around the speakers the upholstery and it's also used as baffling in the batteries because hemp can conduct electricity," Stark said about the BMW i3 model.
It's now the second year of commercial hemp sales in Pennsylvania, said Erica Stark, the executive director of the National Hemp Association. Applications to grow hemp in Pennsylvania opened on Saturday, with new regulations this year for growers and processors.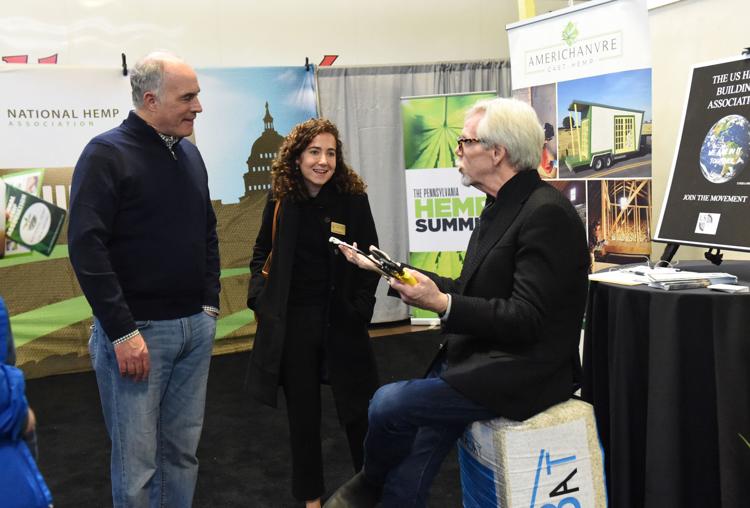 U.S. Sen. Bob Casey, D-Pennsylvania, talks with Geoff Whaling, the chairman of the National Hemp Association, at its exhibit at the Pennsylvania Farm Show in Harrisburg on Saturday, January 4, 2020
"Sometimes when you're in Washington, you can read about it, your staff can brief you, you can learn about it, but it tends to be a little distant and theoretical," U.S. Sen. Bob Casey, D-Pennsylvania, said after viewing the hemp exhibit. "Here, when you can see building products, parts of an automobile, the applications that I'm just beginning to learn about, [they] are almost infinite."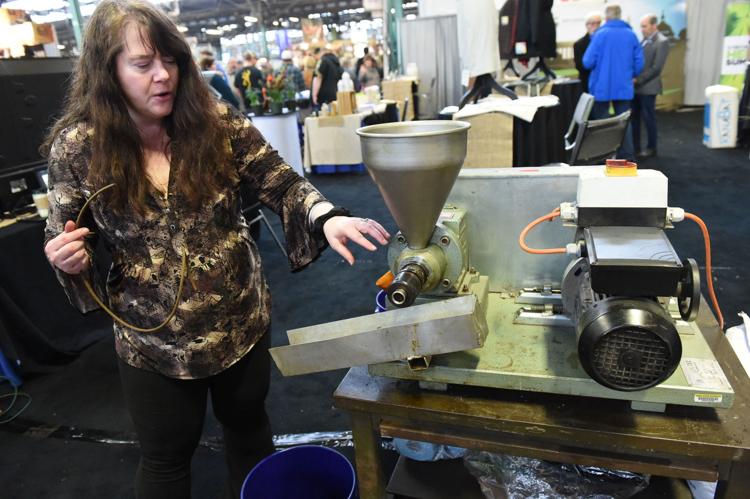 Erica Stark explains demonstrates a hemp seed extractor producing oil at the hemp exhibit at the Pennsylvania Farm Show in Harrisburg on Saturday, January 4, 2020.
Casey said this was the "most significant exposure" he'd had to hemp products yet, and said there is more work to do on the industry from the federal level.
Lancaster County had permits for more growing locations than anywhere else in the state, with 180 of the 812 permits submitted statewide. Most of the fields in the county were smaller ones that planted for a compound extract called CBD.
420 Intel is Your Source for Marijuana News
420 Intel is the leading source for cannabis news from around the world. Get the latest updates on cannabis legalization, politics and technology, as well as developments in medical and recreational marijuana news. Our commitment is to bring you the most important cannabis news stories every day of the week.
At 420 Intel we understand that effective marijuana industry news coverage is a constant endeavor. Every day stories develop regarding cannabis legalization, technological developments, and the medicinal benefits of marijuana use. Each new development carries the potential to impact the marijuana industry regionally, nationally, and internationally. 420 Intel is the marijuana industry news outlet that will keep you up to date on these developments and how they impact the world around you.
With the marijuana industry constantly evolving, you need a cannabis news outlet to keep you abreast of the pertinent information. At 420 Intel, we cover marijuana legalization news throughout the world, offer reliable information for cannabis business owners, detail technological advances that impact the marijuana industry, cover marijuana rallies from across the globe, and everything in between.
You can get 420 Intel news delivered directly to your inbox by signing up for our daily marijuana news, ensuring you're always kept up to date on the ever-changing cannabis industry. To stay even better informed about marijuana legalization news follow us on Twitter, Facebook and LinkedIn.