Coming Soon to a Bar Near You: Cannabis-Infused Beer in Israel
On a hot Tel Aviv summer's day, there is nothing more refreshing than sitting on the beach with a cold bottle of beer. Or is there? CBD-based product company Kaneh-B Ltd. and Beer Bazaar, a local craft brewery with several outposts in Tel Aviv and Jerusalem, are aiming high—to make cannabis-infused beer available in Israel. The beer, called CannaBrew, is set to reach market in January of 2020, Yahav Blaicher, Kaneh-B's co-founder and chief technology officer, said in a recent interview with Calcalist.
While cannabis is not currently legal in Israel except for medicinal indications, the companies' CannaBrew will be legal since the beer contains only the plant's legally-permitted aroma substances, called terpenes, and not the cannabinoid component that the law prohibits, Blaicher said.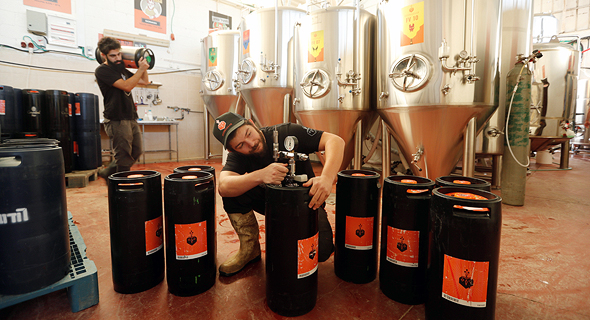 Beer Bazaar and Kaneh-B's beer in production. Photo: Gadi Kablo
The companies will first launch two cannabis-infused beers, one with a stimulating effect and one with a relaxing effect. The beers are being brewed at a brewery in southern Israeli town Kiryat Gat.
Kaneh-B is currently working on existing partnerships that will see other food and beverage items, including ice cream, energy drinks, vegan burgers, and even a children's nutritional supplement infused with cannabis terpenes, Blaicher said.
420 Intel is Your Source for Marijuana News
420 Intel is the leading source for cannabis news from around the world. Get the latest updates on cannabis legalization, politics and technology, as well as developments in medical and recreational marijuana news. Our commitment is to bring you the most important cannabis news stories every day of the week.
At 420 Intel we understand that effective marijuana industry news coverage is a constant endeavor. Every day stories develop regarding cannabis legalization, technological developments, and the medicinal benefits of marijuana use. Each new development carries the potential to impact the marijuana industry regionally, nationally, and internationally. 420 Intel is the marijuana industry news outlet that will keep you up to date on these developments and how they impact the world around you.
With the marijuana industry constantly evolving, you need a cannabis news outlet to keep you abreast of the pertinent information. At 420 Intel, we cover marijuana legalization news throughout the world, offer reliable information for cannabis business owners, detail technological advances that impact the marijuana industry, cover marijuana rallies from across the globe, and everything in between.
You can get 420 Intel news delivered directly to your inbox by signing up for our daily marijuana news, ensuring you're always kept up to date on the ever-changing cannabis industry. To stay even better informed about marijuana legalization news follow us on Twitter, Facebook and LinkedIn.