Millennial Males Buy the Most Cannabis: Headset Report
Cannabis companies looking to move product should market to millennial males, according to a new consumer demographics study by Headset.
In "The Demographics of Cannabis Consumers 2019" the Washington-based cannabis data analytics company looked at the state's online cannabis sales from Jan. 1 to Aug. 31, 2019 and found millennials make up over half of the market, while male consumers of all ages buy over 60 per cent of the cannabis sold.
The report breaks down the consumer purchasing trends into different generations and genders and found when it comes to weed Americans follow overall consumerism trends. The young value quantity over quality and buy more for less, and older generations with more disposable income enjoy quality over quantity and shop once in a while for pricier items.
Quantity over quality in cannabis for millennials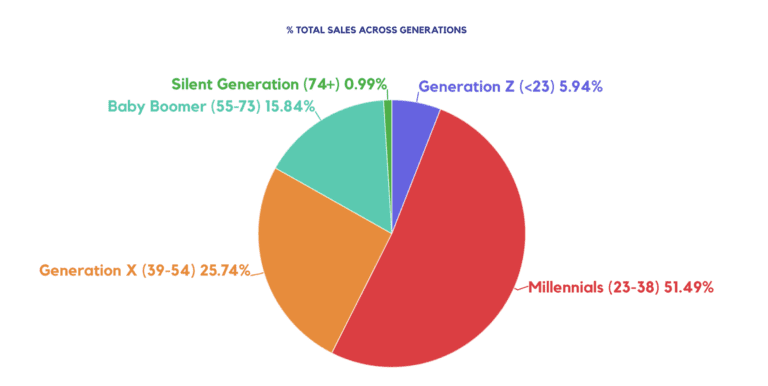 Image and chart courtesy of Headset.
Young people, such as generation Z, or people 23-years-old or younger, and millennials, ages 23 to 38, spend an average of $24 to $25 on each cannabis purchase. Older generations, like baby boomers, ages 55 to 73, and the silent generation, ages 74 and up, spent up to $10 more per purchase.
Millennials buy less expensive products, averaging $13.81 per item, but they do make up the largest chunk of the market at 52 per cent of overall purchases. The avocado-toast generation prefers smoking weed as a method of consumption, putting 42 per cent of their purchases towards flower. Vape products come in second at 21 per cent of their purchases, which is the highest out of all the generations.
Cannabis companies should also market to the Seth Rogens out there, as the millennial market has the largest gender imbalance out of all of the age groups, with 67 per cent of sales made by men.
Generation X, aged 39 to 54-years-old, make up the next largest chunk of the market with 26 per cent of total sales, and spends around $28 per purchase, making them a safe middle ground for cannabis companies to market to.
Flower power still holds sway in boomer cannabis habits 
Baby boomers are the next largest chunk of the market with 16 per cent and buy slightly more expensive items averaging around $16 each. Back in the '60s era these hippy hooligans could be found rolling joints on their frisbees and, according to Headset's numbers, they're still at it. Boomers have the strongest preference for flower products at 50 per cent of their sales, followed next highest by vapes at 14 per cent. This generation's gender split is also the most even, with a 40/60 split between women and men.
Generation Z, the youngest and second-smallest demographic, is not to be ignored though. Gen Z makes up 6 per cent of total sales — and that's just from consumers aged 21 to 23-years-old. Gen Z total sales doubled between 2018 to 2019, and are set to keep aggressively expanding as more teenagers hit the legal age.
Gen Z leads the market in concentrates preference at 16 per cent, but overall prefer cannabis flower at 42 per cent.
The silent generation makes up the smallest chunk of the market, buying less than one per cent of total sales. However this is also the generation who buys the most expensive items.The 74-years-old-and-up group spends around $17 per item and drops around $34 per visit.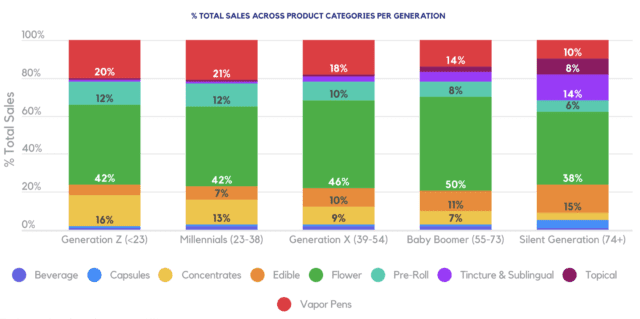 Image and chart courtesy of Headset.
The oldest demographic seems averse to inhaled cannabis products. Out of the silent generation's total purchases only 38 per cent went to flowers and 10 per cent to vapes—both the lowest percentages out of all of the generations. These grandmas and grandpas put their money instead towards topicals, which make up eight per cent of their overall purchases, tinctures and sublinguals at 14 per cent and edibles at 15 per cent.
Men buy more, spend more on cannabis overall 
From grandparents to teenagers however, men buy more cannabis than women, smoke twice as much as women, and drop more dough while doing it. For each generation men make up at least 60 per cent of the purchases and spend an average of $1 more on each item than women.
Men also prefer to inhale cannabis, making up 70 per cent of concentrates sales, 67 per cent of flower sales and 63 per cent of vape pen sales. Women, on the other hand, seem to gravitate towards cannabis marketed for wellness, making up 49 per cent of tincture and sublingual sales, and topical sales, and 47 per cent of capsule sales.
What this means for cannabis companies 
Companies should keep a close eye on the growing market potential of Gen Z as the fastest growing age group with a ballooning number of teenagers turning 21. Also, as the generation moves towards higher-earning jobs they'll have access to more disposable income.
Higher-end wellness products targeting the aging generations could also turn out to be profitable, though will likely be lines offered by large companies who can afford infrequent customers.
420 Intel is Your Source for Marijuana News
420 Intel is the leading source for cannabis news from around the world. Get the latest updates on cannabis legalization, politics and technology, as well as developments in medical and recreational marijuana news. Our commitment is to bring you the most important cannabis news stories every day of the week.
At 420 Intel we understand that effective marijuana industry news coverage is a constant endeavor. Every day stories develop regarding cannabis legalization, technological developments, and the medicinal benefits of marijuana use. Each new development carries the potential to impact the marijuana industry regionally, nationally, and internationally. 420 Intel is the marijuana industry news outlet that will keep you up to date on these developments and how they impact the world around you.
With the marijuana industry constantly evolving, you need a cannabis news outlet to keep you abreast of the pertinent information. At 420 Intel, we cover marijuana legalization news throughout the world, offer reliable information for cannabis business owners, detail technological advances that impact the marijuana industry, cover marijuana rallies from across the globe, and everything in between.
You can get 420 Intel news delivered directly to your inbox by signing up for our daily marijuana news, ensuring you're always kept up to date on the ever-changing cannabis industry. To stay even better informed about marijuana legalization news follow us on Twitter, Facebook and LinkedIn.