5 best Countries to visit for your "cannabis" vacations
Cannabis Vacations for Weed Users: A breakdown of some of the top five world destinations with legalized use of marijuana and a culture of recreational drug use.
Cannabis tourism is thriving as more and more countries are becoming weed-friendly. Cannabis vacation is a unique travel experience to acquire cannabis for recreational purposes. Whether you are curious about the plant or seeking to indulge in some, various countries have a curated tour for you to take on. 
The provision of cannabis differs everywhere, and so does the experience. Some places have it subtle while some are entirely open about it. When embarking on a cannabis exploration, the tours won't only be an experience of a lifetime, but it will also educate you about the herb and the plant. At the same time, you will have a well relaxed, and easy-going, rested vacation. You can plan your holiday through various websites. 
These websites provide cannabis-centric services from stay, tours, to supply of cannabis. Here is a list of five countries where cannabis tourism is raging:
    1. Netherlands
The Netherlands is an obvious destination for your cannabis vacation. The country has widely popular and one of the oldest coffee shops on the planet. And these "coffee shops" are known for their specialty in the sale of weed. Luckily the Dutch Law condones it; however, the plant is not legal. Shocker, right? But there is no need to fret; you can safely walk around the town with 5g of cannabis. 
Amsterdam, Netherlands is a fun-loving, and open-minded city. It's known for its art and history. Besides, being recognized as one of the top cannabis vacation destinations. While exploring their weed culture, you can buy and purchase local edibles, strains, and high-quality hash from the coffee shops as mentioned earlier shops. 
The CBD oils, weed, and other hemp products here are reasonably priced and acceptable in Amsterdam. You can openly use cannabis. The law also states, purchasing of the plant only by the citizens; however, it does not enforce in Amsterdam and major cannabis cities alike in the country.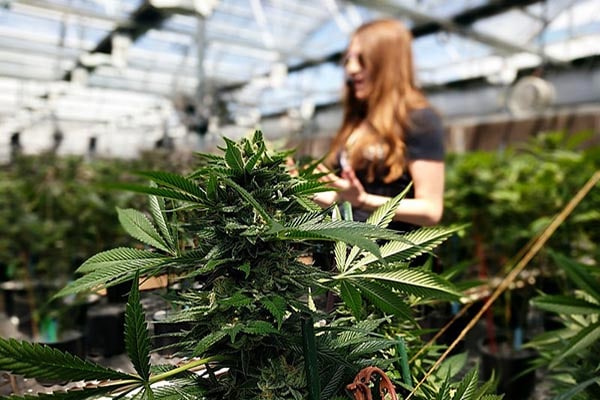 Cannabis Vacations: Pictured, Colorado Cannabis Tour in Denver. Stock image.
     2. USA
The USA is bustling with cannabis tourists all year round. Many states in the USA have legalized recreational use of marijuana for medical and recreational purposes as well. States like Washington and Colorado have many tourism ventures for you to be a part of. 
Though most of the people explore the stores for exceptional strains, CBD Oil is also hot in the market. But before looking out for CBD oils, you should always research and read reviews about it. Purchasing CBD oil is a little different from obtaining marijuana. To find out more about the CBD oils across all the popular brands, you can refer to Buy Weed Online USA. 
Alaska is another state in the USA that creating a buzz for cannabis tourism. Beholding the northern lights is a spectacle in itself; being high takes it to another level. Alaska became the first state to officially legalize the sale and consumption of marijuana at cannabis stores as well.
That decision follows the state's historically relaxed policy towards drug use when the Alaska Supreme Court ruled that an adult's right to use and possess a small amount of marijuana at home for personal use was protected under the Alaska Constitution's right to privacy.  
Cannabis Vacations: Pictured, Toront's Cannabis and Coffee shop which allows for recreational marijuana use. Image via Yelp.
    3. Canada
Canada is now a proud country with legalized Cannabis and a popular choice when it comes to cannabis vacay. It has one of the world's most dynamic cities. The country welcomes cannabis enthusiasts from all around the world. With the recent legalization of weed, Canada many tourists are flocking in all year round. The weed-culture here is one of the best in the world. People wanting to use marijuana medically also will find many ventures to help them out in the country. 
The city of Toronto ranks on top in the country as one of the most popular choices for weed enthusiasts. You can relax at cafes that are tolerant of smoking, where you can BYOG; bring your own greens. There are plenty of dispensaries and shops that have come up from where you can purchase marijuana legally and at your convenience. 
     4. Spain
Spain is world-famous for its history, architecture, culture, and gastronomy. The country is also known for its party culture, and marijuana plays a vital part in it. As a marijuana destination, you will luxuriate in serene beaches and celebrate the architectural marvels the country has. 
Barcelona, one of the most colorful cities in Spain, has plenty of greens as the significant breeders of cannabis reside there. Here you can legally possess a whopping amount of 40 grams of marijuana. The laws in the city and the country on cannabis consumption is quite relaxed. 
Spain's drug laws that allow marijuana to be grown and consumed for private use.
The clause has turned Spain – and especially Barcelona – into what Spanish media call the "Holland of the South". But unlike Amsterdam's coffee shops, which are open to the public, Spain's clubs are for members only. As a tourist, expect to have easy access to an assortment of cannabis products. Public use of weed is more or less acceptable for tourists. 
    5. Jamaica
First things that come to your mind when someone says Jamaica is Bob Marley and Ganja. The country has an unsophisticated, unpretentious, yet predominant marijuana culture. The mix of Rastafarians, reggae music, and ganja is an earthy experience for your Caribbean holiday. The laws regarding the recreational use of marijuana are gradually loosening in the country. 
Kingston, the tropical island and the capital of Jamaica, is famous for your cannabis vacation. In the island, you can find yourself relaxing at beach resorts, exploring the tropical jungle, and experiencing the city life with the added element of ganja. For thorough weed-enthusiasts, you could make a pilgrimage to the Bob Marley Museum. You can take guided tours to cannabis farms. In Kingston, you can buy marijuana from tourist destinations soundly. Or as this author fondly recalls, have 'vendors' approach you almost the moment you literally put foot on the airport tarmac upon your arrival. Indeed. 
420 Intel is Your Source for Marijuana News
420 Intel is the leading source for cannabis news from around the world. Get the latest updates on cannabis legalization, politics and technology, as well as developments in medical and recreational marijuana news. Our commitment is to bring you the most important cannabis news stories every day of the week.
At 420 Intel we understand that effective marijuana industry news coverage is a constant endeavor. Every day stories develop regarding cannabis legalization, technological developments, and the medicinal benefits of marijuana use. Each new development carries the potential to impact the marijuana industry regionally, nationally, and internationally. 420 Intel is the marijuana industry news outlet that will keep you up to date on these developments and how they impact the world around you.
With the marijuana industry constantly evolving, you need a cannabis news outlet to keep you abreast of the pertinent information. At 420 Intel, we cover marijuana legalization news throughout the world, offer reliable information for cannabis business owners, detail technological advances that impact the marijuana industry, cover marijuana rallies from across the globe, and everything in between.
You can get 420 Intel news delivered directly to your inbox by signing up for our daily marijuana news, ensuring you're always kept up to date on the ever-changing cannabis industry. To stay even better informed about marijuana legalization news follow us on Twitter, Facebook and LinkedIn.