How to tell if your Vape Pen may be harmful
Steer clear of any vape product if there is any mention of "artificial" or "enhanced with terpenes" on the label.
For those cannabis users who find smoking makes them cough more than they'd like, vaping can feel like a safer alternative. However, some vapes pens are loaded with chemicals that can cause conditions such as bronchitis, cough, and popcorn lung, not to mention more severe illnesses like respiratory cancer. 
According to cannabis educator Emma Chasen, co-founder of Eminent Consulting, here are some items that can be found in vape pens: 
Propylene glycol. This is a a common thinning agent used to make the oil in vape pens less viscous. When heated, it can transform into formaldehyde. 
Artificial/synthetic terpenes. Vape pens may incorporate synthetic terpenes to "improve" the flavor of the cartridge. However, when heated the terpenes can turn into benzene, which is a highly carcinogenic compound. 
Pesticides. Even pesticides that are fine to ingest, may not be fine to heat and inhale. For example, myclobutanil is a pesticide that has been found in cannabis concentrates and extracts. When heated it transforms into cyanide. 
In addition, Chasen urges users to be careful of the wick. "Most vape pens have a wick as the heating element. It can be made out of products like cotton, silica or ceramics. Depending on how high the vape pen temperature can reach, the wick may burn and produce harmful chemicals."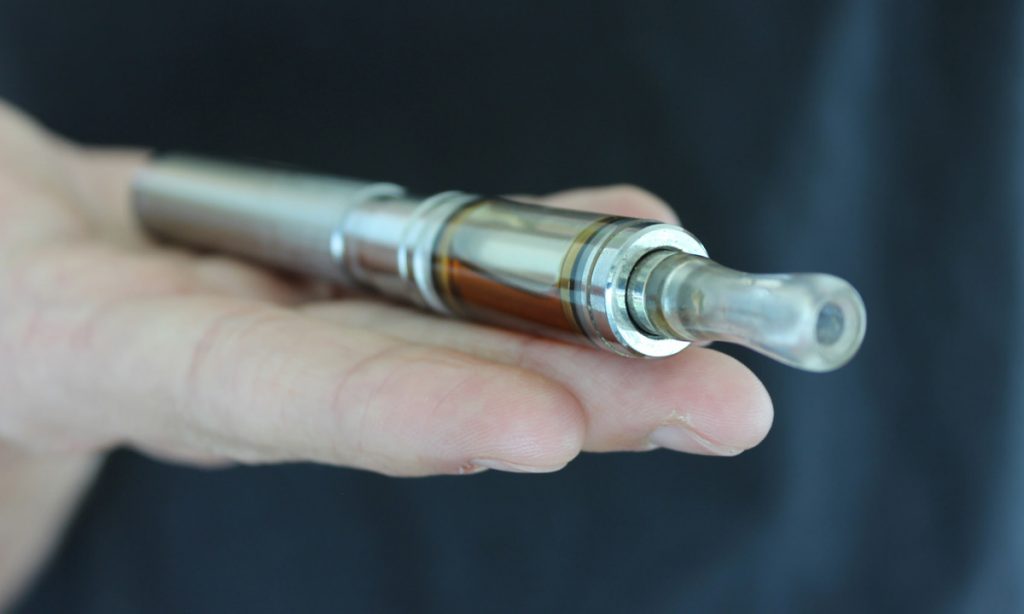 Look at the Label  
For the best experience, Chasen recommends that users look for language such as "full spectrum CO2 extract." This ensures that one is getting the full benefits of the cannabis plant. Chasen urges cannabis consumers to steer clear of any vape product if there is any mention of words like "artificial" or a phrase such as"enhanced with terpenes" listed on the label.
Along those lines, some companies advertise that they do not use propylene glycol. To determine this claim is true, Chasen suggests turning the cartridge upside down. "If the oil immediately runs to the other side, then it most likely has propylene glycol in it. If the oil is thick and viscous and stays put when it is turned over, then it most likely does not have propylene glycol in it." 
As with any cannabis purchase, be sure to about the plant material used to extract the oil. Is it from a particular farm? What are the farm's growing practices? 
Armed with this information, cannabis consumers can go into their favorite recreational dispensary confident they are choosing a vape pen that will prove to be satisfying and not scary.
420 Intel is Your Source for Marijuana News
420 Intel is the leading source for cannabis news from around the world. Get the latest updates on cannabis legalization, politics and technology, as well as developments in medical and recreational marijuana news. Our commitment is to bring you the most important cannabis news stories every day of the week.
At 420 Intel we understand that effective marijuana industry news coverage is a constant endeavor. Every day stories develop regarding cannabis legalization, technological developments, and the medicinal benefits of marijuana use. Each new development carries the potential to impact the marijuana industry regionally, nationally, and internationally. 420 Intel is the marijuana industry news outlet that will keep you up to date on these developments and how they impact the world around you.
With the marijuana industry constantly evolving, you need a cannabis news outlet to keep you abreast of the pertinent information. At 420 Intel, we cover marijuana legalization news throughout the world, offer reliable information for cannabis business owners, detail technological advances that impact the marijuana industry, cover marijuana rallies from across the globe, and everything in between.
You can get 420 Intel news delivered directly to your inbox by signing up for our daily marijuana news, ensuring you're always kept up to date on the ever-changing cannabis industry. To stay even better informed about marijuana legalization news follow us on Twitter, Facebook and LinkedIn.