Developers race to meet demand for hemp-specific technology
Solutions for harvesting and processing the entire hemp plant are in overwhelming demand as inventors, engineers and other assorted tinkerers work feverishly to develop ground-breaking technology and machines for both small and large hemp-centric operations.
That was the general conclusion of 30 industry leaders from 14 countries who gathered to discuss the global state of Hemp Machines & Technology at a micro-summit recently held at HempToday's International Center of Excellence in Poland.
"With the hemp markets in a historic growth phase and the drive for multi-cropping, under-mechanization is a problem because for farming, and for many products, hemp requires plant-specific solutions," said Kehrt Reyher, Editor & Publisher at HempToday. "There's huge demand for effective and affordable technology, particularly for small and medium-sized operations." 
'Trivalenza' from Italy
The focus on whole-plant exploitation was perhaps best reflected during the Summit in a presentation from veteran Italian developer Valerio Zucchini, Zucchini Consulting & Trading, who introduced a suite of machines applicable to what his firm calls "Trivalenza," a multi-cropping strategy that yields biomass for extraction; hempseed oil; food and feed; as well as stalks for hurd and fiber.
A front-end reaper from Valerio Zucchini Consulting, Italy
Zucchini has been working with natural fibers and hemp for about two decades, in recent years having turned his attention to the creation of technology to simplify the agricultural work of harvesting and collecting the crop. His firm emphasizes solutions for small and medium-sized farming operations — prevalent in many parts of Europe and other regions around the world. 
Zucchini previously developed production systems for hemp, flax and cellulose to manufacture insulation material for the construction and automotive industries. 
Harvesting seeds and fiber
Multi-cropping is also the purpose of the Hempseed Harvester from Swath developed at German fiber processor Hanffaser Uckermark and presented during the Summit by its developer, Marijn Roersch van der Hoogte, of the consultancy MR Hemp. The machine can collect hemp seed from already cut hemp plants laying in a swath, providing a harvest of both high quality fiber and seed. 
Hempseed Harvester from Swath
The technology circumvents the problem of long seed ripening times vs. high quality hemp fiber from fiber hemp varieties. Built from parts of other machines, the relatively inexpensive system leaves more organic material in the field, and results in bales that are more uniform — bringing a higher percentage of fiber per ton.
Rafael Dulon, CEO at HANF Farm GmbH, Germany, told delegates further development of innovative harvesting technology is still needed — for tall cultivars; to precisely separate select parts of the plant; and to perform multiple cuts as the plant grows.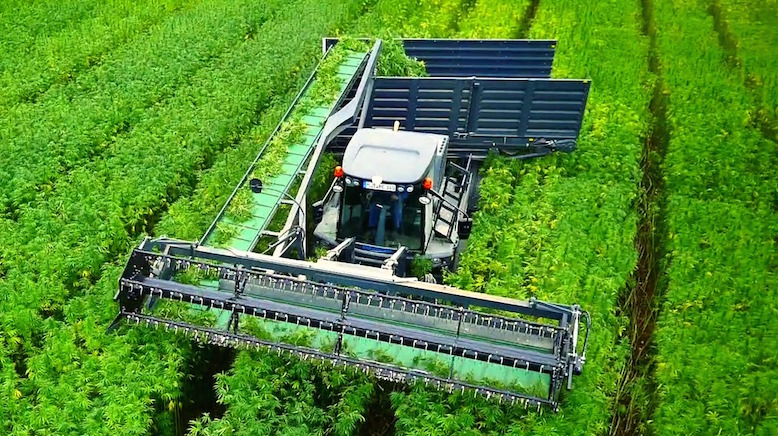 MCHC 3400 hemp harvester from HANF Farm, Germany
He's the developer of just such a multi-cut machine, the industrial-scale Multi-Combine HC 3400 hemp harvester (film) which allows for the lopping off of the plant tops several times during the yearly vegetation via a lift system which adjusts to plant height. That technology has been successfully deployed in HANF Farm's field operations for the past three years.
Going for the tops
Delegates also got a sneak preview of a virtual model of the 2019 prototype hemp combine from Henry's Hemp Harvester (HHH), Germany. Developed by company founder Heinrich Wieker, an electrical engineer, the harvester is field technology that severs the plant at ground level then strips away the buds, which are carried to a bunker; stalks are left to dry in the field for later processing.
2019 prototype of the HHH harvester
The newest vision for the harvester, which has been in development for three years, is a modular system with a maximum cutting width of 2.70 meters, depending on the number of harvester modules deployed. 
Wieker is also developing an electrically operated stationary stripper for continuous manual or semi-automatic feeding. Tests harvesting Finola, USO-31, Fedora and CBD marijuana in Switzerland have already produced quantities of over 100 kg per hour of pristine stem-free flowers. The technology can also be used for medicinal or recreational marijuana.
Between the farm and the future, other featured presenters at the summit gave progress reports about other technologies.
Industrial scale decortication
Robert Ziner, Founder & CEO, Canadian Industrial Hemp Corporation, Toronto, Canada updated the Summit on the Smart Stalk system, his project to develop a network of low cost, large volume hemp decortication factories with automated quality control. 
The artificial intelligence-driven system integrates decortication directly with the production of secondary products to increase gross margins. Ziner said the system will reduce the unit cost of decortication by over 45%. With patents pending, the Smart Stalk system is designed to focus on productivity and production flexibility, thereby maximizing the value added to input stalk. 
Ziner also said engineered bio-pellets can be used as thermoplastic feedstock in the manufacture of plastic construction products such as windows and doors, siding, extruded moldings and decking.
Micro-decorticator unveiled
At the other end of the decortication market, Kristaps Eglitis, Industrial Hemp Latvia, demonstrated his HurdMaster micro-decorticator. Intended for small farming and processing operations and for CBD producers who want to capitalize on leftover stems, the machine can turn out hurd that can be used for hempcrete construction, as animal bedding and animal litter, or as plant bedding. 
Latvian inventor Kristaps Eglitis with the HurdMaster micro-decorticator
Small enough to fit in the back of a utility vehicle, van or small truck, the HurdMaster is the result of three years' R&D by Eglitis, who by trade is a metal crafts artisan. 
With additional technology, the bast fibers separated by the HurdMaster can be further processed for a wide, wide variety of applications.
Developments in extraction
Kelly Knutson, CEO, Isolate Extraction Systems Inc., Colorado, USA talked about the process his company goes through designing and building industrial scale CO2 technology that is not only faster and more efficient than ethanol, butane, or steam, but which can also automatically separate terpenes, oils and waxes mid-process, a major advancement. IES-designed technology turns out compounds from hemp and other raw material via its CO2-based extraction process.
The vibrancy in extraction technology development was complemented by Ap Verhoef, Botanical Extraction Enterprises (BEE), South Africa, who presented his company's ethanol based system. With a price tag at under $100,000, BEE's extraction ensemble puts industrial scale extraction in reach of both big and small players. Verhoef told the Summit of his four years work refining methods and developing the equipment.
HIVE extraction system from South Africa.
Non-health application for CBD?
Looking into the future, Canadian inventor Carl Martel talked about the potential for building integrated energy storage capacity from hemp plant materials; and the potential for hemp materials in batteries, supercapacitors and photovoltaic technology. Plant based carbons via carbonization will play a vital role in future electrochemical technologies, Martell told the Summit.
An independent scientist who's been researching industrial hemp since 2010, Martell is the co-inventor of a grain disinfection system deployed in Canada and Australia. And while he continues to develop grain post-harvest management systems, he has recently turned his attention to value added products from agricultural waste such as carbon foam for insulation, water filtration & desalination, and energy storage.
And Martell had a rather startling reveal during the Summit: He's discovered that under alkaline conditions and in the presence of air, CBD oxidizes to a quinone, an organic compound that when combined with graphite work as a "green battery."
Solar powered processing
Finally, Summit delegates were treated to an overview of Hemp Factory, a solar powered hemp processing facility that only recently opened in Germany. Located at Borken near the German-Dutch border, Hemp Factory is the biggest hemp food manufacturer in Central Europe. Development of the facility was guided by HempConsult GmbH, the Dusseldorf-based hemp industry advisory. 
Inside Hemp Factory, a solar-powered processing facility in Germany.
The new facility produces hemp foodstuffs for the processing industry, with 95% of output certified organic, and the remainder of conventional production. In addition to shelling hemp seeds, Hemp Factory's services include the extraction of hemp oil by cold pressing, and the production of hemp flour, hemp protein and hemp dietary fiber. 
Another production line turns out fodder, concentrated feed stuffs and fodder oil for the animal feed industry, and supplies livestock businesses with high-quality feed concentrates from by-products, such as oil, oil cake and coarse meal.
420 Intel is Your Source for Marijuana News
420 Intel is the leading source for cannabis news from around the world. Get the latest updates on cannabis legalization, politics and technology, as well as developments in medical and recreational marijuana news. Our commitment is to bring you the most important cannabis news stories every day of the week.
At 420 Intel we understand that effective marijuana industry news coverage is a constant endeavor. Every day stories develop regarding cannabis legalization, technological developments, and the medicinal benefits of marijuana use. Each new development carries the potential to impact the marijuana industry regionally, nationally, and internationally. 420 Intel is the marijuana industry news outlet that will keep you up to date on these developments and how they impact the world around you.
With the marijuana industry constantly evolving, you need a cannabis news outlet to keep you abreast of the pertinent information. At 420 Intel, we cover marijuana legalization news throughout the world, offer reliable information for cannabis business owners, detail technological advances that impact the marijuana industry, cover marijuana rallies from across the globe, and everything in between.
You can get 420 Intel news delivered directly to your inbox by signing up for our daily marijuana news, ensuring you're always kept up to date on the ever-changing cannabis industry. To stay even better informed about marijuana legalization news follow us on Twitter, Facebook and LinkedIn.