Cannabis ingredient CBD could one day become an antibiotic
As scientists work to stem the tide of antibiotic resistance, the authors of a study believe an ingredient in cannabis could one day form the basis of a new drug.
Antibiotic, or antimicrobial, resistance is where bugs such as bacteria can survive drugs created to kill them, making infections difficult, or impossible, to treat.
Scientists in Australia found cannabidiol—the non-psychoactive ingredient marijuana— killed all the strains of bacteria they tested in a lab, including some which are highly resistant to existing antibiotics.
What's more, the bacteria did not become resistant to the drug after being exposed for 20 days: the period when bacteria can survive some currently used drugs. The team tested a group of bacteria called Gram-positive: staphylococcus aureus— which causes conditions including the hospital bug MRSA—and streptococcus pneumoniae—which lead to pneumonia—as well as E. faecalis, which can be life-threatening in those with weak immune systems.
The researchers also used the substance in mice, and found in a preliminary study it was effective for treating a skin infection.
Study leader Mark Blaskovich, senior research chemist at the Centre for Superbug Solutions, told Newsweek: "We still don't know how it works, and it may have a unique mechanism of action given it works against bacteria that have become resistant to other antibiotics, but we still don't know how."
"So far, we have only shown it works topically, on the skin surface. To be really useful, it would be good if we could show that it treated systemic infections e.g. pneumonia, or complicated tissue infections, where you have to give it orally or by intravenous dosing. A very preliminary study didn't show that it works in these more difficult models."
Addressing the issue of antibiotic resistance more widely, he said the study shows there may be compounds that could be used as antibiotics that haven't been properly studied, he said.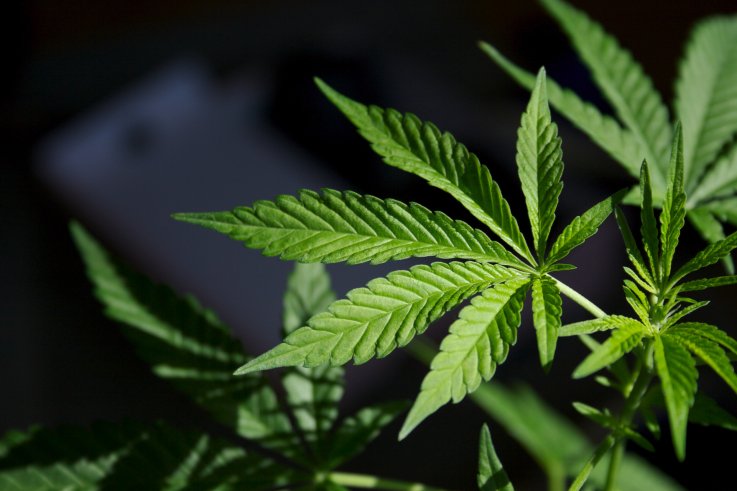 A stock image of a cannabis plant. Scientists looked at whether an ingredient in the plant could be used to fight infections.
"The most challenging part [of the study] was getting the correct permits to handle cannabidiol in our laboratories, as the Queensland government regulates who can use/handle it—even though the material we are using is completely synthetic, it falls into this grey area under the definitions of cannabinoids," he explained.
The findings were presented at the annual conference of the American Society for Microbiology, ASM Microbe 2019 in San Francisco, and have not been published in a peer-reviewed study.
Asked for his advice for those who might see the study as an excuse to ditch regular antibiotics in favor of using cannabis-based home remedies, he responded: "Don't! Most of what we have shown has been done in test tubes—it needs a lot more work to show it would be useful to treat infections in humans."
"It would be very dangerous to try to treat a serious infection with cannabidiol instead of one of the tried and tested antibiotics," he stressed.
Dr. Andrew Edwards, a non-clinical Lecturer in Molecular Microbiology at Imperial College London who was not involved in the research, told Newsweek: "The antibacterial properties of cannabidiol hadn't been appreciated previously and it's significant that there appears to be activity against antibiotic-resistant strains."
"Cannabidiol is already well-characterized in terms of human use," he said. "This is important because if cannabidiol is found to be effective in treating infection it could be fast-tracked into clinics."
Critiquing the study, Edwards emphasized the work is in its early stages, and that the substance only works in Gram-positive bacteria.
"It is not effective against Gram-negative bacteria, which are especially difficult to develop new antibiotics for because they have a very selective outer-membrane that prevents most drugs from entering the bacterial cell."
420 Intel is Your Source for Marijuana News
420 Intel is the leading source for cannabis news from around the world. Get the latest updates on cannabis legalization, politics and technology, as well as developments in medical and recreational marijuana news. Our commitment is to bring you the most important cannabis news stories every day of the week.
At 420 Intel we understand that effective marijuana industry news coverage is a constant endeavor. Every day stories develop regarding cannabis legalization, technological developments, and the medicinal benefits of marijuana use. Each new development carries the potential to impact the marijuana industry regionally, nationally, and internationally. 420 Intel is the marijuana industry news outlet that will keep you up to date on these developments and how they impact the world around you.
With the marijuana industry constantly evolving, you need a cannabis news outlet to keep you abreast of the pertinent information. At 420 Intel, we cover marijuana legalization news throughout the world, offer reliable information for cannabis business owners, detail technological advances that impact the marijuana industry, cover marijuana rallies from across the globe, and everything in between.
You can get 420 Intel news delivered directly to your inbox by signing up for our daily marijuana news, ensuring you're always kept up to date on the ever-changing cannabis industry. To stay even better informed about marijuana legalization news follow us on Twitter, Facebook and LinkedIn.