Millions to march for legal and fair access to marijuana
On Saturday May 4 and Sunday May 5, cannabis advocates around the world will participate in the Global Marijuana March as the event enters its 21st year.
Also known as the Million Marijuana March, the first march was ignited in New York City in 1999 and has evolved into an annual rally usually held the first Saturday in May in different cities all over the globe.
Toronto currently sees the largest turnout of marijuana marchers in North America. The event is complete with vendors, concerts and a number of high profile speakers. Attendees come decked out in cannabis-inspired costumes with colorful protest signs in hand.
The initial purpose of the Marijuana March was to serve as a protest against the continued criminalization of marijuana and for people to be able to use cannabis without fear of imprisonment or other unfair legal sanctions.
Here are just some of the many events that are taking place:

May 4 - Parade Assembly: 11:00 a.m. | West 32nd & Broadway, NYC
Parade Start Time: 12:30 p.m. | Parade will march to Union Square (Route South on Broadway)
Rally: 1:00 p.m. – 5:00 p.m. | Union Square South Plaza
"The NYC Cannabis Parade is one of the longest running public expressions of cannabis culture and political activism. The rally is an inclusive and peaceful celebration of the "cannabis culture" that spans national, cultural and racial divisions. It is also a political event demanding an end to prohibition, which has been proven to be a disaster."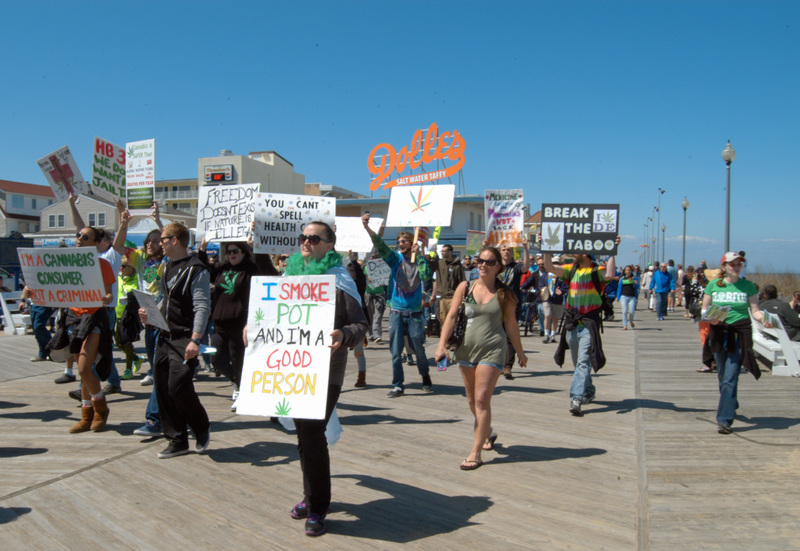 May 5 - 2:00 p.m.
"Starts at Surfside Park and North Boardwalk, in Rehoboth Beach. Ends with a Rally and Call to Action at the Bandstand. Speeches by local reform advocates and leaders, Give-a-ways, Raffles, and more."
May 4 - 12 p.m. Pioneer Courthouse Square
"We gather to remind the public that there are still prisoners of the drug war who need to be freed. We gather in remembrance of the warriors we have lost along the way. And we gather to celebrate our hard-fought victories to show prohibitionists that we will continue this fight until our freedom is complete.

May 4 - Queen's Park, High Noon – gathering. 2pm launch
"The Global Marijuana March is an international day of cannabis celebration and protest against prohibition. Canada still hasn't yet legalized cannabis, and more delays simply mean more ongoing injustice."

May 4 - 12 p.m. Vancouver Art Gallery, 750 Hornby Street
"Come early with your signs, costumes and all your buds as we take over the streets to free the weed."
420 Intel is Your Source for Marijuana News
420 Intel is the leading source for cannabis news from around the world. Get the latest updates on cannabis legalization, politics and technology, as well as developments in medical and recreational marijuana news. Our commitment is to bring you the most important cannabis news stories every day of the week.
At 420 Intel we understand that effective marijuana industry news coverage is a constant endeavor. Every day stories develop regarding cannabis legalization, technological developments, and the medicinal benefits of marijuana use. Each new development carries the potential to impact the marijuana industry regionally, nationally, and internationally. 420 Intel is the marijuana industry news outlet that will keep you up to date on these developments and how they impact the world around you.
With the marijuana industry constantly evolving, you need a cannabis news outlet to keep you abreast of the pertinent information. At 420 Intel, we cover marijuana legalization news throughout the world, offer reliable information for cannabis business owners, detail technological advances that impact the marijuana industry, cover marijuana rallies from across the globe, and everything in between.
You can get 420 Intel news delivered directly to your inbox by signing up for our daily marijuana news, ensuring you're always kept up to date on the ever-changing cannabis industry. To stay even better informed about marijuana legalization news follow us on Twitter, Facebook and LinkedIn.