Willie Nelson adds CBD-infused coffee to new cannabis line
Musician Willie Nelson just rolled out CBD-infused coffee to his cannabis line Willie's Reserve. The coffee is part of Nelson's new line of CBD products called Willie's Remedy.
The organic, whole bean, CBD-infused coffee contains 5 milligrams of cannabidiol per 8-ounce cup.
"It's two of my favorites, together in the perfect combination," Nelson said of his new addition. "Like coffee, cannabis is a plant that works for me."
Hemp is high in cannabidiol (CBD) and has only trace amounts of tetrahydrocannabinol (THC), which is the psychoactive compound of the cannabis plant that creates the high.
The 85-year-old musician aims to educate people about the benefits of marijuana products sans the THC with his new line of hemp products. Nelson says that hemp prohibition suppressed a competitive industry which could have created jobs and helped consumers. However, he notes, times have changed. At least 61 percent of Americans think that marijuana should be legal.
Nelson is a longtime marijuana advocate and consumer, holding the philosophy that his stash is your stash, and his cannabis line continues the tradition of caring, sharing, and toking. Along with his new CBD line Willie's Remedy, Willie's Reserve contains marijuana flowers, pre-rolls, vaporizers, and edibles.
"Pot is Good for America"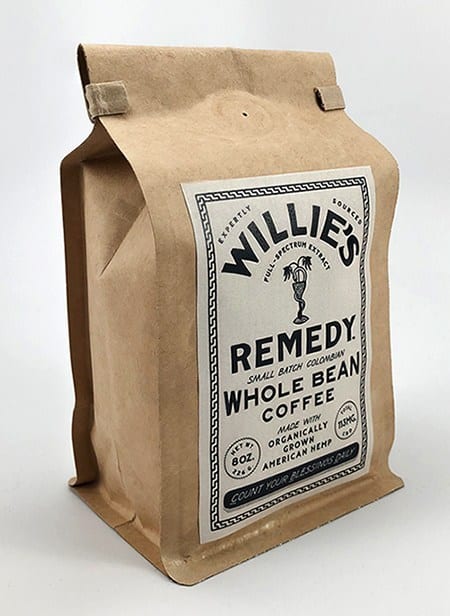 Nelson partnered with his sister Annie Nelson on the cannabis-infused edibles called Annie's Edibles. The line of edibles includes cannabis-infused candies and chocolates and is sold along with Nelson's other pot products in states with legal weed, such as Colorado.
"We're on the right side of history," said Nelson. He went on to say that folks have spoken with their money and votes, proving that regulating and taxing pot is "good for America." Nelson added that legalizing the plant creates opportunities for farmers. Tobacco farmers are switching to cultivating hemp as people quit smoking due to the health risks, and people see hemp as an alternative crop.
Nelson's new CBD-infused coffee is available on his website.
420 Intel is Your Source for Marijuana News
420 Intel is the leading source for cannabis news from around the world. Get the latest updates on cannabis legalization, politics and technology, as well as developments in medical and recreational marijuana news. Our commitment is to bring you the most important cannabis news stories every day of the week.
At 420 Intel we understand that effective marijuana industry news coverage is a constant endeavor. Every day stories develop regarding cannabis legalization, technological developments, and the medicinal benefits of marijuana use. Each new development carries the potential to impact the marijuana industry regionally, nationally, and internationally. 420 Intel is the marijuana industry news outlet that will keep you up to date on these developments and how they impact the world around you.
With the marijuana industry constantly evolving, you need a cannabis news outlet to keep you abreast of the pertinent information. At 420 Intel, we cover marijuana legalization news throughout the world, offer reliable information for cannabis business owners, detail technological advances that impact the marijuana industry, cover marijuana rallies from across the globe, and everything in between.
You can get 420 Intel news delivered directly to your inbox by signing up for our daily marijuana news, ensuring you're always kept up to date on the ever-changing cannabis industry. To stay even better informed about marijuana legalization news follow us on Twitter, Facebook and LinkedIn.