Vicente Fox's firm eyes Latin America as region opens to marijuana
Former Mexican president turned drug-legalization activist, Vicente Fox, sees a paradigm shift in Latin America as governments authorize marijuana use, embracing a drug that was once shunned.
Now, as markets open in a region of more than 640 million people, Fox wants the Canadian company he represents to supply the weed.
Khiron Life Sciences Corp., which Fox joined as a board member and adviser in 2018, is set to launch sales throughout Latin America this year, Fox said. The Vancouver-based company, which is already selling products in Colombia, will enter into a joint venture with Colorado-based Dixie Brands Inc. to market a line of medical products, using marijuana cultivated in four countries in the region. The deal is expected to be announced Wednesday.
"We have a new world," said Fox, president from 2000 to 2006, in an interview in Colombia, where Khiron operates a cultivation site. "It's surprising for an activity that was in the hands of criminals, illegality and the underworld. The paradigm has totally changed."
The companies will face stiff competition. Global marijuana firms are vying to gain a foothold in Latin America, where governments have moved quickly to legalize cannabis for medical purposes. Ten governments in Latin America and the Caribbean have passed legislation, while Mexico, a country of 126 million, appears poised this year to legalize the drug for recreational use, following Uruguay, which legalized it last year.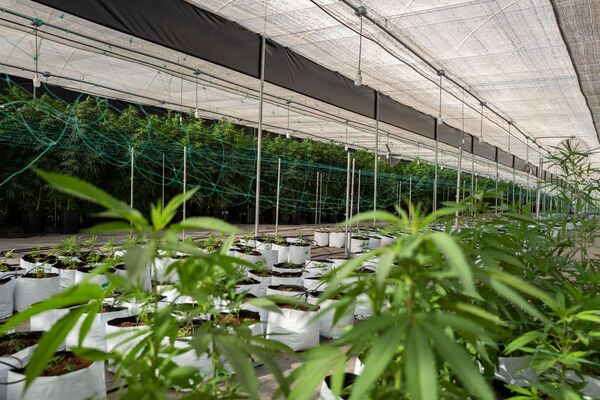 Khiron's cultivation site in Tolima department, Colombia.Photographer: Juan Cristobal Cobo/Bloomberg
Medical cannabis sales in the region could top $15 billion by 2025, according to an estimate by BMO Capital Markets published last year. An industry-funded study by Prohibition Partners published in October said the market is expected to exceed $12 billion by 2028.
Governments are still establishing laws in several cases to regulate production and sales of marijuana. Khiron is working across the region, including in Brazil, to establish itself even as regulations are finalized, said President Chris Naprawa. Partnering with Dixie will help Khiron "build a moat," he said.
Under the 50-50 venture, Khiron will supply the product, gain regulatory approvals and licenses in Latin American markets. Dixie, which sells a range of cannabis-infused products across the U.S., will supply the formulas and brands, said Dixie CEO Chuck Smith. He declined to say how much the deal is worth.
420 Intel is Your Source for Marijuana News
420 Intel is the leading source for cannabis news from around the world. Get the latest updates on cannabis legalization, politics and technology, as well as developments in medical and recreational marijuana news. Our commitment is to bring you the most important cannabis news stories every day of the week.
At 420 Intel we understand that effective marijuana industry news coverage is a constant endeavor. Every day stories develop regarding cannabis legalization, technological developments, and the medicinal benefits of marijuana use. Each new development carries the potential to impact the marijuana industry regionally, nationally, and internationally. 420 Intel is the marijuana industry news outlet that will keep you up to date on these developments and how they impact the world around you.
With the marijuana industry constantly evolving, you need a cannabis news outlet to keep you abreast of the pertinent information. At 420 Intel, we cover marijuana legalization news throughout the world, offer reliable information for cannabis business owners, detail technological advances that impact the marijuana industry, cover marijuana rallies from across the globe, and everything in between.
You can get 420 Intel news delivered directly to your inbox by signing up for our daily marijuana news, ensuring you're always kept up to date on the ever-changing cannabis industry. To stay even better informed about marijuana legalization news follow us on Twitter, Facebook and LinkedIn.