New York and New Jersey governors call for marijuana legalization
The Democratic governors of New York and New Jersey each set goals to legalize recreational marijuana as part of their 2019 agendas, declaring in separate State of the State speeches Tuesday that new laws should raise state revenue and redress past criminal and economic injustice.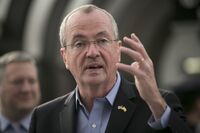 Phil Murphy. Photographer: Allison Joyce/Bloomberg
"We must ensure that those with a past mark on their records because of a low-level offense can have that stain removed," said New Jersey Governor Phil Murphy, who advocated legalization of pot during his 2017 election campaign. He cited thousands of jobs created and billions of dollars in tax revenue reaped in Massachusetts and Colorado, two of 10 states where pot is legal. "We can do that here, and in a smart way that ensures fairness and equity for minority-owned businesses and minority communities."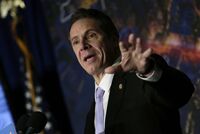 Andrew Cuomo. Photographer: Peter Foley/Bloomberg
New York Governor Andrew Cuomo's proposed legalization law also seeks to "reduce impacts of criminalization affecting communities of color" and would allow counties and cities to opt out of the program. The proposal, contained in a 2019 budget document released Tuesday, would impose taxes on pot cultivation, and wholesale and retail purchases, to be spent on traffic safety, small business development, drug treatment and mental health care.
Cuomo, who in 2017 described marijuana as a "gateway drug" to more dangerous substances, clearly signaled he'd changed his position Tuesday, telling the state legislature in Albany: "Let's legalize the adult use of recreational marijuana once and for all."
420 Intel is Your Source for Marijuana News
420 Intel is the leading source for cannabis news from around the world. Get the latest updates on cannabis legalization, politics and technology, as well as developments in medical and recreational marijuana news. Our commitment is to bring you the most important cannabis news stories every day of the week.
At 420 Intel we understand that effective marijuana industry news coverage is a constant endeavor. Every day stories develop regarding cannabis legalization, technological developments, and the medicinal benefits of marijuana use. Each new development carries the potential to impact the marijuana industry regionally, nationally, and internationally. 420 Intel is the marijuana industry news outlet that will keep you up to date on these developments and how they impact the world around you.
With the marijuana industry constantly evolving, you need a cannabis news outlet to keep you abreast of the pertinent information. At 420 Intel, we cover marijuana legalization news throughout the world, offer reliable information for cannabis business owners, detail technological advances that impact the marijuana industry, cover marijuana rallies from across the globe, and everything in between.
You can get 420 Intel news delivered directly to your inbox by signing up for our daily marijuana news, ensuring you're always kept up to date on the ever-changing cannabis industry. To stay even better informed about marijuana legalization news follow us on Twitter, Facebook and LinkedIn.