These guys deal with cannabis in Singapore – and don't feel paranoid
Cannabis is a deadly serious business in Singapore, where trafficking carries a death sentence and even possession is punishable by up to 10 years in prison. But as the market for legal cannabis grows increasingly lucrative worldwide, even entrepreneurs in the famously drug-averse city state are finding ways to cash in on the trade.
Since May, Singapore has hosted the global headquarters of CannAcubed, an industrial cannabis grower whose operations are mostly located in Yunnan, China. CannAcubed specialises in the cultivation of industrial cannabis, or hemp – strains of cannabis with less than 0.3 per cent of the psychoactive substance tetrahydrocannabinol (THC). In China, cannabis is illegal but government permits allow hemp growers to operate in Yunnan.
"We export CBD into Europe and other northern markets," said CannAcubed CEO Glenn Davies, referring to cannabidiol, a non-psychoactive relaxant. "Then there's the domestic focus on China, with hemp textiles and garments. Third, we are developing our own seed bank."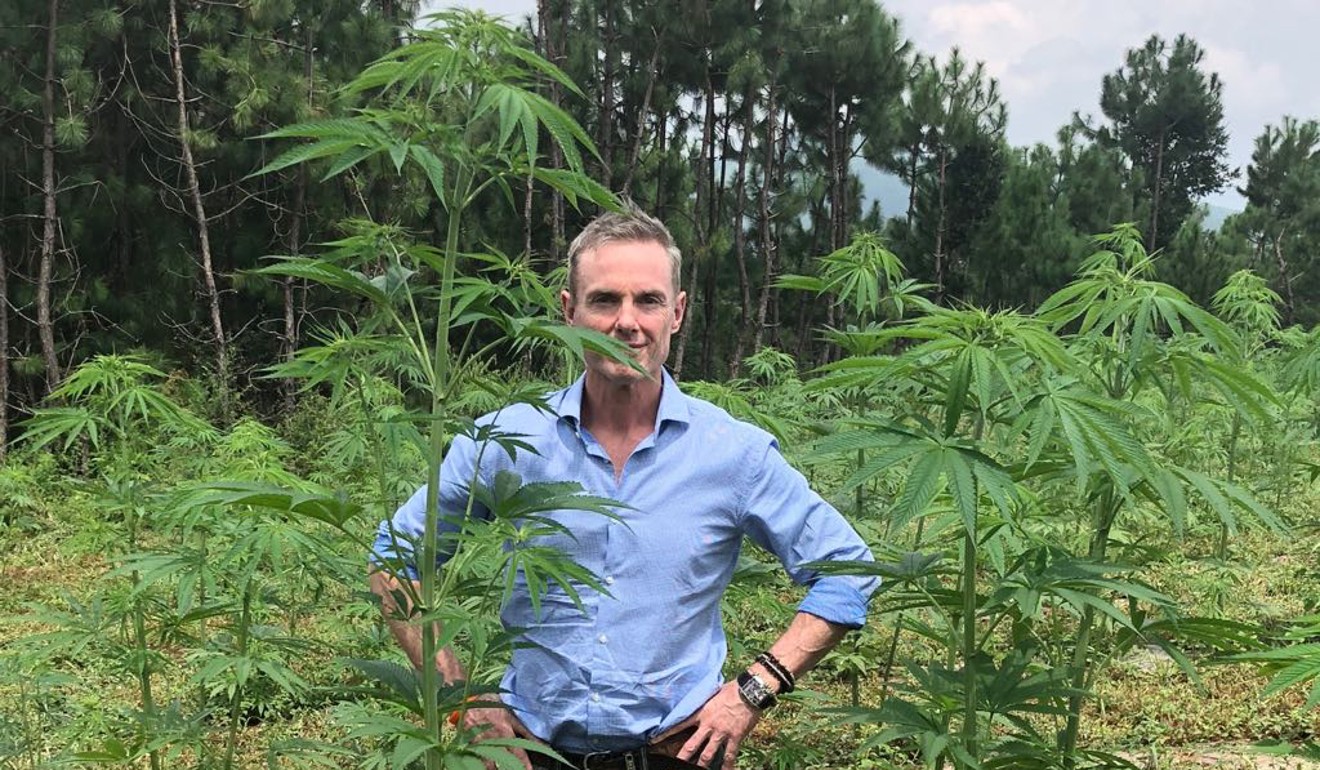 Glenn Davies with CannAcubed's crops at 10 weeks in Yunnan. 
Eventually CannAcubed hopes to develop a strain of cannabis that contains no THC at all.
Hemp, which provides similar fibres to trees but grows more quickly, is increasingly seen as an up-and-coming agricultural commodity. The global industrial hemp market is projected to be worth US$10.6 billion by 2025, according to a report by Grand View Research. The plant draws upon a rich tradition in East Asia. In China, Korea and Japan, hemp fibres were used to make clothing, bowstrings and paper, among other products.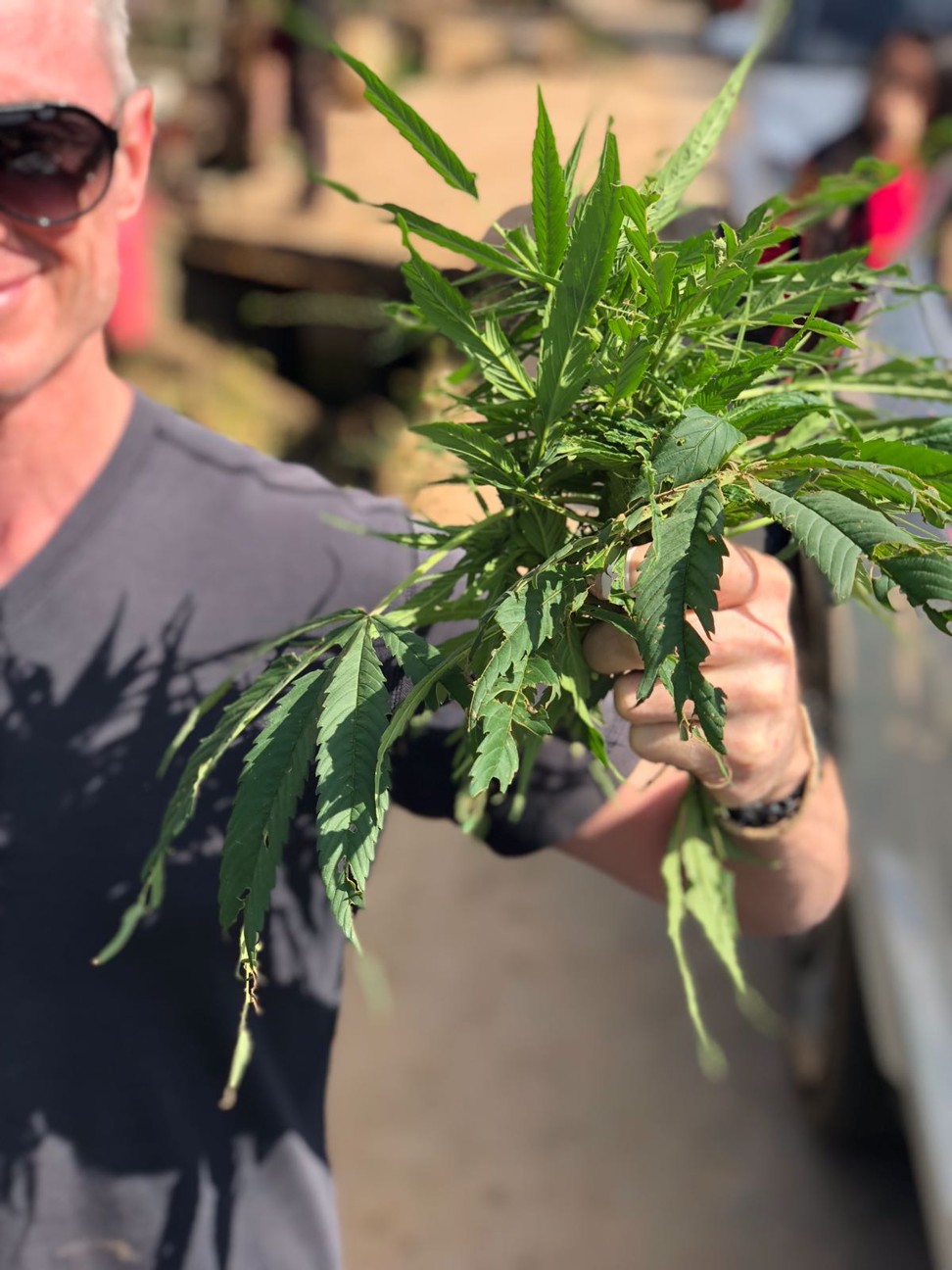 The products of harvest.
CannAcubed is registered in Singapore as a biotech firm and set up as a "diversified cannabis company". Its operations are legal, provided they are conducted outside the city state. "[The base in] Singapore is simply set up as a holding entity so whether we have operations in China, or [some day] in Thailand or Laos – that doesn't affect us being in Singapore," Davies said.
Davies has been an entrepreneur for 15 years and is accustomed to the dynamism of emerging markets. However, running a cannabis production firm out of Singapore, where he is a permanent resident, may be his most challenging venture yet.
"Singaporeans are very intrigued, very interested," Davies said. "They get excited and want to know about it and understand the industry. From our perspective it's always constant education … people want to learn what we do, how it works, where we buy, how CBD is extracted."
The firm's first crops were planted in July and the first harvest took place in November – a turnaround of just four months.
"We're looking at focusing on [a few] areas for the potential of cannabis," Davies said, before identifying the firm's goals. "Waste reduction by introducing the world's first true biodegradable plastic; solving some of the world's energy crises by looking at hemp as an alternative biofuel; tackling deforestation by introducing cannabis as an alternative to paper and materials made from trees."
Earlier this year, Singapore's National Research Foundation announced it would conduct studies on synthetic cannabinoids and CannAcubed has already had discussions about a role in the research. Davies sees it as a sign that the city state will eventually tap the economic potential of cannabis. "Knowing now that Singapore has already been interested in the therapeutic benefits of CBD, I do think it's just a matter of time."
420 Intel is Your Source for Marijuana News
420 Intel is the leading source for cannabis news from around the world. Get the latest updates on cannabis legalization, politics and technology, as well as developments in medical and recreational marijuana news. Our commitment is to bring you the most important cannabis news stories every day of the week.
At 420 Intel we understand that effective marijuana industry news coverage is a constant endeavor. Every day stories develop regarding cannabis legalization, technological developments, and the medicinal benefits of marijuana use. Each new development carries the potential to impact the marijuana industry regionally, nationally, and internationally. 420 Intel is the marijuana industry news outlet that will keep you up to date on these developments and how they impact the world around you.
With the marijuana industry constantly evolving, you need a cannabis news outlet to keep you abreast of the pertinent information. At 420 Intel, we cover marijuana legalization news throughout the world, offer reliable information for cannabis business owners, detail technological advances that impact the marijuana industry, cover marijuana rallies from across the globe, and everything in between.
You can get 420 Intel news delivered directly to your inbox by signing up for our daily marijuana news, ensuring you're always kept up to date on the ever-changing cannabis industry. To stay even better informed about marijuana legalization news follow us on Twitter, Facebook and LinkedIn.