You are here
Home
🌿
Medical Cannabis News
🌿 Doctor loses medical license for legally treating her menstrual cramps with cannabis 🌿
Doctor loses medical license for legally treating her menstrual cramps with cannabis
The state prohibits doctors from ever using cannabis, even if it's for the medical purpose of managing the pain of menstrual cramps.
When Dr. Yolanda Ng was offered a job as a pediatric nephrologist at Providence Sacred Heart Children's Hospital in Spokane, Washington, she was thrilled. She'd already been working in the position for five months as a locum, the medical industry equivalent of a temp, and liked the work. Plus, they were happy to allow her to split time between Spokane and San Jose, where her family lives. Little did she know, accepting the job would effectively end her medical career.
"As part of that job, just for the paperwork, I had to do a drug screen," she said. "Which I thought was actually going to come back negative, because it had been awhile. But it came back positive." For cannabis.
The result was due to a cannabis tincture Ng had been using to treat menstrual cramps. A friend of her's recommended it and provided her with a bottle, saying his girlfriend had used it to great success. Ng saw it as a safer alternative to over-the-counter meds like Ibuprofen, which she knew could damage her kidneys over time. Ibuprofen also gave her an upset stomach if she took it overnight when she needed relief to sleep. Cannabis, however, did not.
Because Ng used cannabis strictly outside of the workplace—only 2 or 3 times a month, in her estimation—and because personal use is legal in Washington, she didn't think it would be an issue. Neither did her direct supervisors, as she'd always had good performance.
Nonetheless, the hospital's administrators wanted to run the positive test by the state's medical commission just to be safe. That was Ng's first—of what would become many—interactions with the Washington Physicians Health Program (WPHP), which eventually caused her to lose her medical license.
All but four states have PHPs, with a mix of state-run and privately operated programs. The programs were developed in the late 70s as a response to increased scrutiny of substance abuse by medical professionals from state medical boards. PHPs were founded and championed by physicians who had themselves experienced substance abuse issues and sought a kinder, gentler solution than getting called up in front of the board. In theory, a doctor could go to the Physicians Health Program, complete their treatment plan, and leave with nothing on their professional record.
Now, PHPs treat issues ranging from anxiety to opioid addiction, with the goal of helping physicians get discreet treatment and get back to practicing. However, critics of the Physicians Health Program system contend that it often does quite the opposite, operating more as a method of funneling patients into costly rehab centers than as an actual service to physicians. According to Ng, that's exactly what happened to her.
Critics of the Physicians Health Program system say that it just funnels patients into costly rehab centers
After her hospital administrators sought the advice of the Washington Medical Commission (WMC), they were instructed to stop her from practicing until she could meet with someone at the Washington Physicians Health Program. She met with the WPHP, she said, and they told her that they couldn't conclude she had a problem with cannabis and would need further evaluation. They then gave her a list of three clinics that could perform an assessment, two in the Midwest and one in Oregon.
"I asked them why it would be specific centers, and they said that it was because those centers are really good at dealing with marijuana," she said. "Out of all of the ones they gave me, I picked the one that was the closest, in Oregon."
Her supervisors, she said, approached the Physicians Health Program wondering why she wasn't allowed to simply use the clinic at the hospital she already worked at. They were told that the three centers offered were the only ones qualified to do the assessment.
Dr. J Wesley Boyd, a Harvard psychiatry and bioethics professor, and former associate director of the Massachusetts Physicians Health Program, described that as "horse shit."
"The University of WA has a first-rate medical school, and presumably a first-rate psychiatry department with plenty of psychiatrists who are specialists in addiction and/or forensics or both," he said. "There is zero reason why a regularly trained addiction psychiatrist could not perform an evaluation on Yolanda or anyone else in her shoes."
The real reason she was given a short list, he surmises, was because those clinics were cozy with the Physicians Health Program. Since leaving the Massachusetts PHP program over ethical concerns, Boyd has become a prominent critic of the PHP system, arguing that—while it is well-intentioned—it has become rife with conflicts of interest. While consulting on an audit of the North Carolina Physicians Health Program, he encountered a particularly glaring one.
"The former head of the PHP was running one of the 4-day evaluation centers that also offered the 90-day treatment," he said. "Lo and behold, that was one of the places they'd send people to all the time."
He added that PHP recommendations of treatment centers are often backed by studies on their relative success rates. But those studies, he cautioned, are often done by the PHPs themselves. "The only people who I've ever seen write papers with primary data are individuals who are running the programs," he said. And, he added, many doctors who are referred don't have a real substance abuse issue, which artificially inflates success rates. Ng's situation, he said, neatly illustrates the point.
She ended up at Hazelden Betty Ford's Springbrook clinic, in Newberg, Oregon, for a three-day inpatient evaluation. She was told the evaluation would cost $5000, which she figured was worth it to clear everything up.
But just calling to set up the appointment unnerved her, she said, as they began discussing financing for a three-month stay right off the bat. When she told them she didn't plan to stay that long, they replied that, "Oh I guess you could go and come back, a lot of people do that too." This was a big red flag for her: "I was like, What about if I go and don't come back, because you don't even know what the end result will be? But obviously, they did."
There, she met with a psychiatrist and psychologist, both of whom told her she was fine. She did some group therapy, at which the other participants frequently asked her "Why are you here?" But the ultimate diagnosis rested with a certified drug counselor, who concluded that she was a cannabis addict.
"She said that, based on what I had been telling her and all the questions from the DSM-4 (a manual which defines cannabis use disorder), I qualified as a severe substance abuser," Ng said. One of those questions is about whether a patient has missed work because of substance use.
"I had to say, Yes, because I'm here and being here is making me miss work,"  Ng said.
Her final meeting, she said, was where things got really uncomfortable. She was called into a room with the counselor and other staff from Springbrook. The psychiatrist she'd spoken with and representatives of the Washington Physicians Health Program were on the phone. The counselor delivered her recommendation: 90-day inpatient treatment for severe cannabis use disorder, at a cost of $50,000.
The counselor delivered her recommendation: 90-day inpatient treatment for severe cannabis use disorder, at a cost of $50,000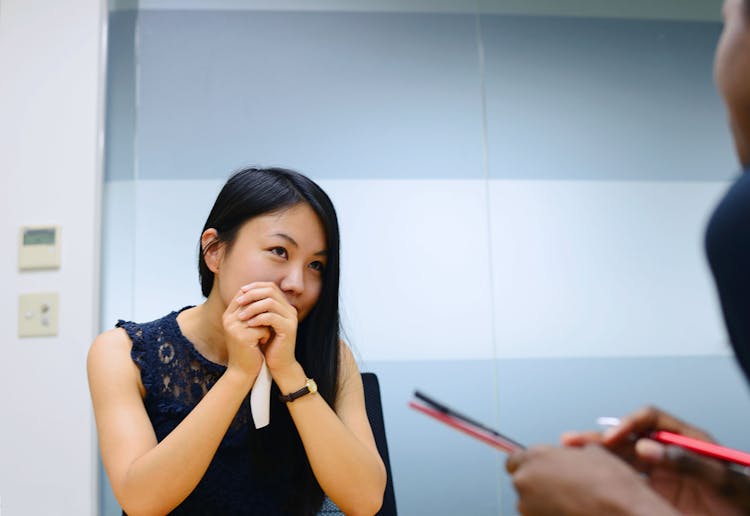 "Everything that they did just didn't seem kosher and something just felt weird about it," she said. "But when I really decided to leave was when I said, I don't want to do this. And they were like, Well, we're appalled that you don't think your medical license is worth $50,000."
To her, that felt like extortion. She said she also felt coerced to comply, as the nearest airport was an hour away, and her credit cards and phone were still locked up. The treatment center requires patients to hand them over upon arrival. When she arrived, she was picked up in a limo. Leaving, the center staff told her, would require her to call her own cab. Also, the only center staffer with the keys to patient lockers had gone home for the day, they said, further complicating the matter.
She was eventually able to call a cab by borrowing calling cards from some of her fellow patients, and the center staffer was called back to unlock her personal items. She was ultimately able to make the last flight back to San Jose, where she planned to discuss the best course of action with her family.
Hazelden Betty Ford did not respond to an email or phone call requesting comment.
Micah Matthews, the WMC's Deputy Executive and Legislative Director, said, of Ng's Hazelden tale, "These are unsubstantiated comments and I will not respond to the specifics alleged by Dr. Ng." However, he added that, "The WMC has only two tools, both disciplinary, available for use and both tend to have significant professional impact. As such, WPHP is the preferred route for use in practitioner health and impairment instances because it is confidential, non-disciplinary, involves the employer, and has a long record of success."
But according to Boyd, the PHP's recommendations carry so much power that it may as well be the disciplinary body in these cases. Medical commissions tend to take recommendations from Physicians Health Programs at face value, he said. And he's heard the same story from other physicians being asked, while attending an inpatient evaluation, whether they thought their medical career was worth the cost of the 90-day extension.
Matthews, however, said the WMC takes steps to ensure that PHPs are independent and ethically operated.
"Dr. Boyd is a known PHP critic and we respectfully disagree with his claims," he said. "His experience with Massachusetts does not relate to Washington or WPHP. That being said, we know of no financial ties between WPHP and the clinics they recommend. We know this because they are contractually required to attest to the WMC annually that there are no financial relationships between WPHP and those evaluators they recommend."
Matthews added that the Washington Physicians Health Program makes it clear that the evaluation and any recommended treatment do not have to occur at the same treatment center, though Ng said that was not the way it was portrayed to her at Hazelden.
Boyd says, from his experience, the connections between PHPs and treatment centers are more informal. The treatment centers don't fund the PHPs directly, he said, but often sponsor their national meetings and hand out other perks.
"I went to one national meeting while I was associate director, and the representatives from those centers were taking the PHP directors out to dinner," he recalled. "Wining and dining them and stuff like that."
This, he said, is why he imagines they refused to accept an independent evaluation he performed on Ng as an alternative and refused to let her be evaluated at the University of Washington. Matthews said, instead, it's because the WMC simply only accepts preapproved assessments. Whatever happened at Hazelden, Boyd said his evaluation did not find any evidence of cannabis use disorder.
"With Yolanda, I have no idea how they could have possibly diagnosed her with severe cannabis dependence based on her history of using three times a month," he said. "Also, when she got to Hazelden, her drug screen was negative, including for marijuana."
Ng was contacted several times by the Washington Physicians Health Program to ask if she planned to return to Hazelden, ultimately informing them that she wouldn't. WPHP, as is standard practice, then reported her as noncompliant to the WMC, which requested that she sign an indefinite suspension agreement. To reinstate her medical license, the agreement required her to complete the WPHP's recommended treatment.
"They were calling her and calling her saying, We're going to keep calling you until you sign it," said Nicole Li, a Washington State lawyer who defends medical professionals in administrative proceedings, and who took on Ng's case pro bono. "And so she just signed it, without ever talking to a lawyer and without knowing that that would affect her California license."
After being notified that her California license had been terminated, Ng contacted Li, but there was little she could do, as agreeing to the suspension closed the matter and precluded a hearing. Li says she tried to get the WMC to accept Boyd's independent evaluation, or to allow her to visit a psychiatrist at UW, in hopes of getting the board to change its decision.
"If you're fucked here, you're fucked for the rest of the country," Li said. "That's what makes me so mad about how they bullied Yolanda into signing that piece of paper because she never even got a hearing. That's all I want them to do, but they won't."
Matthews noted that Ng is still able to complete the Washington Physicians Health Program and have her license reinstated. He also added, "I feel compelled to point out that Dr. Ng finds herself in this situation due to her own choices, starting with her choice to partake in cannabis outside of the protections granted to qualified medical patients under Washington law."
But, he later clarified, using legal cannabis would get a doctor referred to the Washington Physicians Health Program as well, as would obtaining and using a medical cannabis authorization. The issue is impairment, he said, not performance.
Reminded that Ng said she never used cannabis at work or when on-call, he said it didn't really matter. The presence of cannabis metabolites on a urinalysis is a problem in and of itself, because "it indicates recent use," and hospitals receive federal money. So it would put a physician's hospital privileges in jeopardy which, despite cannabis being legal in Washington State, becomes a problem for Washington State.
Similarly, a physician is allowed to have a medical cannabis authorization, but anything on the list of qualifying conditions would "lead both the WMC and the employer to consider if the practitioner is capable of current clinical practice." Though he said that the WMC was "supportive of the existing law relating to cannabis," he made it clear that there wasn't really any way a physician could use cannabis without running afoul of the WMC.
He made it clear that there wasn't really any way a physician could use cannabis without running afoul of the WMC
"There's a two-fold problem here," Li said. "One is a financial conflict of interest and the other is a misunderstanding about pot."
While she also agrees that it's possible to have a problem with cannabis, she said that the WPHP's and WMC's stance on cannabis is outdated, and out of touch with Washington's cannabis laws.
"It's an outrage," said Dr. Sunil Aggarwal, a Washington State physician who specializes in helping patients use medical cannabis. "It's a testament to the stranglehold of the zero-tolerance, all-use-is-misuse, drug-rehab-industry-driven system that the medical guilds have essentially sold themselves to."
Aggarwal says medical institutions, for now, must be beholden to the DEA's definition of marijuana, which says it has no accepted medical use and a high potential for abuse. And that keeps doctors from learning more about the drug, at a time when doctors who understand cannabis are desperately needed. While he said he hasn't had any issues with the WMC, despite being an outspoken medical cannabis advocate, he said most doctors are afraid to engage with cannabis for fear of a potentially devastating referral to the Physicians Health Program.
That referral was certainly devastating to Ng's medical career. Even if Ng were to attend rehab and get her license reinstated, the amount of continuing education she'd have to make up would be prohibitive, Li said, as would the cost.
"There were no complaints about [Yolanda] in the workplace," says Li. "In fact they wanted her to come on full-time. She's now been out of work for—what?—three years."
But to Ng, the choice to walk away was clear: "I was single and I didn't have a family that depended on me. I hadn't been deep into my career yet. My dignity was worth a lot more than doing this thing that I knew was wrong."
Talking about the experience, she hopes, will help doctors caught in similar situations who aren't able to walk away so easily. Many physicians are afraid of being labeled, as Boyd said, sardonically, "a bellyaching doctor who is in denial about their addiction." Many also have families, she said, and cannot afford a career change.
Aggarwal, for his part, was optimistic: "The fact that she's fighting it has increased awareness. Many doctors I know have just gone to those treatments, and she refused. That's very brave."
420 Intel is Your Source for Marijuana News
420 Intel is the leading source for cannabis news from around the world. Get the latest updates on cannabis legalization, politics and technology, as well as developments in medical and recreational marijuana news. Our commitment is to bring you the most important cannabis news stories every day of the week.
At 420 Intel we understand that effective marijuana industry news coverage is a constant endeavor. Every day stories develop regarding cannabis legalization, technological developments, and the medicinal benefits of marijuana use. Each new development carries the potential to impact the marijuana industry regionally, nationally, and internationally. 420 Intel is the marijuana industry news outlet that will keep you up to date on these developments and how they impact the world around you.
With the marijuana industry constantly evolving, you need a cannabis news outlet to keep you abreast of the pertinent information. At 420 Intel, we cover marijuana legalization news throughout the world, offer reliable information for cannabis business owners, detail technological advances that impact the marijuana industry, cover marijuana rallies from across the globe, and everything in between.
You can get 420 Intel news delivered directly to your inbox by signing up for our daily marijuana news, ensuring you're always kept up to date on the ever-changing cannabis industry. To stay even better informed about marijuana legalization news follow us on Twitter, Facebook and LinkedIn.