How to find the best CBD dosage for Alzheimer's disease
If your family member is suffering from Alzheimer's, CBD might be able to help. Cannabidiol, more commonly known as CBD has been shown to have neuroprotective qualities.
CBD's neuroprotectant properties are the next frontier in cannabis research. But is there an actual CBD dosage for Alzheimer's? We spoke with Lauren Wilson, the co-author of the upcoming book, Healing with CBD: How Cannabidiol Can Transform Your Health Without the High, as well as Dr. Jordan Tishler, President, and CMO of InhaleMD, a medical cannabis doctor's office in Massachusetts, to find out.
CBD for Parkinson's and Alzheimer's
Recent studies have shown that CBD may be able to help prevent and slow the progression of neurodegenerative disorders, like Parkinson's, Huntington's, CTE, dementia, and Alzheimer's. In the case of Alzheimer's, researchers in this 2017 study found made an amazing discovery. The beta-amyloid proteins, or "plaques" that build up in the brain cause an inflammatory response that eventually kills neurons. However, because of CBD's anti-inflammatory power, researchers found that the activation of cannabinoid receptors blocked that inflammatory response. Therefore, CBD could play a critical role in halting the progression of Alzheimer's.
What is the Endocannabinoid System?
The reasons cannabis and its compounds play such a crucial role in our health is that everyone is born with their own, unique endocannabinoid system (ECS). This system is in charge of keeping our bodies regulated, a state known as homeostasis, and therefore is involved in many of our bodies' systems. This includes inflammation.
Inflammation is a signal that your body is not in homeostasis. Your ECS will try to correct it, and adding plant-derived cannabinoids, like THC and CBD, can help.
However, everyone's endocannabinoid system is unique, and finding a standard dose for any ailments, whether it be Alzheimer's or Crohn's Disease, is difficult. What's more, because of the entourage effect, different strains and ratios of cannabinoids and terpenes could make one product with "50mg" of CBD more or less effective than another.
What Wilson recommends in her new book, Healing with CBD, is that anyone starting CBD treatment keep a journal to track how the CBD is making people feel. Her and her co-author, registered nurse Eileen Konieczny, even provide a template in the resources section of the book. But essentially, they encourage people to make note of what dosage they're taking, which product, and how it's making them feel, in order to find their optimal dose, or in scientific terms, their "sweet spot." But that sweet spot will be different for everyone.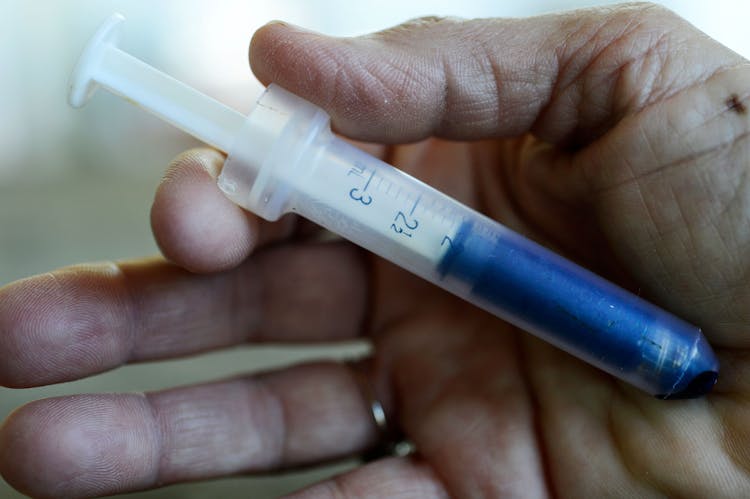 Deb Ploetz holds a tube filled with medical marijuana oil that is used to help treat her husband, Greg Ploetz, who has severe dementia. 
CBD Dosage for Alzheimer's
While researching this piece I asked around for a "minimum dose for efficacy" of CBD for Alzheimer's. According to Dr. Jordan Tishler, all the studies that show CBD's neuroprotective qualities were using doses of CBD that would cost the average person about $50 a day.
What researchers have found, like with this 2014 study, is that CBD doesn't really have neuroprotective effects until you start taking a lot, about 10 to 20 mg of CBD per kilogram (2.23lbs) of human body weight. For a 60 kg (132 lb.) person, that would be 600 to 1200mg of CBD per day! That's more milligrams than many bottles of CBD even contain, and they can cost anywhere from $50 to $200.
Although the cost of CBD for Alzheimer's would is high, Dr. Tishler points out that there's some preliminary evidence that THCa might also be a neuroprotectant, and that consuming an effective dose would be more cost efficient. THCa is non-activated THC, which can be found in abundance in cannabis leaves, which are edible and nutritious.
Tishler also says that taking CBD alone is less effective than taking CBD and THC together. In fact, this 2017 study says the same, that the combination of CBD and THC might "mediate greater therapeutic benefits than either phytocannabinoid alone." For neuroprotection, Tishler recommends taking about 10 mg of THC and about 600 mg of CBD for a 60 kg person.
CBD Drug Interactions
It's important to talk with your doctor before you begin taking CBD daily. CBD can interact with other prescription drugs and make them more or less effective. Wilson tells me, if you're on a drug that recommends you don't consume grapefruit, then CBD will also affect the efficacy of your prescription. Definitely speak with your physician, or if you think your physician will stigmatize you, find an integrative cannabis physician. If that's financially out of reach you can check if your prescription interacts with cannabis with sites like this one.
420 Intel is Your Source for Marijuana News
420 Intel is the leading source for cannabis news from around the world. Get the latest updates on cannabis legalization, politics and technology, as well as developments in medical and recreational marijuana news. Our commitment is to bring you the most important cannabis news stories every day of the week.
At 420 Intel we understand that effective marijuana industry news coverage is a constant endeavor. Every day stories develop regarding cannabis legalization, technological developments, and the medicinal benefits of marijuana use. Each new development carries the potential to impact the marijuana industry regionally, nationally, and internationally. 420 Intel is the marijuana industry news outlet that will keep you up to date on these developments and how they impact the world around you.
With the marijuana industry constantly evolving, you need a cannabis news outlet to keep you abreast of the pertinent information. At 420 Intel, we cover marijuana legalization news throughout the world, offer reliable information for cannabis business owners, detail technological advances that impact the marijuana industry, cover marijuana rallies from across the globe, and everything in between.
You can get 420 Intel news delivered directly to your inbox by signing up for our daily marijuana news, ensuring you're always kept up to date on the ever-changing cannabis industry. To stay even better informed about marijuana legalization news follow us on Twitter, Facebook and LinkedIn.