Colorado police try to prove cannabis legalization increases crime
There is very little evidence that legalization increases crime, and what is available, proves the opposite. Police in El Paso County, Colorado are going to start keeping a record of crimes connected to legal cannabis in an attempt to prove that legalization of recreational cannabis increases crime, according to a report from KRDO.
Commander John David of the El Paso County Sheriff's Office insists that he's seen illegal grow-ops, among other crimes, in his county since the state legalized adult-use and sale in 2012.
"To kids in possession of marijuana at schools, or things where people are stealing mail, or cars, or burglarizing houses to get money for marijuana," David told KRDO.
The policy is a response to the lack of data available to support claims that legalization increases crime. It's a claim that has been made by several of the state's law enforcement officials and it's even been cited by Attorney General Jeff Sessions when discussing the merits of marijuana prohibition.
Sessions has used the case of a lawsuit brought against Colorado by neighboring states claiming that legalization in the Centennial State caused drugs to spill over the border. But the Supreme Court refused to hear the case, brought by Oklahoma and Nebraska in 2016.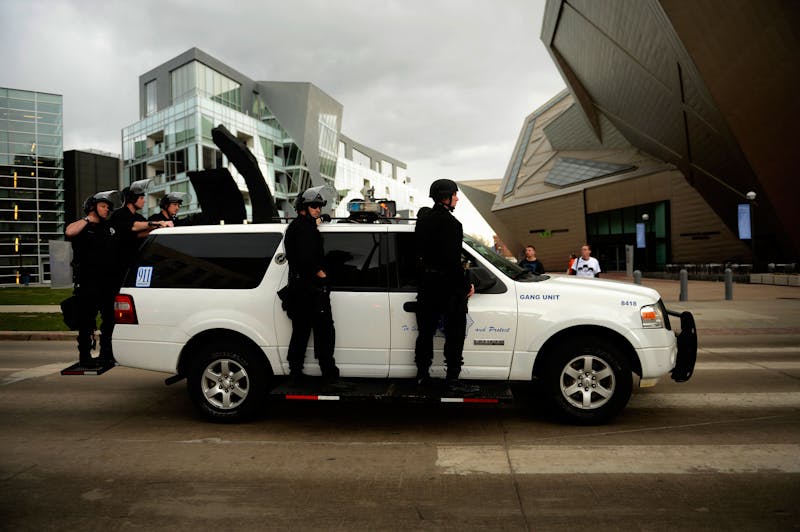 Denver Police officers patrol the area around the scene near Civic Center Park in Denver Colorado on Saturday April 20th, 2013 after the 4/20 pot rally.
The problem is, there has been little evidence to prove that legalization increases crime. In July, The Colorado Springs Gazette, reported that police had claimed foreign cartels operate within the state's legal marijuana industry, but couldn't provide evidence to back that claim up.
In fact, a recent study published in the Journal of Economic Behavior and Organization found that crime rates fall after states legalize cannabis and remain lower than crime rates in neighboring states that maintain prohibition.
When similar claims were made by the former chief of police in San Diego, California, it was later discovered that many of the crimes that were said to be connected to legal cannabis businesses had no real connection at all.
Still, Colorado regulators have said that they hope to see the same crime recording practices being implemented by law enforcement across the state, but police aren't required by law to collect such data.
While there's little evidence to connect the legal cannabis market to non-drug related crimes, the industry has had a few incidents in which legal businesses have violated state regulations. Last December, police raided one of the largest retailers in the state, Sweet Leaf dispensaries, for selling more than the allowable limit to undercover officers posing as customers.
The El Paso County Sheriff's Office says they hope to have data available by the end of the year to begin determining whether legalization increases crime, but admits it has been difficult to get deputies to remember to record the involvement of cannabis in non-drug related crimes.
420 Intel is Your Source for Marijuana News
420 Intel is the leading source for cannabis news from around the world. Get the latest updates on cannabis legalization, politics and technology, as well as developments in medical and recreational marijuana news. Our commitment is to bring you the most important cannabis news stories every day of the week.
At 420 Intel we understand that effective marijuana industry news coverage is a constant endeavor. Every day stories develop regarding cannabis legalization, technological developments, and the medicinal benefits of marijuana use. Each new development carries the potential to impact the marijuana industry regionally, nationally, and internationally. 420 Intel is the marijuana industry news outlet that will keep you up to date on these developments and how they impact the world around you.
With the marijuana industry constantly evolving, you need a cannabis news outlet to keep you abreast of the pertinent information. At 420 Intel, we cover marijuana legalization news throughout the world, offer reliable information for cannabis business owners, detail technological advances that impact the marijuana industry, cover marijuana rallies from across the globe, and everything in between.
You can get 420 Intel news delivered directly to your inbox by signing up for our daily marijuana news, ensuring you're always kept up to date on the ever-changing cannabis industry. To stay even better informed about marijuana legalization news follow us on Twitter, Facebook and LinkedIn.