Washington is growing way too much marijuana
It turns out too much weed isn't always a good thing.
Six years after it became one of the first states in the country to legalize adult-use cannabis, Washington is growing way too much weed.
While that may sound like a good kind of problem, plummeting prices and the danger of a federal crackdown can turn too much of a good thing into a serious issue. Much like its southern neighbor Oregon, Washington's oversupply issue stems from the state's lax regulations when it comes to growers.
To date, the state has handed out nearly 1,500 licenses to grow and process cannabis, and while state officials expected at least half of those license holders to go out of business, around 1,400 licenses are still active, according to a report from Inlander.
Each grower is allowed to cultivate up to 90,000 square feet of land, an amount critics think is far too much for what the state or weed farmers need. Experts posit that growers have increased their output by around 60 percent in the 2017 season alone. Hence, too much weed.
The problem is further convoluted by the fact that Washington has placed a limit on the number of retailers that can be licensed within the state, leaving farmers with a limited number of buyers for their crops. While the state's Liquor and Cannabis Board had already increased the number of retail licenses from 334 to 556 in 2016, many still believe this is not enough to account for Washington's lopsided market.
Having too much weed paired with too few retailers buying the product has caused the price of flower to fall drastically. With an ounce of legal marijuana selling for as low as $40 in the state's retail stores, the fractured chain of supply and demand has driven some farmers out of business.
By comparison, the average price of an ounce in Colorado, which legalized cannabis the same year as Washington, is around $170.
As Washington looks to tackle its problem of having too much weed, Crystal Oliver of the Cannabis Farmers Council, tells Inlander that one of her main concerns is that larger farms are buying up the grow licenses, rapidly expanding, and chasing smaller farmers out or forcing them to try to keep up.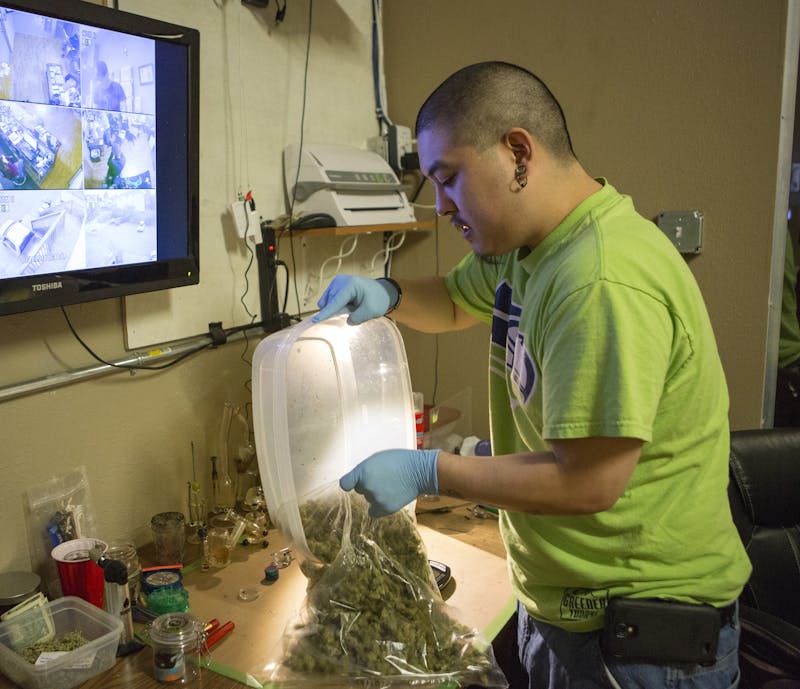 Brendon, the manager of the cannabis store A Greener Today, prepares cannabis for sale in the store's backroom, on March 14, 2014 in Seattle, Washington.
Another issue, according to Dr. Jim MacRae, the founder of cannabis-focused consulting group Straight Line Analytics, says that the state has created a bottleneck, not just in the number of retail locations that are available, but also where they are located.
Municipal bans on cannabis-related businesses have created "hot spots," MacRae told The Street. Those areas attract businesses because it's easier to operate with fewer regulations, but as a result, some populated areas host a wide variety of options for purchasing legal cannabis while others have none.
The state recently went through an overhaul of its seed-to-sale tracking system, and growers were left to file their own inventory reports, just as the 2017 harvesting season was coming to a close.
But the biggest concern is this: if farmers can't find a place to sell their weed, will they turn to the black market?
Just like Oregon, state officials might choose to crack down for fear that black market sales and potential out-of-state sales of surplus cannabis could result in federal intervention. For now, federal law enforcement largely allows states that have legalized cannabis to operate within the rules that they've set and within their own borders.
Some proposed solutions include placing a moratorium on new licenses, allowing farmers to sell their weed directly to consumers, reducing the square footage for crop sizes, and prohibiting the transfer of licenses. For the time being, state regulators are planning to send out surveyors to determine just how much weed is being grown. Basically, how much weed is too much weed?
420 Intel is Your Source for Marijuana News
420 Intel is the leading source for cannabis news from around the world. Get the latest updates on cannabis legalization, politics and technology, as well as developments in medical and recreational marijuana news. Our commitment is to bring you the most important cannabis news stories every day of the week.
At 420 Intel we understand that effective marijuana industry news coverage is a constant endeavor. Every day stories develop regarding cannabis legalization, technological developments, and the medicinal benefits of marijuana use. Each new development carries the potential to impact the marijuana industry regionally, nationally, and internationally. 420 Intel is the marijuana industry news outlet that will keep you up to date on these developments and how they impact the world around you.
With the marijuana industry constantly evolving, you need a cannabis news outlet to keep you abreast of the pertinent information. At 420 Intel, we cover marijuana legalization news throughout the world, offer reliable information for cannabis business owners, detail technological advances that impact the marijuana industry, cover marijuana rallies from across the globe, and everything in between.
You can get 420 Intel news delivered directly to your inbox by signing up for our daily marijuana news, ensuring you're always kept up to date on the ever-changing cannabis industry. To stay even better informed about marijuana legalization news follow us on Twitter, Facebook and LinkedIn.