Pennsylvania dispensary gets in trouble for selling dollar grams
Pennsylvania's medical program just got flower and one dispensary was trying to celebrate with dollar grams. The state's health department, however, wasn't having it.
Who wouldn't want to buy a dollar gram? That's right, precisely no one. But when one Pennsylvania dispensary started selling them as part of a celebration of their first sales of "flower," which was recently legalized under the state's medical cannabis program, the Pennsylvania Department of Health was quick to cry foul.
In early August, Justice Grown Pennsylvania, a chain of dispensaries in the northeast part of the state, offered dollar grams of two different strains at its Edwardsville location before getting the kibosh from regulators, The Inquirer reports.
The dispensary announced the deal on Facebook, which had patients lining up around the block. There were two strains on offer—Lemon Sweet Skunk and Cherry Diesel—and patients were allowed up to two grams each. Normally, those strains, from producer Terrapin Pennsylvania, would cost $10-15 each, according to The Inquirer.
While it's hard to blame anyone for being so excited about flower that they want everyone to be able to afford some, that doesn't exactly make it legal.
"It's in the law," Department of Health spokeswoman April Hutcheson told The Inquirer. "The law prohibits discounts. You can't run a promotional sale on medical marijuana. We let them know that they were in violation."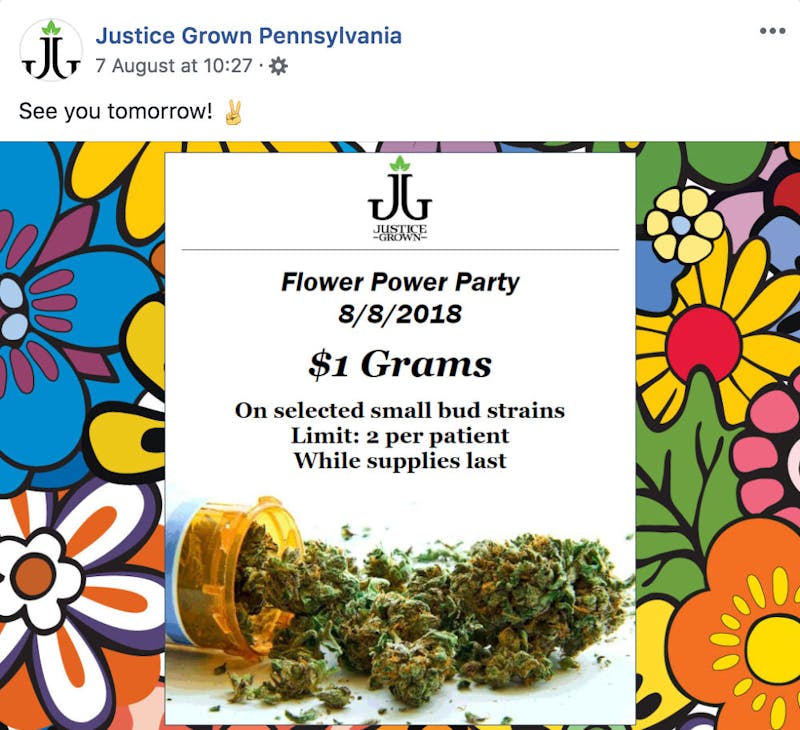 The dispensary announced the dollar grams deal on Facebook.
You can offer special price breaks to veterans or seniors, but other than that discounts are disallowed. However, it seems that they got away with it…at least for a little while. While the Department of Health did call them the day before to warn them of the dollar grams scheme, they proceeded with the sale anyway, serving 134 patients before running out of bud. That came out to 268 grams of "popcorn" bud, the smaller nugs from further down the stalk of the cannabis plant.
It wasn't illegal, according to Justice Grown Pennsylvania's CEO, Abbe Kruger, because it wasn't technically a discount. Because the dispensary had never priced the bud before, it was just a really, really low price.
"It was the first day we had flower," Kruger told The Inquirer. "Some dispensaries had parties, but this was our way of celebrating. I think it was our way of giving a gift to our patients."
While the Department of Health couldn't technically fine them—they acknowledged to The Inquirer that they don't actually have a disciplinary process in place—they made it clear that they definitely don't want this to happen again, saying that they called "to make sure [Justice Grown didn't] knowingly violate any parts of the regulations."
While the low price argument might hold water in this instance, it seems like the Department of Health has made it pretty clear that it won't in the future. But hey, Justice Grown made 134 people extremely happy in the meantime!
420 Intel is Your Source for Marijuana News
420 Intel is the leading source for cannabis news from around the world. Get the latest updates on cannabis legalization, politics and technology, as well as developments in medical and recreational marijuana news. Our commitment is to bring you the most important cannabis news stories every day of the week.
At 420 Intel we understand that effective marijuana industry news coverage is a constant endeavor. Every day stories develop regarding cannabis legalization, technological developments, and the medicinal benefits of marijuana use. Each new development carries the potential to impact the marijuana industry regionally, nationally, and internationally. 420 Intel is the marijuana industry news outlet that will keep you up to date on these developments and how they impact the world around you.
With the marijuana industry constantly evolving, you need a cannabis news outlet to keep you abreast of the pertinent information. At 420 Intel, we cover marijuana legalization news throughout the world, offer reliable information for cannabis business owners, detail technological advances that impact the marijuana industry, cover marijuana rallies from across the globe, and everything in between.
You can get 420 Intel news delivered directly to your inbox by signing up for our daily marijuana news, ensuring you're always kept up to date on the ever-changing cannabis industry. To stay even better informed about marijuana legalization news follow us on Twitter, Facebook and LinkedIn.