From combat to marijuana processing — veteran corners the CBD market
Craig Henderson started Extract Labs, a Boulder, Colorado-based company offering cannabidiol-infused products, in the garage of his home in December 2016. Now, less than two years later, the multimillion dollar company of 25 staff has become a staple in the increasingly popular realm of cannabidiol, or CBD, the main medicinal ingredient in marijuana.
Declared safe to use earlier this year by the World Health Organization, CBD's growing list of benefits include helping individuals who struggle with insomnia, depression, anxiety and epileptic seizures, all common characteristics of post-traumatic stress disorder or traumatic brain injury.
Henderson, an Army infantry veteran who saw combat in Iraq in 2004 and 2005 while part of 1st Battalion, 27th Infantry Regiment, began taking an interest in CBD, a non-psychoactive chemical, as he was finishing up his engineering master's at the University of Louisville.
"I kept watching a bunch of marijuana documentaries and was following the laws changing in Colorado and California," Henderson said. "I was really interested in getting out [to Colorado]. I was emailing people my resume and calling different companies, but no one called me back."
Henderson was eventually contacted by Apecks Supercritical, an extraction company based out of Ohio, where he was offered a job. Not long after, he got his wish to relocate to Colorado, where he opened a new location for Apecks. Business took off from there.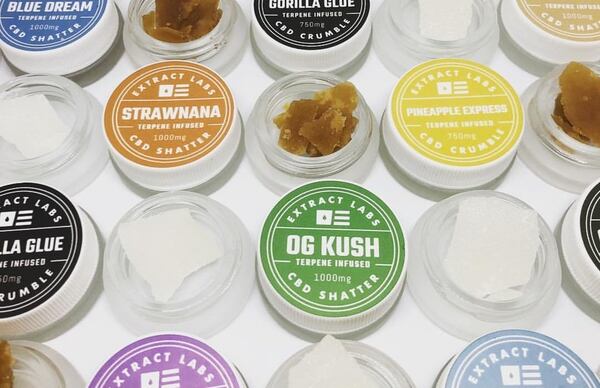 "After about four years of teaching people how to process marijuana with CO2, I started seeing hemp farms popping up and no one was processing the material for them," he said. "So I decided to leave my job and start up my own processing company."
That decision by the combat vet-turned-marijuana processor has paid off, so much so that Extract Labs recently opened a second lab in Louisville, Kentucky. The company also recently rolled out a new line of CBD-infused pet products, which, much like those consumed by human users, have done wonders for animals suffering from epilepsy. "Pet owners swear by [CBD]," Henderson said.
In the extraction process, the psychoactive component of marijuana, THC, is either eliminated entirely or reduced to 0.3 percent or less, making products like those provided by Extract Labs legal in all 50 states.
A quick visit to the company website yields a variety of available goods — tinctures, body and muscle creams, crumbles, shatters, isolates and even vape juice (as a healthier alternative to nicotine) — for customers looking to remedy any of the aforementioned afflictions.
"[CBD] helps with homeostasis," Henderson said. "So when things are sort of out of wack within the body, it helps to bring it all together. It's also anti-inflammatory and has more antioxidants than green tea has in it."
The growing list of medicinal benefits has caught the eye of top health organizations, some of which are traditionally slower to approve select methods of health care.
On June 25, the U.S. Food and Drug Administration approved CBD as a treatment for two forms of epilepsy.
"This approval serves as a reminder that advancing sound development programs that properly evaluate active ingredients contained in marijuana can lead to important medical therapies," Scott Gottlieb, FDA Commissioner, said in a news release. "And, the FDA is committed to this kind of careful scientific research and drug development."
420 Intel is Your Source for Marijuana News
420 Intel is the leading source for cannabis news from around the world. Get the latest updates on cannabis legalization, politics and technology, as well as developments in medical and recreational marijuana news. Our commitment is to bring you the most important cannabis news stories every day of the week.
At 420 Intel we understand that effective marijuana industry news coverage is a constant endeavor. Every day stories develop regarding cannabis legalization, technological developments, and the medicinal benefits of marijuana use. Each new development carries the potential to impact the marijuana industry regionally, nationally, and internationally. 420 Intel is the marijuana industry news outlet that will keep you up to date on these developments and how they impact the world around you.
With the marijuana industry constantly evolving, you need a cannabis news outlet to keep you abreast of the pertinent information. At 420 Intel, we cover marijuana legalization news throughout the world, offer reliable information for cannabis business owners, detail technological advances that impact the marijuana industry, cover marijuana rallies from across the globe, and everything in between.
You can get 420 Intel news delivered directly to your inbox by signing up for our daily marijuana news, ensuring you're always kept up to date on the ever-changing cannabis industry. To stay even better informed about marijuana legalization news follow us on Twitter, Facebook and LinkedIn.