Oregon's government has no idea how much marijuana the state is growing
The state's cannabis farms have been massively underregulated, causing overproduction and a booming black market.
The Oregon Health Authority, the regulator for the state's medical marijuana program, has no idea how much legal weed the state is producing, according to a report released by state health officials this month.
The Associated Press reports that an internal review of Oregon's legal marijuana tracking and licensing process was ordered when law enforcement officials indicated that they couldn't identify which grow ops were operating legally and which were not.
Since voters chose to legalize recreational cannabis in 2014, the state's medical marijuana market has been swallowed up by the recreational one, with a significant portion of medical dispensaries closing.
In April, reports of Oregon's recreational growers allegedly producing more than 1 million pounds of unsold flower set off alarm bells for state authorities who worried that Beaver State cannabis would make it into the black market as farmers struggled to offload their product to overstocked dispensaries.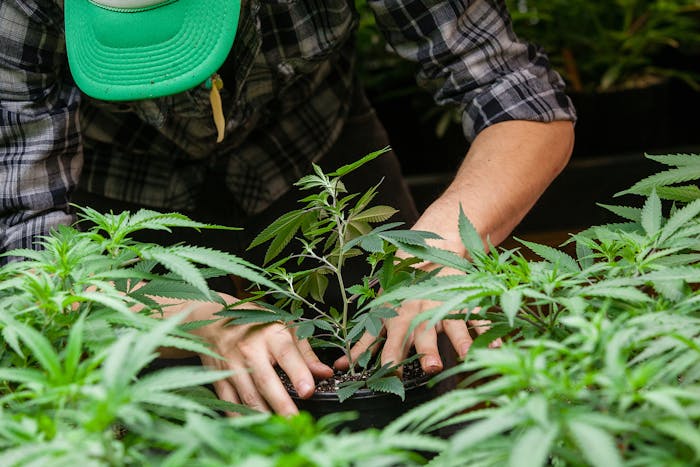 Man inspecting cannabis plant at Williams Wonder Farms in Applegate, Oregon.
Yet the report, released on June 12th,  indicates that some of the reporting on overproduction may have been overblown as Oregon's Medical Marijuana Program does not have the resources or the manpower to accurately gauge how much legal marijuana is actually being produced.
"Potentially erroneous reporting coupled with low reporting compliance makes it difficult to accurately track how much product is in the medical system," the report states. "This limits OMMP's ability to successfully identify and address potential diversion."
But if you follow the money, one thing is for sure: Oregon has a lot more weed than its regulators can handle. This time last year, farmers were able to offload a pound of weed for $1,500. This summer that price has dropped to $700 a pound.
That surplus caused the US Attorney for Oregon, Billy Williams, to announce a crackdown in May focused on curbing out of state smuggling and has also prompted other states to take preemptive measures to contain their markets.
420 Intel is Your Source for Marijuana News
420 Intel is the leading source for cannabis news from around the world. Get the latest updates on cannabis legalization, politics and technology, as well as developments in medical and recreational marijuana news. Our commitment is to bring you the most important cannabis news stories every day of the week.
At 420 Intel we understand that effective marijuana industry news coverage is a constant endeavor. Every day stories develop regarding cannabis legalization, technological developments, and the medicinal benefits of marijuana use. Each new development carries the potential to impact the marijuana industry regionally, nationally, and internationally. 420 Intel is the marijuana industry news outlet that will keep you up to date on these developments and how they impact the world around you.
With the marijuana industry constantly evolving, you need a cannabis news outlet to keep you abreast of the pertinent information. At 420 Intel, we cover marijuana legalization news throughout the world, offer reliable information for cannabis business owners, detail technological advances that impact the marijuana industry, cover marijuana rallies from across the globe, and everything in between.
You can get 420 Intel news delivered directly to your inbox by signing up for our daily marijuana news, ensuring you're always kept up to date on the ever-changing cannabis industry. To stay even better informed about marijuana legalization news follow us on Twitter, Facebook and LinkedIn.