Former cop used misleading stats to ban pot shops in California
She publicized calls to police about dispensary crime, but many of them were pranks or related to businesses nearby.
A Former San Diego Police Chief, Shelley Zimmerman, publicized misleading data about the safety risks of dispensaries which is now being used by law enforcement and anti-pot groups around the county, according to an investigation by the Voice of San Diego. In the fall of 2017, Zimmerman was brought before city council members in San Diego to discuss how the county would regulate its recreational marijuana industry. When brought before the council, Zimmerman advocated against marijuana-related businesses, claiming they represented a threat to public safety. As evidence, Zimmerman cited 272 calls to police over two years dealing with dispensary-related "burglaries, robberies, thefts, assaults and shootings."
The issues with those stats, however, is that they were found to be grossly misleading by two separate investigations: one conducted by former Redondo Beach Police Lieutenant Diane Goldstein and another by the Voice of San Diego.
The evidence provided by Zimmerman, Goldstein told Reason in an email, was: "a gross distortion of crime related to the licensed medical marijuana dispensaries." She took it upon herself to look into the calls after Zimmerman's claims struck her as suspicious.
Poring over the calls, which were released as a result of a public records request made by marijuana advocacy group Americans for Safe Access, the Voice also found that only a fifth of the calls made to police over the two-year period were from dispensary-related crimes. A large number of the reports were found to be prank calls, while more than a quarter of the calls were alleged crimes and emergencies that occurred at businesses around dispensaries.
In one case, which Zimmerman apparently tried to pin on a local dispensary, an emergency call was made from a parking lot where a man appeared to be having a stroke.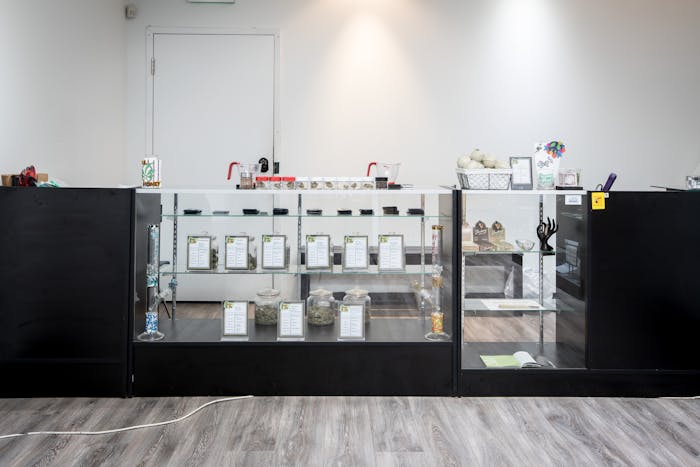 The former police chief has a history of opposition to marijuana businesses. At a town hall meeting in 2014, she spoke about crimes that had been associated with dispensaries, noting a recent death that occurred during a robbery, and told residents: "You need to go down and voice concerns. We respond to community concerns and complaints."
After California voters approved the legalization of recreational marijuana in 2016, governments of local municipalities were given the power to regulate marijuana businesses and the option to ban recreational cannabis sales outright. As a result, as of April, only one in seven cities in California allowed recreational dispensaries. 
Though San Diego ultimately voted to approve recreational cannabis businesses, the Voice found that Zimmerman's claims also appeared in a memo to Oceanside City Council written by local police. The data has also been used by anti-marijuana advocates in Imperial Beach, another city in San Diego County.
The majority of cases in which the Voice found there were legitimate concerns surrounding dispensaries either involved locations that were unlicensed, victims of suspected robberies or cases of accidental discharge of a weapon which belonged to a security guard (regulations require dispensaries to have armed security).
Zimmerman did not respond to the Voice's requests for comment.
420 Intel is Your Source for Marijuana News
420 Intel is the leading source for cannabis news from around the world. Get the latest updates on cannabis legalization, politics and technology, as well as developments in medical and recreational marijuana news. Our commitment is to bring you the most important cannabis news stories every day of the week.
At 420 Intel we understand that effective marijuana industry news coverage is a constant endeavor. Every day stories develop regarding cannabis legalization, technological developments, and the medicinal benefits of marijuana use. Each new development carries the potential to impact the marijuana industry regionally, nationally, and internationally. 420 Intel is the marijuana industry news outlet that will keep you up to date on these developments and how they impact the world around you.
With the marijuana industry constantly evolving, you need a cannabis news outlet to keep you abreast of the pertinent information. At 420 Intel, we cover marijuana legalization news throughout the world, offer reliable information for cannabis business owners, detail technological advances that impact the marijuana industry, cover marijuana rallies from across the globe, and everything in between.
You can get 420 Intel news delivered directly to your inbox by signing up for our daily marijuana news, ensuring you're always kept up to date on the ever-changing cannabis industry. To stay even better informed about marijuana legalization news follow us on Twitter, Facebook and LinkedIn.