Why cannabis drinks are the future of cannabis consumption
Cannabis-infused beverages are low calorie, refreshing, and relaxing without the hangover.
A number of companies—both in the cannabis and alcohol industries—are now creating infused beverages. Some major players in the cannabis industry even predict they're set to eclipse smoking as the primary mode of ingestion. 
This is for a multitude of reasons including the fact that cannabis-infused beverages are low-calorie—significantly lower than alcohol—and they fit seamlessly into social situations because of their subtlety, lack of odor, and a pre-existing culture around intoxicating drinks.
Also, many consumers see weed as an alternative to alcohol. This can be seen in Colorado, where alcohol sales dipped after the state became the first, along with Washington, to legalize recreational cannabis in the U.S. So what's this new infused beverage fad about? Let's take a look.
What are weed drinks? 
Technically speaking, weed drinks are tinctures, or alcohol-based elixirs containing a dissolved drug inside of them. Tinctures have heaps of beneficial properties, like aiding skin fissures or acting as a disinfectant. They've been around for centuries and are particularly popular due to their elongated shelf-life. Most tinctures are consumed orally, though many are also applied externally as well.
Though weed drinks are somewhat of a recent phenomenon, cannabis tinctures have an established history. They were included in American, Australian, and British Pharmacopoeias within the last century, but have been removed from each within the previous 70 years due to concerns about their psychoactive effects.
But fortunately, cannabis tinctures are still around. They're sometimes referred to by their colloquial names, like "green dragon," "golden dragon" or "dragon's breath," for instance. 
So what happens when you combine a cannabis tincture with any beverage? The endless, exciting possibilities for weed drinks.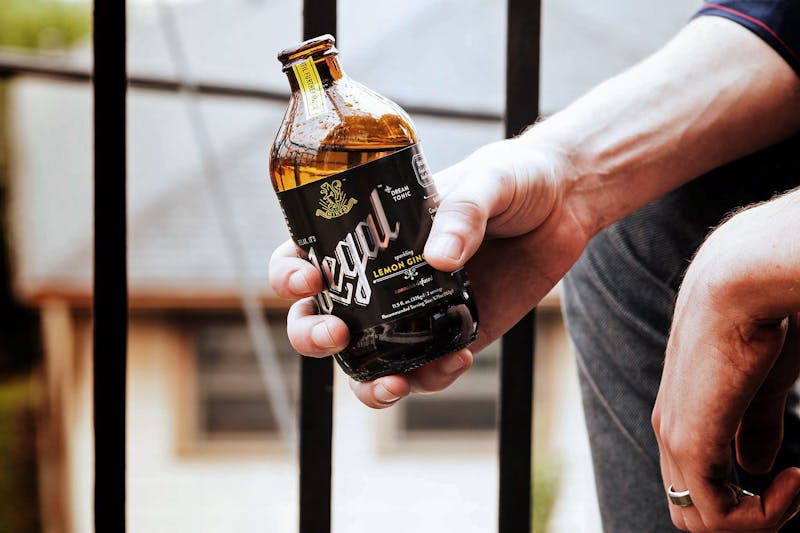 What Weed Drinks Exist?
There are already quite a few weed drinks on the market, spanning from cannabis-infused milk, coffee, and tea to trendier beverages such as matcha, kombucha, and cold-brew coffee. But there's plenty more room for innovation with the alcohol industry's growing interest in cannabis. Constellation Brands, the liquor giant behind Corona and Modelo, announced earlier this year that they'll be making cannabis beverages for Canada's new recreational market, set to open in October. They've already invested $200 million in Canadian cannabis cultivator Canopy Growth Corp.
Lagunitas Brewing just announced that they'll be introducing a line of weed drinks too. Hi-Fi Hops—which includes weed drinks with varying amounts of CBD and THC—will be available in California.
Alcohol companies are also partnering with and investing in cannabis ventures even if they have yet to invest in weed drinks specifically. This indicates a growing collaboration between the two industries. Southern Glazer's, America's largest liquor distributor, announced in May that they'll be partnering with Aphria, one of Canada's largest cannabis retailers, on distribution in the country.
By the way, if you're wondering, "will a cannabis-infused lager get me drunk?" The answer is no. It will, however, contain low levels of THC or CBD, meaning it'll mirror effects similar to drinking a beer without the grueling pangs of a hangover.
Where Can I Purchase Weed Drinks?
The accessibility of weed drinks, like everything else cannabis, depends on the laws where you live. States where cannabis is legal, like Nevada and Colorado, for example, allow weed drinks for purchase from licensed distributors. One brand purchasable in Colorado and Nevada is Dixie Elixirs. You can find their THC-infused products in dispensaries across those two states. Magic Number is another licensed distributor based in Oregon. They create THC-infused cold brews and ginger beers, with doses from 3 mg to 50 mg.
For Canadians, weed drinks are still in limbo. The Canadian Government has plans to legalize edibles, including drinkables, but a date has yet to be set.
420 Intel is Your Source for Marijuana News
420 Intel is the leading source for cannabis news from around the world. Get the latest updates on cannabis legalization, politics and technology, as well as developments in medical and recreational marijuana news. Our commitment is to bring you the most important cannabis news stories every day of the week.
At 420 Intel we understand that effective marijuana industry news coverage is a constant endeavor. Every day stories develop regarding cannabis legalization, technological developments, and the medicinal benefits of marijuana use. Each new development carries the potential to impact the marijuana industry regionally, nationally, and internationally. 420 Intel is the marijuana industry news outlet that will keep you up to date on these developments and how they impact the world around you.
With the marijuana industry constantly evolving, you need a cannabis news outlet to keep you abreast of the pertinent information. At 420 Intel, we cover marijuana legalization news throughout the world, offer reliable information for cannabis business owners, detail technological advances that impact the marijuana industry, cover marijuana rallies from across the globe, and everything in between.
You can get 420 Intel news delivered directly to your inbox by signing up for our daily marijuana news, ensuring you're always kept up to date on the ever-changing cannabis industry. To stay even better informed about marijuana legalization news follow us on Twitter, Facebook and LinkedIn.