Canada: Cannabis will be great for business, especially the tech market
It is no secret that Canadians are looking forward to legalizing recreational marijuana, and Canadian entrepreneurs are simply blown away by the amount of money and opportunities this market is giving.
Canada is just a few weeks away from legalizing recreational cannabis, after having medical cannabis legal for over 15 years now. It is a good time to be an entrepreneur, especially if you are looking to start running a weed business in Canada. Deloitte has recently published a survey which was focused on the legalization which is soon to happen, and how Canadians are going to behave once legal weed hits the streets.
Seeing how the medical side of the industry requires a lot of paperwork, licenses and such, it wasn't really a welcoming market at first. Medical cannabis in Canada is sold only through an online website and cannot be bought on the street legally, but things are going to be different when recreational cannabis becomes legal this summer.
Since provinces are able to choose how they want to regulate the recreational markets, there will be a lot of differences from one province to another, but one thing will be common in all — cannabis will be widely available…except maybe in Nova Scotia which will have only 9 stores for the whole province.
Technology will rule the markets
Technology has been disrupting the traditional ways of doing business for a while now, and in the last few years, online payments have become much easier to do and faster to go through. We now have an abundance of cryptocurrencies to choose from, new technologies are being developed on the blockchain platform every day, and on top of all that — legal weed.
The Deloitte survey has shown that many Canadians intend to buy weed the usual old way, by going to the store and paying with cash. Seeing how the medical system has been running online just fine for the past few years, online purchases won't be a small piece of the cake either.
So, what does that mean for people that would like to get into the weed business? Well, that means that if you have a couple thousand stashed somewhere and you are looking to start an online business, now is the right time to do so.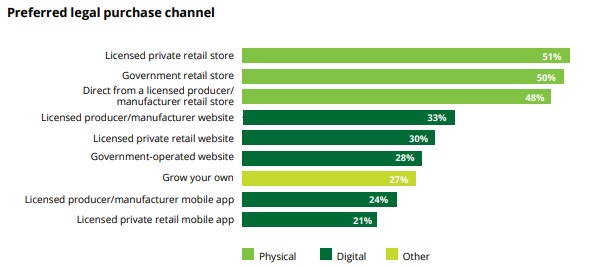 From the graph above you can clearly see that the public is very undecided when it comes to buying weed. There is a very clear split between the users favoring private and users favoring the government-run model for cannabis sales. However, here's the most important part for all the future business owners reading this article: online sales will be huge.
West is the best
Technology-backed sales which will go through the roof as websites and mobile apps will be a monstrous part of the market. Every fifth person surveyed said that they would prefer to purchase recreational cannabis via a private retail mobile app, and every third person said they would buy from a private retail website.
Now, here's the problem: if you live anywhere east of Manitoba you are probably going to have to wait for your chance. All provinces east of Ontario, including Ontario, will have government-run retail models with online sales, but you won't be allowed to be a part of the program, except as a user.
Newfoundland and Labrador will have privately-run licensed storefronts and government-operated online sales. So, if you are looking to start an online business, you will be looking only towards the Prairies and BC, as only those provinces will welcome privately-run online cannabis sales.
Alberta will be the only province in the West which won't allow privately-run online cannabis sales at first. Having said that, if you are still interested in selling weed online in Canada, I strongly suggest you take your money and run to the best developer you know. The less time you spend thinking, the sooner you can start operating your new business.
420 Intel is Your Source for Marijuana News
420 Intel is the leading source for cannabis news from around the world. Get the latest updates on cannabis legalization, politics and technology, as well as developments in medical and recreational marijuana news. Our commitment is to bring you the most important cannabis news stories every day of the week.
At 420 Intel we understand that effective marijuana industry news coverage is a constant endeavor. Every day stories develop regarding cannabis legalization, technological developments, and the medicinal benefits of marijuana use. Each new development carries the potential to impact the marijuana industry regionally, nationally, and internationally. 420 Intel is the marijuana industry news outlet that will keep you up to date on these developments and how they impact the world around you.
With the marijuana industry constantly evolving, you need a cannabis news outlet to keep you abreast of the pertinent information. At 420 Intel, we cover marijuana legalization news throughout the world, offer reliable information for cannabis business owners, detail technological advances that impact the marijuana industry, cover marijuana rallies from across the globe, and everything in between.
You can get 420 Intel news delivered directly to your inbox by signing up for our daily marijuana news, ensuring you're always kept up to date on the ever-changing cannabis industry. To stay even better informed about marijuana legalization news follow us on Twitter, Facebook and LinkedIn.