The green gold rush: Could Africa be on the verge of a weed race?
Several African governments are considering tapping a lucrative natural resource.
More than 10,000 tons of cannabis are produced on the continent each year, according to a UN survey, which advocates believe could be worth billions of dollars in a rapidly expanding global market for legal weed.
African governments have not yet followed the trend of legalization seen in Europe and the Americas. But Lesotho's recent announcement of the continent's first legal license to grow marijuana is part of a wider shift toward more liberal policies.
rom Morocco to South Africa, there is growing interest in cashing in on a valuable crop. But in each case there are unique challenges to face.
Lesotho
The tiny, landlocked nation has few natural resources. But Lesotho is a giant of the marijuana trade. "Cannabis is grown almost everywhere in the country," a UNESCO report found, noting the industry is a leading contributor to the economy in a country plagued by poverty.
Much of this comes through illicit trade with Lesotho's larger, richer neighbor, South Africa.
The government has now signaled its intentions to bring the business out of the shadows by awarding the first license for cultivation and sale to South African alternative medicine company Verve Dynamics. However, no formal steps have been taken to legalize or regulate the vast network of existing farmers and traders.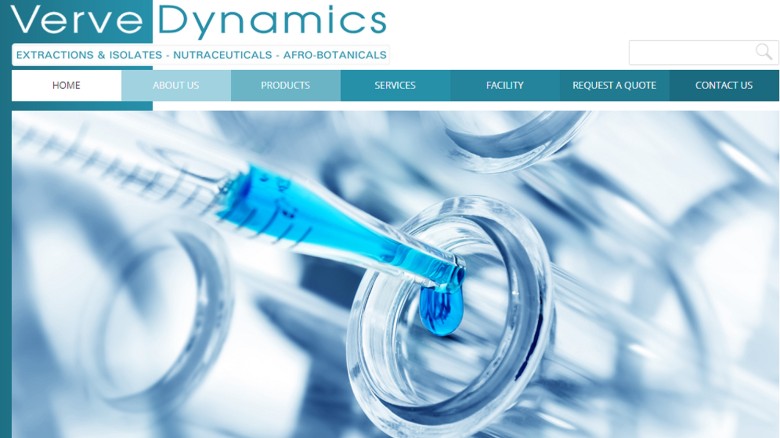 South African alternative medicine company Verve Dynamics will cultivate medical marijuana in Lesotho.
Morocco
The North African state is famous for its hashish and is second only to Afghanistan as a producer of the substance, according to the UN Office on Drugs and Crime (UNODC).
The trade employs at least 800,000 people, according to Bloomberg, and is worth $10 billion a year in sales. Such dizzying numbers have underpinned a growing movement for legalization.
In 2014, an opposition party in the Moroccan parliament with close ties to the monarchy proposed a bill to legalize marijuana production for medical and industrial use.
But the bill failed, and the movement suffered a further setback with the resignation of leading advocate Ilyas El Omari.
There has also been opposition to legalization from conservative religious groups, and even cannabis farmers who are concerned their crop might lose value.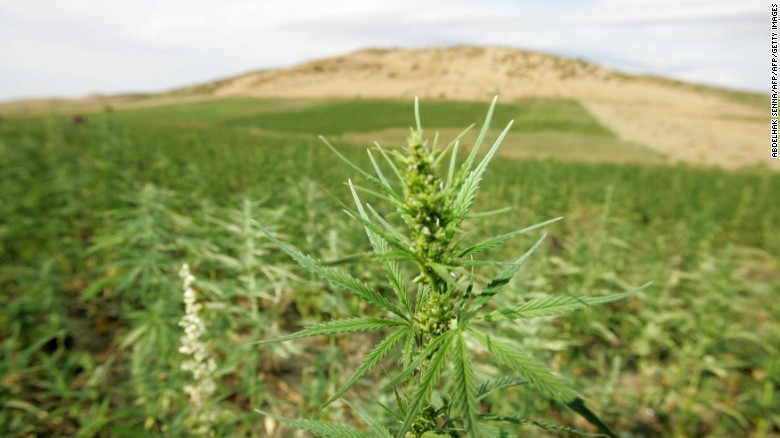 Cannabis plantations in the northern Moroccan Larache region.
Malawi
Malawi is well known for the prevalence and quality of marijuana production within its borders, including the sought after "Malawi Gold" strain.
The government is now cultivating hemp on a trial basis, ahead of potential legalization of the non-psychoactive cannabis strain for industrial uses such as fabric and food products.
This represents a major development after a lengthy battle with drug control groups and religious leaders that fiercely opposed any softening of policy. Both advocates and critics of legalizing hemp have suggested that marijuana could be next, a longstanding demand of the country's Rastafarian minority, which claims that smoking 'chamba' is integral to their culture.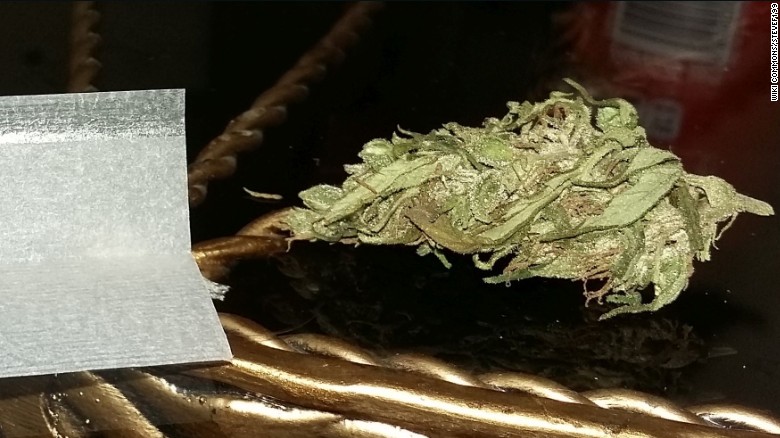 'Malawi Gold' is among the most popular strains of cannabis in the US. Ghana Ghanaians are heavy consumers of marijuana, according to the UNODC, which is prohibited but widely tolerated.
A pro-legalization campaign has been gathering momentum in recent years, with support from the former head of the Narcotics Control Board.
The movement recently received another boost when the executive director of the Ghana Standards Authority suggestedthat state-led cultivation and export of marijuana could generate valuable income. But a vociferous backlash from government officials and mental health experts showed this will not be easily achieved.
The influential Christian Council of Ghana has also spoken out against legalization, warning this would "destroy the future of our young people."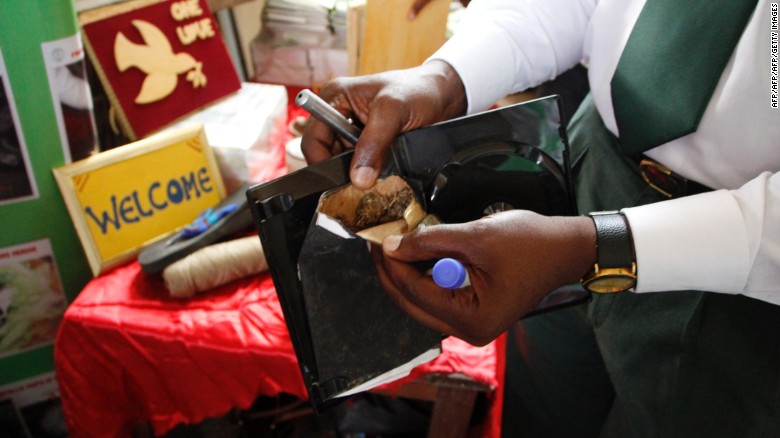 Marijuana discovered by police inside a DVD case in Accra.
Swaziland
The continent's last absolute monarchy is plagued by poverty, but boasts an abundance of marijuana.
Prominent public figures have suggested using the cannabis crop to boost the economy,including Swaziland's housing and development minister, while the national commissioner of police has called for a study.
The Swazi House of Assembly has now appointed a committee to explore the possibility of legalization, according to recent reports.
However, similar proposals have been discussed for several years without moving forward, and police continue to make regular arrests for cultivation of marijuana.
South Africa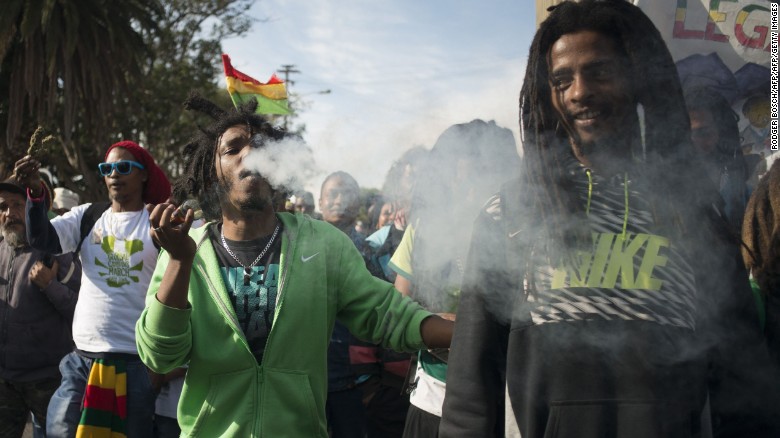 Campaigners in Cape Town march for the legalization of marijuana.
One of the continent's largest economies is also among its leading markets for marijuana, or "dagga" as it is locally known. South Africa produces around 2,500 tons a year, according to a UN report.
Several legal battles are ongoing over the future of the drug in South Africa. The Dagga Party won a landmark ruling this year to permit smoking in the home on privacy grounds, without changing the legal status of the herb.
The so-called "dagga couple" Julian Stobbs and Myrtle Clarke are going further in seeking the right to grow and consume marijuana, which could establish a far-reaching precedent.
The South African government has already published guidelines for medical marijuana, paving the way for legal licenses.
But medical authorities have warned that potential health risks may not be well understood, and public access will likely depend on the outcomes of clinical trials.
420 Intel is Your Source for Marijuana News
420 Intel is the leading source for cannabis news from around the world. Get the latest updates on cannabis legalization, politics and technology, as well as developments in medical and recreational marijuana news. Our commitment is to bring you the most important cannabis news stories every day of the week.
At 420 Intel we understand that effective marijuana industry news coverage is a constant endeavor. Every day stories develop regarding cannabis legalization, technological developments, and the medicinal benefits of marijuana use. Each new development carries the potential to impact the marijuana industry regionally, nationally, and internationally. 420 Intel is the marijuana industry news outlet that will keep you up to date on these developments and how they impact the world around you.
With the marijuana industry constantly evolving, you need a cannabis news outlet to keep you abreast of the pertinent information. At 420 Intel, we cover marijuana legalization news throughout the world, offer reliable information for cannabis business owners, detail technological advances that impact the marijuana industry, cover marijuana rallies from across the globe, and everything in between.
You can get 420 Intel news delivered directly to your inbox by signing up for our daily marijuana news, ensuring you're always kept up to date on the ever-changing cannabis industry. To stay even better informed about marijuana legalization news follow us on Twitter, Facebook and LinkedIn.