France Wants to Scrap Prison Terms for Cannabis Use
France will introduce a new law by the end of the year to soften punishments for cannabis use, officials say.
The legislation, a key promise of President Emmanuel Macron's election campaign, will end prison terms for marijuana consumers.
But the changes will stop short of decriminalising use of the drug, according to government spokesman Christophe Castaner.
France is one of half-a-dozen countries in the EU that still criminalises cannabis use, in contrast to Portugal.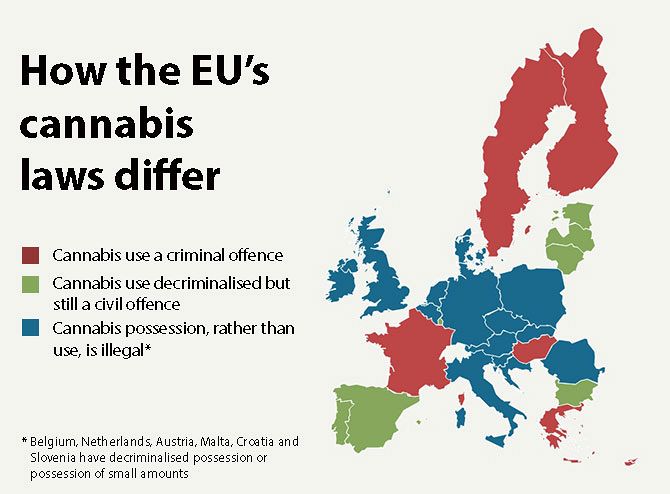 Currently those caught using the drug in France face up to a year in jail and a fine of up to 3,750 euros.
Castaner said on average drug offences take up six hours of police time, and the same for magistrates.
"Is the system effective? No," he said. "What is important today is to be efficient and above all to free up time for our police so they can focus more on...
420 Intel is Your Source for Marijuana News
420 Intel is the leading source for cannabis news from around the world. Get the latest updates on cannabis legalization, politics and technology, as well as developments in medical and recreational marijuana news. Our commitment is to bring you the most important cannabis news stories every day of the week.
At 420 Intel we understand that effective marijuana industry news coverage is a constant endeavor. Every day stories develop regarding cannabis legalization, technological developments, and the medicinal benefits of marijuana use. Each new development carries the potential to impact the marijuana industry regionally, nationally, and internationally. 420 Intel is the marijuana industry news outlet that will keep you up to date on these developments and how they impact the world around you.
With the marijuana industry constantly evolving, you need a cannabis news outlet to keep you abreast of the pertinent information. At 420 Intel, we cover marijuana legalization news throughout the world, offer reliable information for cannabis business owners, detail technological advances that impact the marijuana industry, cover marijuana rallies from across the globe, and everything in between.
You can get 420 Intel news delivered directly to your inbox by signing up for our daily marijuana news, ensuring you're always kept up to date on the ever-changing cannabis industry. To stay even better informed about marijuana legalization news follow us on Twitter, Facebook and LinkedIn.