Teenage Cannabis Use Rises in Europe - EU Espad Survey
Cigarette and alcohol use among 15- and 16-year-olds is declining across Europe but the numbers using cannabis are growing, an EU survey shows.
The Espad report for 2015 includes most EU countries, but not Germany or the UK, and data for Spain is incomplete. 
In 2015 "current smokers" accounted for 21% of those surveyed, and the highest total was in Italy (37%). 
In 1995-2015 those using alcohol in the past 30 days fell from 56% to 47%. Top in cannabis use were the Czechs (37%).
That figure for Czech teenagers reporting a lifetime experience of cannabis was higher than the level in the US - 31% in comparable surveys. 
The average for cannabis use in the European countries surveyed was 16%. That was lower than the comparable figure for Spain - 27%.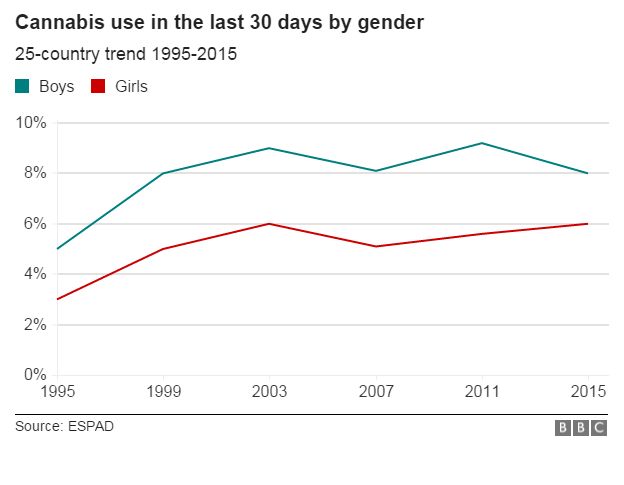 Cannabis was far more readily available than...
420 Intel is Your Source for Marijuana News
420 Intel is the leading source for cannabis news from around the world. Get the latest updates on cannabis legalization, politics and technology, as well as developments in medical and recreational marijuana news. Our commitment is to bring you the most important cannabis news stories every day of the week.
At 420 Intel we understand that effective marijuana industry news coverage is a constant endeavor. Every day stories develop regarding cannabis legalization, technological developments, and the medicinal benefits of marijuana use. Each new development carries the potential to impact the marijuana industry regionally, nationally, and internationally. 420 Intel is the marijuana industry news outlet that will keep you up to date on these developments and how they impact the world around you.
With the marijuana industry constantly evolving, you need a cannabis news outlet to keep you abreast of the pertinent information. At 420 Intel, we cover marijuana legalization news throughout the world, offer reliable information for cannabis business owners, detail technological advances that impact the marijuana industry, cover marijuana rallies from across the globe, and everything in between.
You can get 420 Intel news delivered directly to your inbox by signing up for our daily marijuana news, ensuring you're always kept up to date on the ever-changing cannabis industry. To stay even better informed about marijuana legalization news follow us on Twitter, Facebook and LinkedIn.