Trump Tuesday: Eagle Attack
TIME Magazine has released footage of Donald Trump dodging a vicious looking bald eagle.
The film was taken during a photoshoot marking Mr Trump's position as runner up in the 'Person of the Year' award, which was won by Angela Merkel.   
He agreed to pose with a bald eagle – America's iconic symbol – for the magazine's cover story.
The idea came from award-winning portrait photographer, Martin Schoeller, who did the shoot.
The huge eagle, named 'Uncle Sam', is seen sitting on Mr Trump's forearm, before pointing its beak at the US presidential candidate's face and repeatedly trying to fly away.
The bird then hits Mr Trump with its wings until its handler manages to settle it.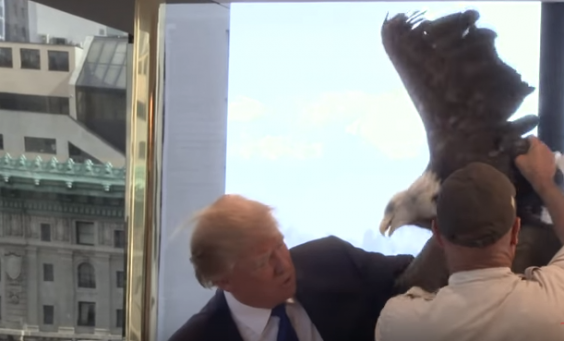 During the shoot, Mr Trump becomes increasingly concerned with the way the eagle's attempted escape is affecting his appearance, asking: "how does...
420 Intel is Your Source for Marijuana News
420 Intel is the leading source for cannabis news from around the world. Get the latest updates on cannabis legalization, politics and technology, as well as developments in medical and recreational marijuana news. Our commitment is to bring you the most important cannabis news stories every day of the week.
At 420 Intel we understand that effective marijuana industry news coverage is a constant endeavor. Every day stories develop regarding cannabis legalization, technological developments, and the medicinal benefits of marijuana use. Each new development carries the potential to impact the marijuana industry regionally, nationally, and internationally. 420 Intel is the marijuana industry news outlet that will keep you up to date on these developments and how they impact the world around you.
With the marijuana industry constantly evolving, you need a cannabis news outlet to keep you abreast of the pertinent information. At 420 Intel, we cover marijuana legalization news throughout the world, offer reliable information for cannabis business owners, detail technological advances that impact the marijuana industry, cover marijuana rallies from across the globe, and everything in between.
You can get 420 Intel news delivered directly to your inbox by signing up for our daily marijuana news, ensuring you're always kept up to date on the ever-changing cannabis industry. To stay even better informed about marijuana legalization news follow us on Twitter, Facebook and LinkedIn.