Florida Man Trying to Buy Weed Accidentally Texts Narcotics Captain
A Florida man looking to score drugs was arrested this month after police say he mistakenly texted the captain of the Martin County Sheriff's Narcotics Unit, The Washington Post reports.
"When 29-year old William Lamberson of Port St. Lucie wanted a 'hook up,' he began texting friends, or so he thought," wrote the Sheriff's Officeon Facebook. "It turns out, Lamberson's misdial connected him to someone who knows all too much about illegal drugs."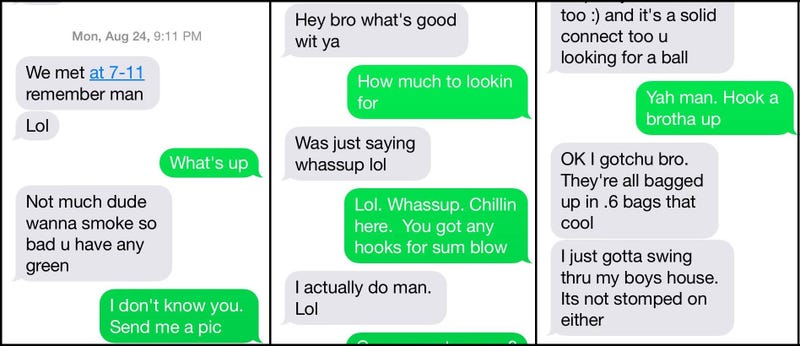 1
"Whassup. Chillin here," said Capt. Brian Bergen in the text conversation that followed. "You got any hooks for sum blow"
"I actually do man," Lamberson allegedly replied. "Lol"
According to police, Bergen then arranged to buy cocaine from Lamberson. From WPBF:
They agreed to meet up at a pool hall in Jensen Beach. Instead of meeting up with an old friend, Lamberson came face to

...
420 Intel is Your Source for Marijuana News
420 Intel is the leading source for cannabis news from around the world. Get the latest updates on cannabis legalization, politics and technology, as well as developments in medical and recreational marijuana news. Our commitment is to bring you the most important cannabis news stories every day of the week.
At 420 Intel we understand that effective marijuana industry news coverage is a constant endeavor. Every day stories develop regarding cannabis legalization, technological developments, and the medicinal benefits of marijuana use. Each new development carries the potential to impact the marijuana industry regionally, nationally, and internationally. 420 Intel is the marijuana industry news outlet that will keep you up to date on these developments and how they impact the world around you.
With the marijuana industry constantly evolving, you need a cannabis news outlet to keep you abreast of the pertinent information. At 420 Intel, we cover marijuana legalization news throughout the world, offer reliable information for cannabis business owners, detail technological advances that impact the marijuana industry, cover marijuana rallies from across the globe, and everything in between.
You can get 420 Intel news delivered directly to your inbox by signing up for our daily marijuana news, ensuring you're always kept up to date on the ever-changing cannabis industry. To stay even better informed about marijuana legalization news follow us on Twitter, Facebook and LinkedIn.