Legal status of cannabis in Belgium – an overview
Belgium has an unusual history in terms of drug policy. For decades after prohibition, all drugs were treated similarly harshly. At the turn of the 21st century, cannabis laws were relaxed and personal quantities tolerated. However, a change of government late last year may spell an abrupt end to this tolerant approach.
Legal aspects concerning consumption, possession and cultivation of cannabis
Cannabis possession & consumption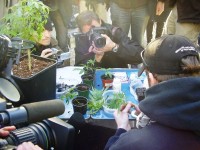 Belgium has a relatively unusual recent history of drug policy. Until 2003, there was no legal distinction between the various classes of controlled substances (such as the 'schedule' systems employed in many other countries), and a cannabis offence would be treated the same as a heroin or cocaine offence.
In 2003, a new directive was issued that differentiated cannabis from other illegal drugs and...
URL:
http://sensiseeds.com/en/blog/legal-status-of-cannabis-in-belgium/
420 Intel is Your Source for Marijuana News
420 Intel is the leading source for cannabis news from around the world. Get the latest updates on cannabis legalization, politics and technology, as well as developments in medical and recreational marijuana news. Our commitment is to bring you the most important cannabis news stories every day of the week.
At 420 Intel we understand that effective marijuana industry news coverage is a constant endeavor. Every day stories develop regarding cannabis legalization, technological developments, and the medicinal benefits of marijuana use. Each new development carries the potential to impact the marijuana industry regionally, nationally, and internationally. 420 Intel is the marijuana industry news outlet that will keep you up to date on these developments and how they impact the world around you.
With the marijuana industry constantly evolving, you need a cannabis news outlet to keep you abreast of the pertinent information. At 420 Intel, we cover marijuana legalization news throughout the world, offer reliable information for cannabis business owners, detail technological advances that impact the marijuana industry, cover marijuana rallies from across the globe, and everything in between.
You can get 420 Intel news delivered directly to your inbox by signing up for our daily marijuana news, ensuring you're always kept up to date on the ever-changing cannabis industry. To stay even better informed about marijuana legalization news follow us on Twitter, Facebook and LinkedIn.