You are here
Home
🌿
Marijuana Politics
🌿 Former Blackwater gets rich as Afghan drug production hits record high 🌿
Former Blackwater gets rich as Afghan drug production hits record high
Opium poppy cultivation is up in Afghanistan despite the infamous mercenary firm formerly known as Blackwater being paid $569m by the Pentagon to stop it
In a war full of failures, the US counternarcotics mission in Afghanistan stands out: opiate production has climbed steadily over recent years to reach record-high levels last year.
Yet one clear winner in the anti-drug effort is not the Afghan people, but the infamous mercenary company formerly known as Blackwater.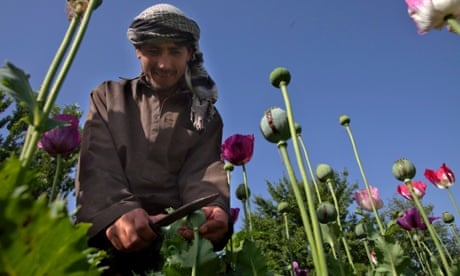 Opium harvest in Afghanistan reaches record levels after troop withdrawal
Statistics released on Tuesday reveal that the rebranded private security firm,known since 2011 as Academi, reaped over a quarter billion dollars from the futile Defense Department push to eradicate Afghan narcotics, some 21% of the $1.5 bn in contracting money the Pentagon has devoted to the job since 2002.
The company is the...
URL:
http://www.theguardian.com/world/2015/mar/31/blackwater-gets-rich-afghanistan-drug-production
420 Intel is Your Source for Marijuana News
420 Intel is the leading source for cannabis news from around the world. Get the latest updates on cannabis legalization, politics and technology, as well as developments in medical and recreational marijuana news. Our commitment is to bring you the most important cannabis news stories every day of the week.
At 420 Intel we understand that effective marijuana industry news coverage is a constant endeavor. Every day stories develop regarding cannabis legalization, technological developments, and the medicinal benefits of marijuana use. Each new development carries the potential to impact the marijuana industry regionally, nationally, and internationally. 420 Intel is the marijuana industry news outlet that will keep you up to date on these developments and how they impact the world around you.
With the marijuana industry constantly evolving, you need a cannabis news outlet to keep you abreast of the pertinent information. At 420 Intel, we cover marijuana legalization news throughout the world, offer reliable information for cannabis business owners, detail technological advances that impact the marijuana industry, cover marijuana rallies from across the globe, and everything in between.
You can get 420 Intel news delivered directly to your inbox by signing up for our daily marijuana news, ensuring you're always kept up to date on the ever-changing cannabis industry. To stay even better informed about marijuana legalization news follow us on Twitter, Facebook and LinkedIn.