NHS 'refuses' medical cannabis for children with epilepsy
The NHS has repeatedly refused to fund medical cannabis for children with severe epilepsy, families have said.
Three prescriptions are thought to have been written for "whole plant cannabis" oil since it was legalised two years ago, campaign group End Our Pain say.
But at least 20 families are paying for costly private prescriptions after being turned down by the NHS, it said.
The Department of Health and Social Care says more research is needed before it can be routinely prescribed.
Emma Appleby, from Aylesham in Kent, pays £2,000 a month for the medicine for her daughter Teagan, 11.
"That's ridiculous pressure I've got every month to try and find this kind of money to keep her alive," she said.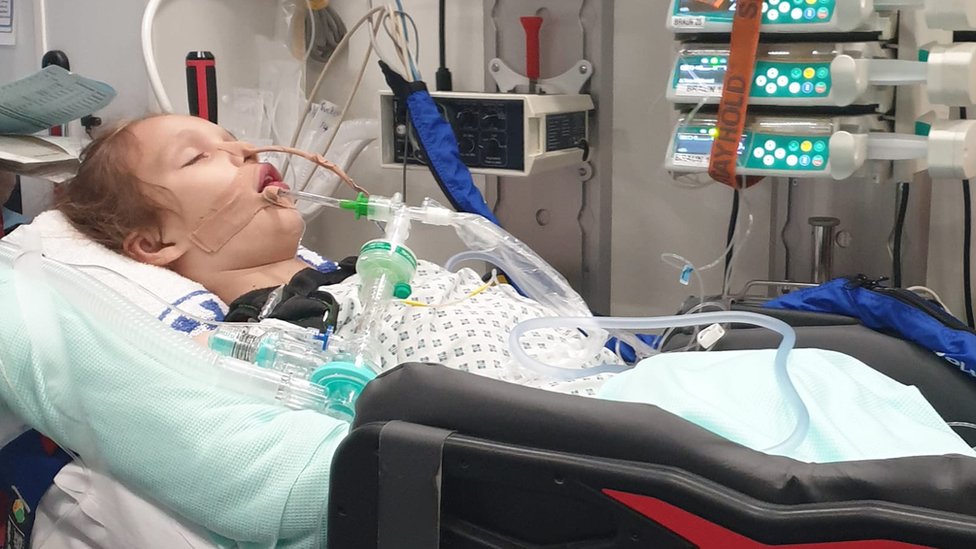 image captionTeagan was admitted to intensive care in May as her seizures increased
Since 1 November 2018, it has been legal for doctors to prescribe medicinal cannabis products, but most such products are unlicensed and have not been through full clinical trials.
Only one drug - called Epidyolex - is licensed in the UK and recommended by the National Institute for Health and Care Excellence as a treatment for epilepsy.
It contains only CBD and not the other active chemicals in cannabis, including THC.
Some families say it does not effectively stop seizures.
300 seizures a day
In May, as Covid-19 restrictions made fundraising more difficult, Ms Appleby ran out of money to buy Teagan's medicine.
Teagan was prescribed Epidyolex, but within two weeks she was experiencing up to 300 seizures a day, Ms Appleby said.
Unable to stop the seizures, doctors put Teagan in an induced coma and transported her to the intensive care unit at Evelina London Children's Hospital, Ms Appleby said.
Two days later, after receiving an anonymous donation of £2,500, she bought the oil.
"We woke Teagan up, gave it to her and within two days we were allowed home," she said.
Each month is a battle to raise the money, Ms Appleby said. "There's been times where I've just sat and cried and thought how the hell am I going to get through this."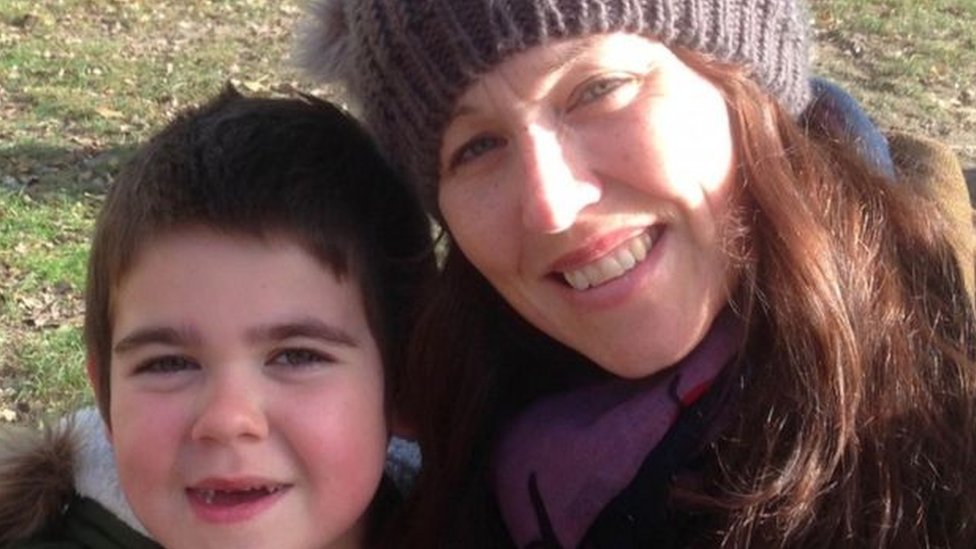 IMAGE COPYRIGHTPA
image captionHannah Deacon led a campaign for her son Alfie to be allowed to use the drug legally
Alfie Dingley, from Warwickshire, is one of the few to receive the drug on the NHS, following a campaign led by his mother Hannah Deacon.
"We feel very blessed. It's changed our lives and it should be available to everyone," she said.
It is "not fair" that NHS prescriptions have only been issued to people who have had "media attention," she said.
Medical cannabis is saving the NHS millions of pounds a year by reducing the time children with severe epilepsy spend in hospital, she added.
"Why on earth should [families] have to try and find the money to pay for it?" she asked.
'Further research'
Peter Carroll, of End Our Pain, said the campaign group works with about 20 families with private prescriptions, but there may be dozens more in a similar position or unable to pay for the drugs at all.
The Department for Health and Social Care said Epidoylex could be prescribed on the NHS because there was clear evidence of its "safety, clinical and cost-effectiveness".
Another drug, called Sativex, is recommended for adults with multiple sclerosis.
It said that "more evidence is needed to routinely prescribe and fund other treatments on the NHS and we continue to back further research and look at how to minimise the costs of these medicines".
420 Intel is Your Source for Marijuana News
420 Intel is the leading source for cannabis news from around the world. Get the latest updates on cannabis legalization, politics and technology, as well as developments in medical and recreational marijuana news. Our commitment is to bring you the most important cannabis news stories every day of the week.
At 420 Intel we understand that effective marijuana industry news coverage is a constant endeavor. Every day stories develop regarding cannabis legalization, technological developments, and the medicinal benefits of marijuana use. Each new development carries the potential to impact the marijuana industry regionally, nationally, and internationally. 420 Intel is the marijuana industry news outlet that will keep you up to date on these developments and how they impact the world around you.
With the marijuana industry constantly evolving, you need a cannabis news outlet to keep you abreast of the pertinent information. At 420 Intel, we cover marijuana legalization news throughout the world, offer reliable information for cannabis business owners, detail technological advances that impact the marijuana industry, cover marijuana rallies from across the globe, and everything in between.
You can get 420 Intel news delivered directly to your inbox by signing up for our daily marijuana news, ensuring you're always kept up to date on the ever-changing cannabis industry. To stay even better informed about marijuana legalization news follow us on Twitter, Facebook and LinkedIn.